Between emotional triggers, a great design and a compelling call to action, using SEO to reach consumers who have the most to gain from your products, services or offer is the objective.

Are You Overselling Yourself or Your Business?
Implementing SEO as a fundamental business strategy demands that when assessing the range of your offer, that you (a) find the audience with the highest amount of receptivity and (b) use terms and keywords that speak directly to them.
By focusing on emotional behaviors, impulse and benefits (when crafting your content) you can fine tune your objective to have the highest conversion rate. There is no benefit in speaking out of context to the wrong audience or trying to sell something to the wrong demographic (like sports cars to elderly citizens or annuity plans to teenagers).
Before you even consider search engine optimization, make sure you have conducted a thorough amount of research through due diligence and competitive analysis.
One example, like using a search engine to search for the top 20 common sense keywords in your industry to review the competitive landscape is one brief example. Take an hour to actually investigate your competition who has made the grade of reaching the top 10 by reading 3-5 pages of their best value propositions (just to see how yours measures up).
There is a reason they are in the top 10, its up to you or an SEO to find out. However, the fact is, there is something to learn about their method, the site architecture, their link building practices or link profile, their content or internal linking that could shed light on why the search engine algorithms prefer their site over yours.
If all of the components are in place, relevant titles, content that reinforces a common theme through tactful keyword use, relevant sub-headings, alt-attributes in place for each image, a topical h1 tag and proper emphasis of bold, italic and bullets. Then you should take it to heart and really evaluate what improvements you could make to your own site.
Know Your Audience:
The closer your brand represents what consumers want, the more success it can potentially garner as response rates increase from sending the right signals. Benefits sell products, information engages trust, but without the right formula to combine who you are, what you do and why someone would prefer to use you instead of a competitor, then it may be time to go back to the drawing board and retool your pitch.
Corporations spend millions of dollars each year trying to understand their audience. However despite the thousands of product tests, focus groups and giveaways and cross-promotions, sometimes simplicity is the solution. Let's face it, overselling or selling to the wrong audience is an exercise in futility, however finding the right tone, pitch and persona for your message is real conversion optimization.
The take away here is, SEO is not the solution, it is part of a finely tuned mechanism to deliver relevant traffic. Once that traffic arrives, it is another metric in its entirety that comes into play.
The conclusion, look beyond your personal motives, achieve transparency and focus on benefits that appeal to your audience. Then a mere mention (like a whisper) has more appeal than shouting your offer teetering on the brink of overbearing. Savvy consumers expect more, so don't insult them with boilerplate sales techniques from 1989 or tactics that you learned from a top 10 ways to make millions online e-book.
Think impulse, keep your pages lean with one conversion objective and most of all, know who your audience is if you want true online longevity.
Read More Related Posts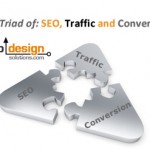 Unless you want to be upstaged by a competitor with the total package (attractive website, useful content, great rankings and a conversion rate above 15%), then you must see past ...
READ MORE