Would you take on a word class UFC champion if you just learned how to fight? What about if you're new to football, would you take on the team that just won the super bowl?
Does this marketing strategy sound practical, well-informed or remotely realistic? Hardly, so, right…. So, why would anyone want to take on the SEO ranking juggernaut a.k.a 800 pound Gorilla holding the top ranking positions and conversions for an industry head on with reckless abandon?
Unless your strategy is completely devoid of any notion of consequence, a rag-tag fly by the seat of your pants (everyone else is doing it) SEO strategy that targets the same trophy keywords with the biggest competitor and the deepest pockets is not always the best way to oust your competition.
This is where many try and fail, quite simply, your SEO strategy should be about conversions, not just rankings and there are a few things about SEO and internet marketing that people need to understand:
You need to have a goal
You need to have to have a way to measure that goal
You need a scalable solution
You need a platform that can reinforce other endeavors and topics as well as a process that can produce results consistently.
I can assure you, that each and every day our offices get a call or receive a request for proposal from someone or some business wanting to accomplish the equivalent of any of many of the feats similar to those above.
Ironically, most companies are hardly prepared to spend in 1 month what most top ranking companies pay for in 1 day to create those multiple top ranking search engine positions.
Yet the company with the highest sales conversion is beyond speculation or merely trying to gauge the value of an SEO campaign, they are profitable. While on the other hand, the other business is simply looking for a way to sell more widgets, packages or services.
Fact: Not all SEO pricing is commensurate to the fees charged (and that can work both ways) a $99-$499 SEO package not worth its weight in pixels or a $3000 per month SEO campaign that can compete with similar results that corporate giants are spending $50K per month to achieve.
In the end two metrics mater (1) profit margin and (2) conversions; anything else is merely part of this process.
Considerations such as budget, reach or exposure are all extensions of profit margin, net profits, the advertising and marketing budget and the need for a system to begin with. All of these granular facets are all predicated by the value of optimizing "the right keywords" with "the right offer" in place to capitalize on its positioning.
Don't fight a battle you cannot win. If you are making $200,000 per month as a result of spending $50K on SEO, then the advantage is obvious (somply recycle the profits on more exposure, higher conversions, etc.), yet if your SEO cannot cover itself, then a new approach, new keywords or new tact is in order.
If you are using SEO as an equalizer, but you haven't polished your conversion objectives yet, then your approach is "out of order".
Fact: No two websites are alike and each has its own content and internal link blueprint, external link profile and point of authority / trust where it produces its own momentum and starts devouring the market in which it exists.
The key is (1) to know where you are at (2) understand the gap of where you are to where you are going (3) create a strategy (4) determine its outlay of capital or resources (5) calculate ROI (6) set up sales and conversion funnels at each stage of prospect interaction (email marketing, RSS feeds and syndicators (like Google Base), landing pages, main pages, promotions and give-always, press releases, etc.), and (7) work holistically and focus on conversion tracking not just rankings.
Also note that, (1) it takes time to realize long-term goals (not always), but for competitive keywords it is a real work in progress (2) Not all keywords convert; I know, hard to believe that someone would waste the time searching and not purchasing right? and (3) rankings only matter in contrast to conversions.
You can have a #1 position for a competitive keyword and if your website lacks the necessary conversion optimization tactics and fails to compel visitors to engage the page or take the desired action, then it is a moot point.
Just like you can lose the battle and win the war, keywords and conversion are a series of mini victories involving fine-tuning, constant refinement (until you hit a satisfactory benchmark, threshold or plateau) and most of all you require vision, strategy and oversight to pull off a collective victory in the SERPs (search engine result pages).
Just like for many business owners it difficult to digest that you can have more conversion with less traffic, if that traffic is more targeted, using the right keywords vs. off topic or broad match traffic based on diffused keyword connotations.
The takeaway here is, track, measure and implement. You can talk about rankings and keywords all day long, but realize, they are spokes on a hub. At the end of the day, it's all about sales conversion and mapping out the conversion and sales funnel.
Keywords like roads are just the path; the destination is the objective when you set out using either.
So, if you want to keep the real focus of your internet marketing campaign intact and create tangible destinations (landing pages or websites) and test the stance of your positioning based on how many sales it generates or opportunities for revenue it creates.
Read More Related Posts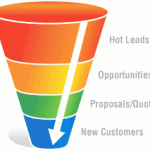 Search engine optimization (SEO) is based on the premise of acquiring search engine rankings, yet rankings alone are not the solution to increased sales conversion. Just like PPC (pay per ...
READ MORE