When it comes to link building and SEO, it is a fairly safe assumption to state that search engines are a bit leery when it comes to getting cozy with your content. That is in fact, until you run the gauntlet and emerge squeaky clean after a spell of due diligence.


Just like when you meet someone for the first time, it's all about trust and once that is established, any resource that they have they will bestow upon you in a time of need. Search engines share this same philosophy algorithmically.
The process of due diligence:
In addition to being invaluable resource tools for business, search engines are also the gatekeepers to trivial knowledge and information.
Just like if you're applying for a job interview, any offenses in the past that have blemished your professional record is out there for all to see. With the vast array of information at their disposal, in the same fashion, search engines scrutinize your pages to see if they are any skeletons rumbling around in your closets before they pass judgment.
Sometimes, no matter how bad you want that top ranking position above the fold and technically from the standpoint of all of the indicators it should be yours, your links are stronger, your content superior and your site structure is impeccable, but how old are your pages? One week old, one month old, 2 months? Do you see where this is going?
Search engines don't just hand out the friend card so easily. They make you earn it. Just like in real life your reputation proceeds you, and with the ability to take a snapshot of every time you ever changed your content, who links to you or who you link to in a fragment of a second, search algorithms are a solid judge of character. If you befriend the bots it is not about going after keywords, it is merely a matter of slightly mentioning them in context to produce a top 10 result.
So before you go out and start looking for heuristic loopholes in an attempt to outsmart the algorithm, spend 3-4 months developing top shelf content with enticing titles and tags to build your case as a resource to search engines.
The conclusion here is despite your attempts to inflate relevance unnaturally, patience is a virtue in optimizing pages. Keywords you may have given up on (as a result of frustration and stopped building links for), finally settle in over time and rise to the top of search results as a by-product of trust and the links aging.
So, instead of thinking how many links will it take to get to the top?, take a peek behind the scenes at the top 3 websites that occupy the top positions for the keywords you are targeting! Are they there as a result of trust, links, merit or (D) all of the above?

Read More Related Posts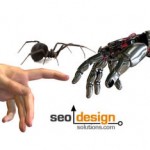 Just wanted to share a few effective SEO tips for increasing the degree of search engine trust your website can garner. Most people make the mistake of hording link juice ...
READ MORE