Something every webmaster wants to know is how competitive their keyword terms are in the bigger scheme of things. Especially if you spend hundreds if not thousands with Google's Adwords advertising tool.
Let's say you are building a niche site on the topic of "personal loans." With a keyword this competitive it would be very hard to outrank your competition with a few simple on-page tweaks and some well-placed backlinks if you opted for organic SEO. I'm sure you agree that this keyword will take a healthy amount of work, to compete with the top ranking websites in Google's search engine.
What the Pros Do That You Don't
Many old-timers use crafty tools and software to simplify their research in order to uncover the real kick-ass niches in the process. To them it makes sense to spend a healthy portion of their profits on time-saving tools. Some of the best SEO tools can be had for free. Regardless what tool you prefer, once you decide on one you should stick with it – especially if it works.
This Brings Me to My Qualm About the SEOmoz Difficulty Tool
I have worked with the popular SEOmoz Difficulty Tool for some time now to help me find the best keywords for my clients. Trouble is, it seems the tool is faulty. But before I go into the details of my research you need to understand what this tool claims to be/do.
Features & Functionality of the SEOmoz DT
According to SEOmoz you can do the following with this tool:
See the top 10 rankings for any keyword with competitive analysis metrics
Export keyword data to CSV for individual results and your complete keyword list
Get data on any keyword term / phrase including Keyword Difficulty scores & Google AdWords search volume
Store up to 300 keywords with your PRO membership accounts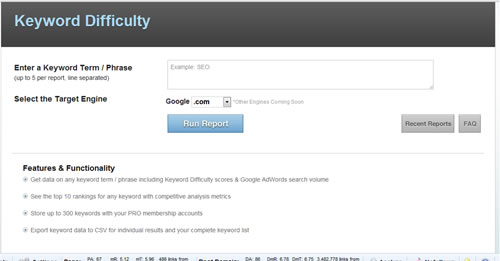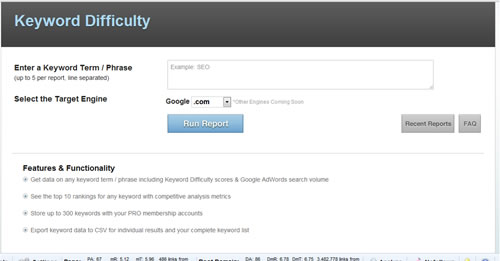 So far so good.
But here is where it gets tricky…
Not so long ago I did some research (once again) on some niches. I started with the highly competitive keyword: office furniture. In true DT fashion I plugged the keyword into the tool, chose Google.com as the preferred search engine and then let it run its magic.
The result is shown below.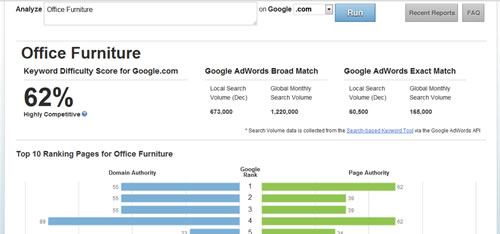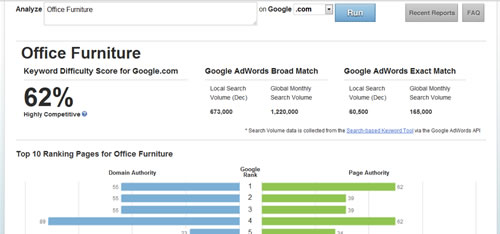 After a few click, whir, clack moments (OK, I'm making this up for dramatic effects) I got the following results.
For Google Adwords Broad Match:
673,000 Local Search Volume (Dec)
1,220,000 Global Monthly Search Volume
For Google Adwords Exact Match:
60,500 Local Search Volume (Dec)
165,000 Global Monthly Search Volume
… with an overall Google.com Difficulty Score of 62%, making this keyword highly competitive. No real surprises there. But, the next search puzzled me.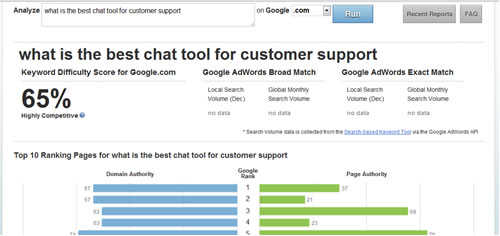 As you can see in the above screenshot I typed a very long keyword into the tool to see how it would react. I chose: What is the best chat tool for customer support?
After some more clicking and whirring the result stunned me into disbelief.
For both the broad and exact Google Adwords searches it returned no monthly records (not that I was surprised to see this, since this is a really loooong-tail keyword). So no surprises again.
However!…
The Difficulty Score was HIGHER than with the previous keyword (which made no sense). It clocked in at a whopping 65%. WT? How can a keyword that no one is actually looking for (except me) outrank a very popular keyword by percentages like these?
You tell me!
This guest post was written by Lior Levin. Lior is an advisor to one of the largest online neon signs shops as well as multiple online start-ups.