The idea of holding your space (on the first page in search engines for a competitive keyword) takes on new meaning with the graphic representation below.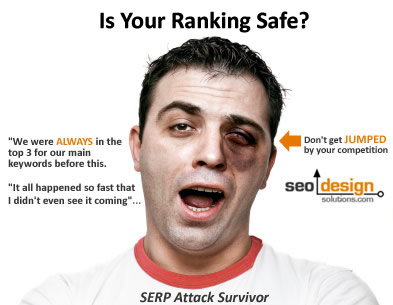 Despite the visual nature of the image above, the fact remains that if you don't watch your back, in regard to SEO and search engine positioning, someone will most assuredly take your spot.
While the concept of leap-frog comes to mind for most, when the kid gloves come off, competition online for lucrative keywords is fierce.
Instead of a harmless match with competitors with over-sized air-inflated boppers, it's often a mele of epic proportions that goes without commentary.
You can get SERP (search engine result page) survivor tips from this post from the past called >>>Overcoming Competitive Markets<<< by following the link provided.
In closing, let's us know if you have any other survivor tips (like SEO mace) to stave off a hostile online takeover. Comments are open and welcomed.
Read More Related Posts
Passionate Consumers Equal Profits: Following the Money
Does Google PageRank Affect SEO?
Context is Currency: Keywords and Sales Conversion
Press Releases SEO and Building the Buzz
The Phases of SEO Part II
Aligning Keywords and Landing Pages
How to Get Dropped Rankings Back!
SEO and Marketing Techniques
The Three P's of SEO Conquest!