We wish you a Merry Christmas and Happy New Year to all from the staff at SEO Design Solutions.
Enjoy your downtime this holiday and reflect back on 2010 and the great things about SEO and online business you've learned this year as you anticipate the boundless plenty that awaits us in 2011.
We have two updates to bring to your attention.
The first update involves SEO Ultimate, since click through rates are now a ranking factor, there is no point in ranking on page one with a lackluster meta title or description, which is why SEO Ultimate has the ability to rewrite tags, titles, meta descriptions and now "even meta keywords" as an added layer to complement your on page SEO efforts in search engines.
If you have 100 posts in your blog and your wanted to "clean up the meta data" you can use the title and meta tag re-writer to really dial in meta titles and descriptions that not only search engines love, but more importantly meta tags that appeal to actual people to click and explore. Keep in mind, "people pay the bills" not search engines, so rankings only matter if they get clicked.
The meta editor works on: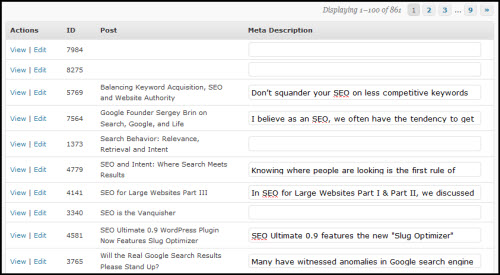 Just update the post, page or media, then hit save to optimize meta descriptions for the entire site from one screen.
Also, we have made some upgrades and bug fixes to SEO Ultimate's Deeplink Juggernaut Module to enhance on page automated internal linking and stay tuned for the next SEO module we anticipate releasing shortly that provides you with the ability to determine which links on a page you want to keep as do follow and which links you wish to omit from the ranking algorithm using a java script based wrapper you can toggle on a page by page basis.
This wrapper will allow you to change a "normal link" into a link using a script that redirects behind a folder "blocked by robots.txt" for spiders, thus making the do-follow links stronger to funnel on page ranking factor.
For example, say you have 20 links on a page all hemorrhaging ranking factor by diluting the link-flow based on the number of links on the page. What if you could "turn off" 10 of those links (to search engine spiders) and only pass link-flow through the 10 you choose?
That is pure on page power you can toggle with the new "soon to be named" SEO Module. This module and others are currently under construction from SEO Design Solutions for SEO Ultimate, which makes this All-In-One SEO Plugin a force to be reckoned with compared to other SEO plugins.
The second update involves DWS. We have been working with the team from Domain Web Studio (Matt Da Cruz and Sue Bell from Themezoom) and have managed to create one of the most integrated and robust keyword and campaign analysis modules for SEO that uses over 3,000 rules to calculate the number of links required, the number of supporting articles, how much it will cost to get ranked, the profit per conversion and a ranking timeline based on a keyword by keyword basis.
What this means to you is, after you import your keyword list or use the market research module, you can  simply import the keywords and thousands of rules occur by the time you refresh your screen. What you see next will amaze even the most astute SEO.
What used to take hours to determine the barrier to entry, map out the site, supporting articles, links and deep links all happens in an easy to use interface that literally allows you to budget each keyword seamlessly factoring ROI and all the critical variables that real businesses need to make educated decisions.
I have spoken with Matt Da Cruz and the slots are going fast. Just for a heads up, it looks like DWS 3.0 is shaping up to be a private tool. So, once the remaining slots are filled, you're either in or you're not.  My sincere suggestion is not to wait until the last minute, so, "get in" before it's too late. Here is the link to sign up for $67 per month. If you want more information on the tool set then watch this video to see the market intelligence tools that drive the DWS system.
Just wanted to say Merry Christmas to all of you and let you know there are some major updates in the works so stay tuned to the SEO Design Solutions Blog for useful SEO Tips, Tactics and Tools to distinguish your website in search engines.
As a gift from us, download our FREE Ebook on keywords and modifiers (Organic Search: Top Modifiers Revealed) with no strings attached. Happy Holidays!