We recently wrote a post on latent/dormant vs. expressed/active keywords as a part of your websites evolution process, and why having both for SEO are important.
After writing the post, I began experimenting with a few free tools and developed a simple method to take a snapshot of the competitive landscape and identify keywords that may have more potential than previously considered.
This next simple SEO tracking tip incorporates a few metrics to create a Google report using rank checker that showcases keyword activity based on analytics data. Just a reminder, SEO Tools are only as adept as the ones using them, so even though this may not have been the original reason for these tools, they both work wonderfully to track and set key performance indicators for SEO and positioning when combined in this fashion.
How to Find your money keywords using Google Analytics
I do not claim to be a Google Analytics Expert like Avinash Kaushik, however, I can show you a few ways to embrace the data gleaned for practical SEO and positioning with one handy little Google SEO tip.
1. Log into Google Analytics
2. Go to >>> Content >>> then >>> Entrance Keywords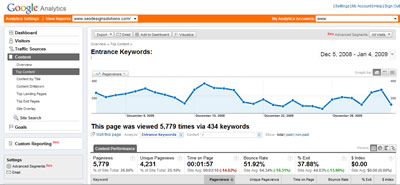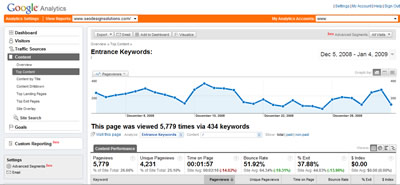 3. From there, uder the graph, look for the drop down menu under the text where it states;
This page was viewed x amount of times via y-amount of keywords. From there, simply select the page you wish to evaluate.
4. After Selecting the page you want to evaluate then export using CSV

5. Export keywords from page analysis into excel.
6. Open the CSV file, then highlight the keywords using shift+the first keyword and the last keyword you wish to use for the snapshot/export.

Then >>> copy and paste the keywords (from keyword column) from Excel into the Rank Checker (Add Multiple Keywords) section.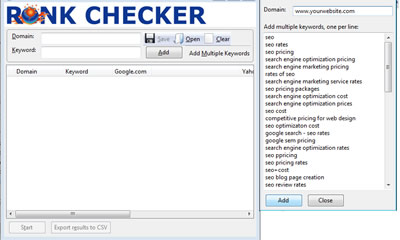 7. Run the report and then export to excel when completed with the current date as the file name to use as benchmark from cross-analysis and keyword positioning and performance at a later date.
The Conclusion
Although this SEO technique is not rocket science is is a useful tip to employ for establishing key performance indicators for keyword positioning. If you emulate this same practice across multiple pages in your site, it allows you to (a) track keyword performance and (b) look for keywords that you may have ignored.
Note the number of keywords driving traffic to a page. You cannot always determine how people found you (since search results are personalized), so, this can at least provide a snapshot of the landscape each page appear for. The idea is to identify and hone in on keywords that convert and this is one metric where you can identify the most common ground for how search engines view your content.
Also, being able to recreate the SERP landscape in the mind of the searcher can provide insight for how deep some consumers are willing to click a result. By reviewing the data, you can increase the funnel and ensure that you maintain SEO defense on the keywords with the most traction as well as create more continuity for those on the horizon.
Although the chances of the same exact rankings being present as when they executed the search are still plausible. It really is more about looking at how many unknown keywords are rising to the top as a result of keyword continuity (how search engines view your website).
In some instances, you may find that the search result clicked was obvious and essentially low hanging fruit or you may find they actually ventured to the 2nd or 3rd page to find the result.
In which case, if the keyword has a low bounce rate, decent engagement time and has a clear conversion objective on the landing page, now you know which keywords to build more relevance or link for in the future. In addition, you can use this with any keyword suggestion tool for gap analysis or simply to see how your pages stack up for your preferred keywords.
Thank you for visiting the SEO Design Solutions blog, where you will find useful SEO tips, tactics and strategies (as well as exceptional SEO Services) and solutions.