Let's be clear, the purpose of SEO marketing is to spread the word, that's it. However which word or which message is entirely up to you. The key to a successful SEO campaign is timing, relevance and appeal.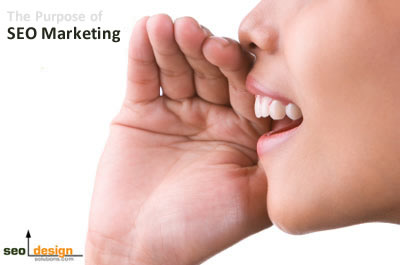 Are you considering using search engine optimization for the first time?
Instead of putting the cart before the horse, if your goal is to (1) increase the visibility or your brand (2) appear for multiple highly trafficked keywords and (3) reach new consumers to test how your offers convert window shoppers into customers, then yes, SEO is a great tool for implementation.
Make Sure You Understand SEO for it's True Purpose
Although rising the to the top of search results, having thousands of sites link to yours and literally stepping over all of your competitors would be nice if you could just snap your fingers. Achieving organic placement (which is far more beneficial and affordable in the long-run) is tied to a series of benchmarks evaluated by search engines to establish a pecking order.
Before you embark on the path of using SEO, one thing should be clear regarding your marketing agenda and expectations. It is a funnel to generate traffic and interest, it will not however sell more product or services unless you speak the right language to reach your audience.
So, in the event that you are targeting the wrong audience with the wrong message, how can you expect SEO to bridge the gap and communicate benefits despite your core message?
First, Identify, Who are your Customers?
Who are your customers? New visitors, repeat visitors, your pier group, how does your site make money? Sounds simply enough but surprisingly, we live in a world of assumptions, trivia, distractions and way to many options when it comes to being able to surf a website at the flick of a mouse click. Standing out and clearly providing what you bring to the table must be a part of every page on your website in one way, shape or form.
Depending on your ranking objectives and your target audience, you should tailor your website's conversion objectives (the people who actually buy vs. window shop) to meet their needs.
Is my audience SEO experts? (hardly), or is my audience a small business being flanked on all sides by an enterprise level industry giants? Depending on which it is, and who I need to appeal to with my message (the solution) the tone of the conversation must change.
Sure, I could delve into theories and applications for semantic co-occurrence and information retrieval, deep link ratios or link building metrics, remedies for poor site architecture or how to check server header compression ratios to minimize loading time for pages, or I could simply provide useful examples of things a person could do to improve rankings in layman's terms.
The need for jargon and geek-speak has its place and typically with marketing (which is the ultimate aim of SEO) it pays to speak in terms of benefits and features with the whats in it for me / perspective to appeal to the consumer.
Simplify Your Message for the Sake of Conversion
Just like you could understand every detail and facet of a computer, from the the mother board to the operating system, but that understanding is normalized when you turn it on and use it for simple functions like finding out which movie is playing.
Much in the same way, most consumers don't need to know how it works, they just need to know it does and as long as they can use it to read the news, write an email and see how cold it is outside, then what's under the hood of their computer is irreverent.
The ultimate goal of SEO is similar, to be a natural extension of your website. Can you rank without SEO, sure, but with the proper understanding of the mechanisms involved could you scale that result 10 fold or more, absolutely.
For this week, we will be focusing on more marketing and less SEO (as far as tech talk) and try to give away as many useful tips possible to really increase the bottom line. After all, a service should pay for itself if it truly provides value, otherwise, you need to reassess your priorities.
Suggested Reading
In closing, here are a few useful posts from the past from the SEO Design Solutions Blog that can aid the quest to create an intersection for form, function, purpose and execution in consideration to SEO or SEO marketing. Although this is not rocket science, this is for those who are new to SEO or in the information gathering phase.
Later this week, we will be introducing a free ebook that entails the application of SEO and what it entails based on the type of website and ranking objectives sought. This should be an invaluable resource for those considering SEO for the first time as well as seasoned users who have used search engine optimization to achieve ranking objectives.
If you haven't already, make sure to subscribe to our RSS feed to receive daily updates and catch the launch of our new WordPress theme (Name withheld) designed for landing pages and affiliates. Stay tuned for more SEO tips, tactics and techniques…