Just in case you are looking for SEO Tips using the newly unleashed Google AdWords Keyword Tool, now you can take the guesswork out of SEO once and for all to assess competitive keyword benchmarks.

By using two free SEO tools, you can perform "gap analysis" and immediately determine where you rank now and create a performance program spanning the gamut to structure just how far you'll need to go "to close the gap" and rank in the top 5% of SEO keyword nirvana for each phrase.
In case you missed the buzz about the New Google AdWords Keyword Suggestion Tool, Google has unleashed a new function which actually shows factual data for monthly search volume.
This alone is great news, but the fact that it analyzes keyword stemming as well and cross references semantic variations of keywords (that have related connotation and psychographic emphasis) is even more amazing.
For example, for those unfamiliar with gap analysis; the process of identifying the gap between your own website, content and links to the target objective / competition who occupies a top ranking position, gap analysis allows you to assess and potentially bridge the gap for each keyword through adding content, links and website authority.
There are three primary methods for accomplishing systematic search engine positioning through using search engine fundamentals such as allinanchor (how many links are supporting your pages, both internal and external), allintitle (how many pages with keyword in the title you have supporting the topic) and allinurl (what continuity exists in the naming conventions or name of the domain / website). Rather than go into that now, you can find an excellent summary on allinanchor, allintext and allinurl here after skimming this technique.
However, the basic exercise we propose next provides a framework in which to mold your efforts to attain your goals when setting the benchmark for keywords you may or may not already have waiting to rise to the top.
So, let's get right to the "How To" part!
Step 1: Sizing Up the Target Site.
Open the Google AdWords Suggestion Tool, instead of adding a keyword to assess, use the second option instead which allows you to add a page or domain URL to extract related keywords from the page or site.

The great thing about this technique is, you can use it on your site or a competitor's to glean useful inside data on where they rank of which keywords that already have traction for. As a side benefit, you can also use it as a guidepost to keep your keyword objectives on track and moving upward over time without distraction.
So, once on the screen click the website content radial button and enter the website URL. Hit return and let the Keyword tool do its job.
Step 2: Next, Export the Data.
At the bottom of the screen under download all keywords: select (.csv for excel).


Step3: Extracting the Keywords (Copy and Paste the Keywords).
For the next step you will require a position / ranking checker or you can manually enter them if you elect in Google one keyword at a time. One that we use that works perfectly for the job was created by master-mind Aaron Wall from SEOBook and amply named Rank Checker (follow link to download).
Rank checker works with Firefox and is a free SEO Tool / Add On that you can download from Aaron's site. After you have it installed and working, go back to the excel file.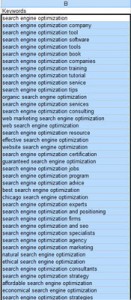 Touch the first result in the column with your keywords, hold the shift key (this is important) and then select the last keyword in the column. Then hit Control-C to copy the list.
Step 4: Using Rank Checker to Collect Ranking Data.
Now go to Rank Checker (great Tool Aaron), select the add multiple keywords tab, paste your results and run a report.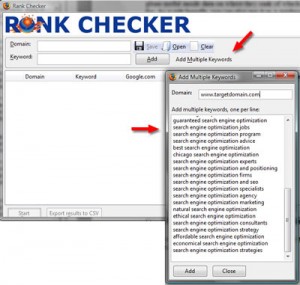 From there, you will have keywords extracted on recommendations from Google's assessment / on page analysis combined with where you currently rank on Google, Yahoo an MSN.
Now you have a great optimization target you can use to build links, content or authority over time. Just in case your too busy, we know of a great SEO company offering services that encompass tasks just like these and more…