The importance of SEO and off page optimization is paramount for achieving long term search engine visibility. Now more than ever, it's not just about what's on your pages, factors such as who links to you, where you link to, and how many websites with authority you are affiliated with (i.e endorsed with link juice), can determine where you end up in the SERPs (search engine result pages).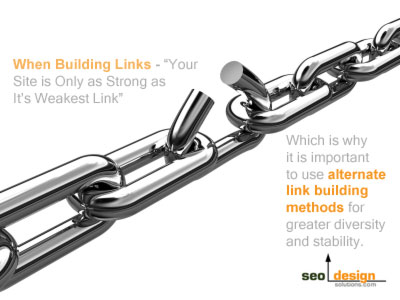 Socializing your website through major news, media or RSS feeds is also easier than ever, and can provide your content with the ability to acquire links on your behalf as a result of syndication. It is equally as important to have a balanced portfolio of fresh links, a stable presence in leading directories, links from the top ranking websites, blogs or articles hosted on authority sites. Any or all of such tactics can assist you in establishing your very own link generating juggernaut.
I may sound like a broken record from time to time, but that's because, when making reference to search engine fundamentals, such fundamentals are the hub at the center of the wheel in regard to how search engines view content and dish out rankings. In this analogy, the respective spokes are internet marketing, pier to pier promotion, advertising and link building. By using a development strategy for each of these fundamental spokes you can establish a foothold in your industry in search engines, social media or provide a valued solution to consumers seeking your services.
Relevance is the basis of search engine rankings
At the center of the coveted pages in search engines one theme reigns supreme – relevance. Although there are a number of ways to get there, some more effective or ethical and others closer to the dark side of search, in either case, when you are able to clearly identify, target and acquire a buzz word in your industry the world sees your site differently as a result of search engines elevating your pages.
Visibility equates to visits, but no amount of traffic will matter unless your pages have content that satisfies the needs of the visitor. So achieving a proper balance of content and optimization increases your chances to expand your exposure and gain momentum for your domain.
Here is one brief tip about off page link building. First of all finding the right source for links is a science in and of itself, let's assume that you do have your nest egg of link sources, now choosing the right anchor text to link back to your site is all that is required.
From the standpoint of building links, we are concerned with 2 types of links.
1) Exact match links
2) Combinations of contextual qualifiers with your main keywords
*Just for reference internal links (links which allow you to move from one page to another in your website) are as important as external links (links to your website from other sites). Having said that, your sites internal linking can not only rank on it's own accord in less competitive markets, but it goes a long way toward augmenting off page link building efforts.
The Use of Exact Match Terms in Link Building
Want to rank for a specific key phrase, build links using "exact match anchor text". For example if we wanted to rank for internet marketing solutions, then link back to your own site using the anchor text internet marketing solutions. Don't go overboard, you should vary your anchor text so create the appearance of natural link progression. In other words, you don't want to build 200 links to your website with the same exact match term (unless you want to get removed from that search engine). You can also use exact match link building tactics in your websites' internal links. We try to make sure that each page of a site has a base number of links and the main pages have the lion share. You can also use sub directories to build links to and from to increase the entire websites' link profile.
Exact match link building is rather straight forward, instead of click here on your websites' internal links when referring to other pages, you could use a term you wanted to rank for (one that summarizes the topic of the page it refers to). This is an example of internal linking
. Where one page of your site references another using a keyword of relevance. Since that page is about links, using the anchor text in the link "an example of internal linking" is on topic and strengthens that page in search engines.
The Use of Contextual Qualifiers in Link Building
Contextual qualifiers are links that cover the basic word combinations that are pertinent to your business. Just to use an example, if you had a company in the search engine optimization industry, qualifiers such as professional, expert, consulting, company, services are all aspects that could be tagged on to the term SEO, to provide you with a group of qualifiers (SEO professional, Professional SEO, SEO Expert, expert SEO services, SEO consulting company, professional SEO company, etc). This is just an example how words can be used to create new a unique back links from just a few root keywords. Each combination could be used to build back links and increase all of the keywords association with your website.
Aside from these morsels of link development tactics, socially bookmarking your posts if you have a blog are an excellent way to get high quality back links from authority sites. It's always better if someone else give you credit, but it's a step in the right direction. Writing articles just for DIGG or Ezines would also qualify under this category. Sources such as EzineArticles or Article Marketer is also a great source for syndication if your content is worthy. One article we published a few months back, has already been syndicated resulting in 1450 references and/or links, which is a great method for expanding your search engine visibility and ranking for the terms in the title in the article in the meantime. Many of the titles in fact, still rank on the merit of the article, not to mention it's free and builds authority for your website.
Link Poaching
Remember, it's not always what you see that makes the difference, so before you try to rip apart a competitors foothold in the SERPs, you have to look behind the scenes and look where they link. The fastest method is to go to Yahoo and use the following command in the search box:
link:www.competitorsite.com
From there you will see a list of all of your competitors back links, and low and behold they have given you access to some of their most prized online nuggets. Links are the fabric of the web, so if a website has a high ranking position in search engines, Yahoo has a tendency to show the links with the highest website authority first. So, the list you receive is showing you where they are getting the latest and greatest link juice, typically by importance or chronological order.
From there you can drill down into the past and see if any of the sites they have used have available areas for you to post articles, or acquire links. This by far is not the most ethical, but since everything leaves a trail, you can use the link poaching method, to at least provide a landscape of the link portfolio and profile needed to land in the upper echelon of search engines.
Read More Related Posts
Code Inserter Module Added to SEO Ultimate
Optimizing Meta Titles and Descriptions
Advertising and Advertisers: Meet SEO and Rich Media
Link Building Tips to Prevent Google Penalties
Massive Link Audit or Quality Control for Search
Organic SEO and Search Engine Cycles
Managing Keyword Popularity and Conversion
Google Crawls Deeper to Cross Reference Content
SEO Review: Get a FREE SEO Review!