You may have heard that "SEO is not rocket science", however what organic SEO is, is a consummate process that is not only time consuming and meticulous, but each stage demands the proper balance of on-page and off-page SEO factors to secure a stable long-term search engine position.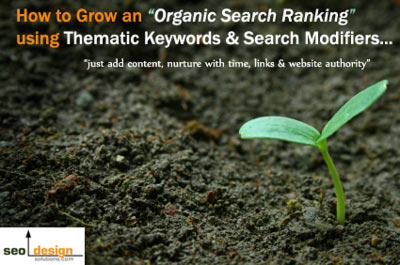 Having the vision to see the big picture of search from the onset, can insulate you from jumping to premature conclusions throughout the organic optimization process. Just like growing a plant that yields fruit, organic search rankings take time. Rather than reacting to the by-products and effects produced by search engines and their algorithmic ranking equations, you can see them for what they are, indicators along the way that provide feedback to fine tune your content.
A tree can only grow as high as the roots can provide stability, so, by leveraging keywords and modifiers for your content strategically, you are essentially digging deep in the soil of search engines and planting future seeds that can bear a plentiful harvest in conclusion.
Instead of a technical article about organic SEO, on the contrary, we will focus on the roots, till the soil and fertilize the foundation of anticipated future rankings. You have to ask, what are the primary factors for obtaining a high ranking organic search engine position? From the standpoint of common sense, the fundamentals are:
1. Foresight and Proper Planning
2. Persistence
3. Patience
Considerations for creating relevant pages include creating a proper balance of thematic content and links (over time) to develop quality and consistency to your site.
When composing content, understanding that well written concise content, the architecture of the link structure, the anchor text (words in the link), keyword proximity and thematic semantics represent a large percentage of how your pages will fare in the SERPs (search engine result pages).
Even more important are utilizing pivotal modifiers which allow your pages to be found under a variety of additional searches. By placing yourself in the mind of the searcher you can intuitively craft your copy with the long-term goal of creating a veritable resource of topical information on your pages, which will serve to drive traffic as a result in the long run.
For example, let's analyze some of the major keyword modifiers that anyone should target to get added leverage for their main phrases.
The "most searched" obvious keyword modifiers first;
Company
Services
Professional
Best
Top
Leading
Internet
Organization
Marketing
Business
Solution
Online
Then the less obvious "Money Phrases", such as:
Rates
Pricing
Deals
Affordable
Offers
Packages
Quality
Then the GEO Specific Local Search Modifiers Such as:
City Name
Surrounding Suburbs
State (including abbreviations NYC, IL, FL, WA, etc.)
County Name
For example, if there were a page that was nationally targeted toward a competitive phrase or series or key phrases, but I still wanted to have local visibility, how would you optimize it?
First of all, integrate the primary modifiers from the first group somewhere into the copy. Spiders are intelligent enough to mix and match and extract the gist of keywords on the page unless you specify otherwise through employing a predetermined meta-description (under the Title in the header of the HTML).
If you have used a meta description, then the snippet that appears in the search engine when someone is conducting a search will default to your designated text. Snippets are great to control the output for consistency of a marketing message, however I prefer to let the spiders extract snippets of text from the entire page to match the search query for long tail positioning.
Just by having search modifiers in the description tag of the HTML alone is enough to produce a top 10 organic ranking with the appropriate off-page factors.
You can add additional On-Page SEO Factors to create relevance such as:
1) Block quotes – search engines add extra weight to the content within block quotes (bullets). If the information is also present or support on page, this can be a great way to consolidate a higher organic position. Here is a tip, keep the block quotes higher up in the HTML code for additional relevance, to add even more weight, make the keywords and modifiers concise (2-5 words) then make them anchor text (the text in the link) to another HTML anchor on the page# (with a keyword).
2) Keyword Rich Footer Links – Granted not all pages allow you to utilize this well known tactic for channeling internal link juice to other relevant pages, but this also allows you to create a stable presence of your main keywords on every page in your site that you wish to rank for those terms. No need to overdo it, but a healthy dose of footer links (links at the bottom of the page) to link important thematically related materials can also help produce the "One Box Effect" when you reach the appropriate balance of internal and external links to your pages. This is where you could use your second tier of modifiers to turn one page into a local search friendly page, while retaining the elements for a competitive national placement.
3) Proper use of internal links and no-follow tags – I have seen leading SEO sites use footer links to other pages using #named anchors as opposed to just regular anchor text (keyword rich words in the links) to the page to create additional leverage in search engines. As well as other instances of sites capping the external links to 5 outbound links per page (to increase the ranking factors of that page), excessive use of the "no-follow" and various other "link juice sculpting" SEO techniques to achieve optimal on-page relevance to maximize placement. With so many methods to elevate or control your internal links and on-page ranking factors, it really is a matter of finding the right balance with each site.
So, if you (a) start with a page that is lean with clean or valid HTML code (b) has 500-750 words on the page (c) uses enough keywords and modifiers to provide a solid base for potential "common sense and keyword research queries" (d) leverages internal links from your strongest pages and (e) has quality links back to the page (or others from similar industries or categories link to you), then essentially your content has the trappings for a high ranking organic search position.
After all of the components synthesize, they are weighed for their relevance, assigned an internal PageRank value and considered for a promotion to the top of the index as the links and content age appropriately.
We mentioned above that the three factors are:
1. Foresight and Proper Planning
2. Persistence
3. Patience
We have covered the first, now here is where the second and third elements of persistence and patience come into play.
With millions of pages of content being added daily to the web, there is allot of sorting to do to determine whose content rises to the top, as a result of trust and whose content slips off into the dark recesses of the web.
So long as your pages have a common theme, such as related material that search engine spiders can understand, all of the content in your entire site will be scanned, analyzed and categorized for relevance each and every time it is gleaned from search engine spiders.
The idea is, now is the time to start building links using variations of the secondary and third level keywords and search modifiers to broaden the net and funnel the most appropriate traffic to your pages. This is how a dominant search ranking in developed systematically over time for a series of semantically related keywords.
Examples from the keywords above, say for example the business in question offers services in the "Marketing" industry.
You could start building links to the most relevant pages using a mixture of modifiers and keywords to compose an ideal collection of key phrases to promote word stemming. Word stemming is the correlation between related semantic keywords, so for example you build links with the word dog and you eventually rank for the word pet, puppies, etc. So, using keywords such as:
Leading Marketing Company
Professional Internet Marketing Services
Best Online Marketing Professional in (State)
Affordable (Company) Marketing Rates
Top Quality Solutions in (City)
This will serve to position this company in the long run for a wide array or relevant search results after it has been indexed for several months and receives the "seal of approval" from search engines as a result of authority, target specific links and trust rank.
The point is to diversify the anchor text, (eventually all of the terms raise in allinanchor relevance) so that the page is found under a variety of keywords and unique search queries.
If you wanted, for example to expound on the ramifications for creating a local search friendly page, just build links using the combination of GEO specific data like the City Name, State & Suburbs as a prefix or suffix respectively and repeat the drill above using other keyword-rich combinations that pertain to the content on the page.
In summary, start with great content, tag it properly, add the right mixture of links (over time) and let the pages gestate (just like the term organic implies) it needs to grow from a sprout into a full grown ranking where it can multiply and spawn new seeds for search. The most important thing is to be patient and let the process work for you, not against you.
Competitive terms can take anywhere from 6 months to a year depending on the competition, their link building methods and the time it takes to garner trust as a result of search engines acknowledging your content as a resource. In the end, ultimately the choice is your how you promote your content (or if you even do at all), but I hope this at leasts provides some insight to the process of how to grow an organic search ranking using keywords and modifiers.
Read More Related Posts
The Value of Search Engine Optimization
You Reap What You Sow with Organic SEO
Organic SEO: Cultivating Natural Search Engine Rankings
Organic SEO and Low Hanging Fruit or PPC,
How Many Links Does It Take to Get
Hittail Long Tail Search Engine Monitoring Tool is
On Page SEO at The Roots of Relevance
Organic SEO: Natural Search Engine Optimization