Sometimes, especially with SEO tools, you've got to go back to move forward. I recently stumbled accross this old video of myself and my good friend Matt Da Cruz from 3 years ago discussing the future of some of the sickest SEO tools ever released for public consumption.

This was the precursor to some of the features we had planned for the WP Ultimate Theme and features that they were building into their suite of tools for  Domain Web Studio.
When reminiscing back to 2011, I get excited for two reasons (1) I still had my dreadlocks which I later cut in 2012 (big mistake after 21 years of committment) and (2) the sinister advanced SEO brain storm sessions with Matt plotting market-domination over some highly-caffeinated coffee hit truly unchartered depths.
For the record, we could spend the next 10 years building out the tip of the iceberg for some of the automated tools we discussed, but I digress.
Looking back in hindsight reminds me that it's a good idea to evaluate and assess your old strategies, progress and lessons learned along the way (essentially knowing where you have been, to define where you're going).
While many of the proposed modules we discussed on the video then have changed (such is life), other ideas have evolved and taken their place in existing features in either their software or ours.
Speaking of modules, we have some great updates underway for SEO Ultimate's Opengraph Integrator module and are looking forward to updating other SEO Ultimate features for the sake of enhanced usability… But what about our WP Ultimate theme?
Update on The WP Ultimate Theme Release
In all truthfulness, you'll never have a second chance to make a first impression, which is why we've been so stringent about not releasing our beta version of WP Ultimate Theme until each feature is checked, double checked and triple checked under a diverse array of use-case scenarios.
To whet your beak in anticipation of the release, we've provided a few sneak-peak screen caps below for you to peruse.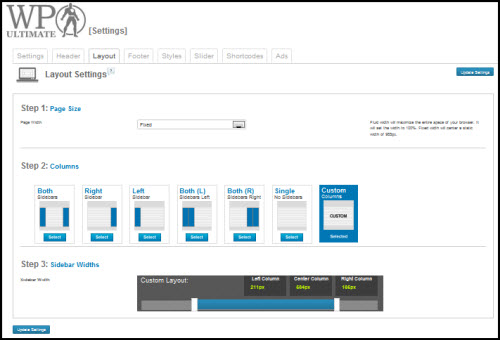 The Layout settings feature allows fixed, fluid or responsive layout options and customizable sidebar and/or content width.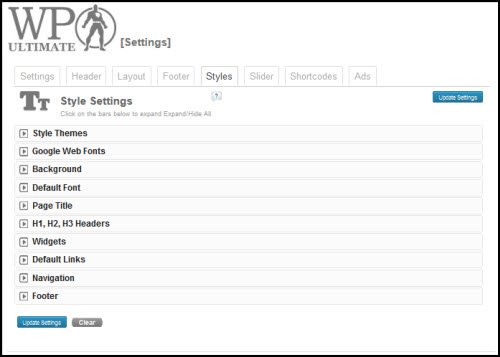 The Typography and Style Settings allow granularly CSS / Design control w/ color picker and straight-forward controls.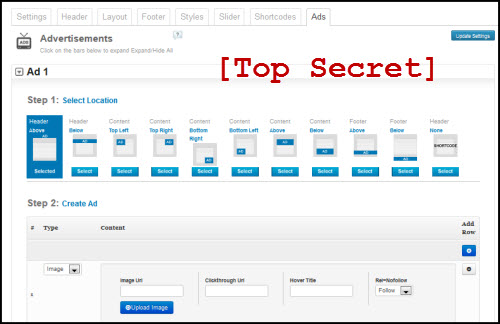 The Ad Manager Module allows you to add HTML scripts or upload banners with ease and ads can also be used as short codes.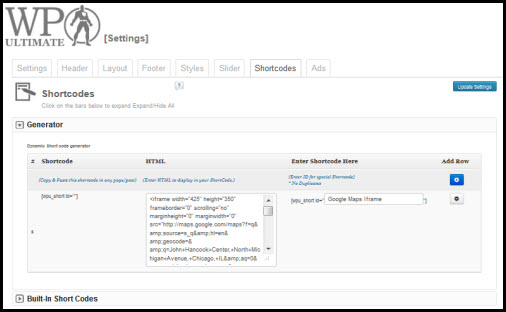 The Short Code Generator Module allows you to create and use your own short codes (maps, contact forms, HTML or text) or, you can select from our built-in short codes from content boxes to columns (it's in there).
In closing, affiliates and small business owners seeking a visually stunning SEO equalizer will soon have some new SEO and Design tools to play with.
However, in the meantime, we are currently stress-testing and refining the last batch of newly integrated features in the front-end (e.g. Twitter Bootstrap, Google Fonts, Slider Revolution, a Timed Lightbox Feature, Content Columns, Font Awesome, the quick silo builder and an ever-increasing library of shortcodes).
Once Beta Testers are Done, It's a Wrap
Our beta testers are now in their final review, so, once all bugs are crushed, we'll broadcast the announcement to those of you reading this blog via the proper social channels and you'll be able to download your copy and put it to the test. As always, we look forward to your feedback and suggestions on how we can make our tools the best they can be.
The jury on price point is still hung as we have poured our heart, soul and most coveted tactics and tools into this framework, but we'll be sure to entice early adopters with a special promotion coupon code for the launch before settling at the final single user license fee and extended / unlimited site user license rates.
In the meantime, thank you for your patience during the scope-creep cycles we're emerging from. We truly look forward to building a dynamic community and providing useful resources that you can deploy powered by our battle-tested SEO strategies and tools to generate more revenue for your business.
If you haven't already, feel free to download SEO Ultimate our All-In-One WordPress SEO Plugin and take a peak at the video tutorial explaining how to use its various features. Thanks again and stay tuned for more SEO goodies.
Have questions or have something to say? Speak up! Share your thoughts below.
Read More Related Posts
Put Your New Google Page Rank To Work!
SEO Optimized: Is Your Website Optimized?
Link Baiting, Viral Marketing & Creating a Web
Why Should Search Engines Rank Your Pages?
SEO Video about Website Silo Architecture
Duplicate Content, What is it and How to
Find the Best Keywords to Bait New Consumers
SEO Tips for the Google Mayday Algorithm Aftermath