You may have heard about website silo architecture or theming your website, but what does it mean?
How to Theme and Silo Your Website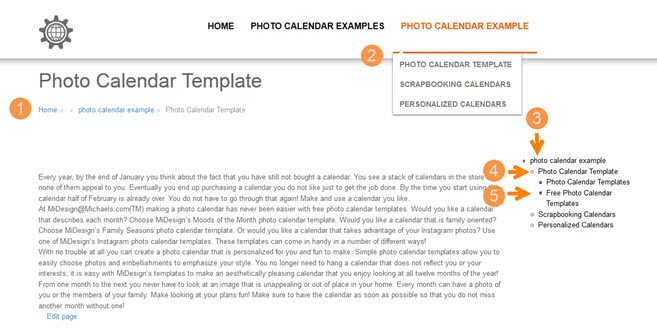 For those unfamiliar with the jargon or techie nomenclature; siloing simply means categorizing semantic content using a series of inter-linked posts which are ring-fenced to each other to consolidates the collective ranking factor to the primary landing page (a.k.a. silo landing page).
This is a very powerful technique that emulates the natural data hierarchy that search engines use weight to determine relevancy and authority. To step back in time Mr. Bruce Clay coined this phrase years ago as was the first one to actually share this technique with the masses.
In layman's terms creating a silo means using a specific topic (as the primary landing page) and then creating nested categories and posts under the primary topic (silo) to support the theme through the collective weight of the related documents.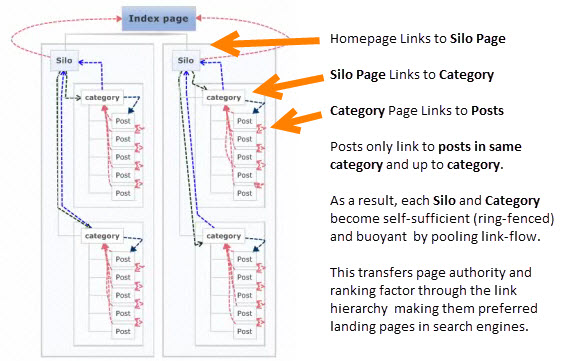 I mentioned the idea of ring-fencing above, ring-fenced in this connotation means that the pages link selectively in sequence (to the previous or the next post) in the series of nested layers to consolidate ranking factor.
What Makes Silos Work?
There are three facets that contribute to a properly siloed website.
a)      Semantic Connectivity (Relevance  i.e. belonging to a related node or phrases)
b)      Naming conventions (having a common keyword denominator in the URL)
c)       Common modifiers and anchor text braiding the siloed pages together through targeted internal links to reinforce the pages placement within the tiers of the website architecture.
If you pay attention to those three facets, you can use them to triangulate relevance easily to search engines and save yourself the hassle of targeting keywords one by one.  Pages that are siloed feed each other, and if each page in the silo is fed by deep links from other websites, the entire silo gets the benefit.
The genuine benefit of siloing is the ability to capture entire cross-sections of a market by staggering the content (posts) as well as how often those posts serve as pillars to support the primary theme.
Once a less competitive keyword threshold is achieved and a website ranks for one keyword, it becomes easier for the site or page to rank for similar / related keywords.
What Does Ring Fencing Mean?
When you ring fence Page Rank or link flow by controlling the number of links on a page (through breadcrumbs, internal links, server side includes, footer links or contextual links) you force the link-flow (the aggregate equivalent of the link weight for internal and external links from all pages) to pool or move through very specific channels within a website.
Over time, those channels strengthen each page they flow through (like a thread) and latent pages rise from dormant complacency into dominant mid-tail and long-tail contenders (as a result of being nurtured from within).
A relevant page linking to another relevant page garners a higher relevance score and passes ranking factor through links similar to a process of algorithmic osmosis. The residual link-flow and authority provide the ability for pages in the silo to rise unchallenged in the SERPs (search engine result pages) with minimal inbound links from other websites.
This is due to the cyclical nature of the links forming a closed loop and only moving deeper into the silo, or back up to the top – which just so happens to be the more competitive keyword or phrase that needs more link-flow to gain expression.
As a result, your website devours entire clusters of keywords vs. one at a time and starts to rank for all of the related keyword variations as a result of the dynamic synergy that occurs over time. Think of theming and siloing as a tube Taurus (like a doughnut) that folds in on itself in a self perpetuating cycle.
The Benefits of Siloing
By cultivating this process deliberately, you can create powerful sites within sites to function as dynamos that create a specific type of keyword relevance within a website and when connected with other silos (through the navigation) exponentially devour every possible keyword combination in sight.
It is important to choose each theme and spoke of the hub (categories and supporting articles) wisely. Each page becomes a hub page capable of ranking itself and the next, and the next another page and so on (per infinitum).
Two websites you may be familiar with that share this architecture is (a) Wikipedia and (b) Amazon, and you can see just how appealing and effective this technique is for information retrieval algorithms.
This is due to the fact that it mirrors a perfect example of structure and order that search engines reward. This algorithmic continuity based on semantically overlapping "shingles" i.e. groups of words, functions like a pyramid with a solid base and streamlined apex.
A theme is a cluster of siloed (nested) pages all based on a similar semantic structure. For example, instead of mixed marbles, red marbles go in the red column, blue in the blue and yellow in the yellow column.
Even if variations exist through various modifiers alternative prefixes and relevant suffixes (such as round, small, solid, swirled, etc.) those modifiers are nested within their respective hierarchy. While this is an analogy, it conveys the purpose of reinforcing natural relationships as they occur to create structure out of chaos and in the process becomes a potent source for SEO ranking power.
Read More Related Posts
SEO Tips to Create a Champion Page
Organic Search: Top Keyword Modifiers Revealed!
Keyword Selection, Content and SEO
I HAVE CALL-TO-ACTION…. NOW WHAT?
SEO Tools: Looking Back to Move Forward!
Are There Any Real SEO Secrets?
SEO, Link Clusters, Age and IP Diversity
Targeting Keywords Within Your Reach