Finally, after years of coding, tweaking, testing and perfecting, we are pleased to introduce the SEO Design Framework.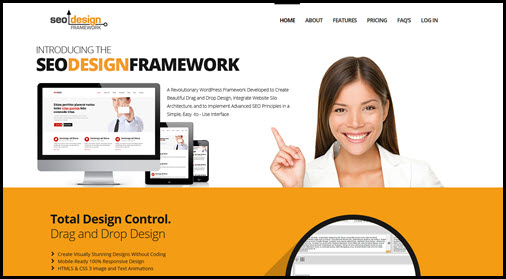 Rome was not built in a day and neither was this framework. But what makes it unique is that we created it as a solution for people who have better things to do than struggle with code (like run their businesses and make money), yet powerful enough for developers to take advantage of its inherent modular functionality.
For the record, there was nothing easy about building such a robust SEO and Design based CMS. But, easy doesn't get the job done, which is why we took our time, went back to the drawing board (again and again and again) and virtually embedded our craft into this framework.
We threw everything but the kitchen sink in this Beta and if I only had a nickel for every time I said two weeks to my business partners when asked about the launch date, let's just say I would have allot of nickels right now.
But I digress.
This software was designed to make your life easier when you build your next WordPress site. Meaning, our approach was user-centric and how end-users embrace features when they have a task in mind. If the features were buried in a cluttered interface that lacks intuitive design, then no matter how spectacular they are, then they are simply ignored.
So, we deliberately kept the controls minimal and centralized around two modes that permeate the design 1) global settings (that you set up first) and 2) local page level settings (to allow you to further customize each page asynchronous to the global controls.
For example, the local page level settings allow you to merely toggle features on / off (as you need them) such as building a custom header (for that page), custom navigation, toggling breadcrumbs, display title, logo, social media icons, widgets and more.
The SEO Design Framework's Objective:
The goal was to infuse SEO (via SEO Ultimate), responsive design, HTML 5 / CSS 3, a drag-and-drop page builder, website silo architecture, the ability to export child theme and page level templates, insanely powerful widgets and flexible global and page level settings into a fine-grained and intuitive dashboard that allows you to build websites that rank as great as they look. And thankfully, we can now say that there's a new framework in town, and it means business.
For the story behind the launch check out the about us page for the 411 on how it all came about, the SDF features page breaks down the functionality, you can preview of our SEOBiZZ child theme (which you get FREE with the framework as part of our limited-time introductory offer) and we're even giving away SEO Ultimate version 7.6.2 as well as a preconfigured settings file, the SDF quick-start settings file (essentially another child theme), a detailed user's manual, access to our member's area and 1 year of updates and support for only $69.
You'll be building themes in no time with features like:
Drag and Drop Design
Breadcrumbs
Entrance Animations (for text and images)
Parallax Backgrounds
Sticky Menus
Timed Light boxes for opt-in offers
Totally Responsive
Website Silo Architecture (no really, siloing is built in).
New SEO Ultimate features for extended Twitter Card,
G+ and Open Graph functionality
Shortcode Generator
Custom header builder
Unlimited sidebars and more…
Take WordPress and design to a Whole Nutha Level with the SEO Design Framework and FYI, later this week we will be pushing SEO Ultimate version 7.6.2 to WordPress with a new look and some awesome new features.
In closing, this reminds me of Dane Cook and his father promising to take him to Benson's animal farm. Just for the record, we apologize for any false starts about the timing of the launch, we really had to make sure we put our best foot forward (which we did).
So, alright kids, put on your fun hats "we're finally going to Benson's animal farm" and launching the SEO Design Framework to our SEO Ultimate community (Skid-alee-dooo)!
For all of you who've enjoyed SEO Ultimate over the years, instead of buying us a beer, just buy the framework instead. This way, we can keep doing what we love most  –  helping you get ranked with powerful tools for WordPress and building stunning websites that rank as great as they look.
We'd appreciate it. Support the launch, purchase your copy today.
Read More Related Posts
SEO Ultimate Version 6.0 Released!
Introducing The Happy Landings WordPress Theme!
3 "Must Have" WordPress Related Posts Plugins
SEO Ultimate: Mass Meta Title and Description Editor
Code Inserter Module Added to SEO Ultimate
SEO Tips for Using the SEO Ultimate Competitive
SEO Ultimate WordPress Plugin Surpasses 5,000 Downloads
SEO Ultimate WordPress SEO Plugin Version 1.0 Released
SEO Ultimate 0.8 Released!
SEO Ultimate Version 6.3 Unleashed: On Page SEO