We know that top 10 rankings are the objective for SEO and top 5 rankings are even more desirable, but have you seen the new array of top 3 results displayed in the Google search engine result pages?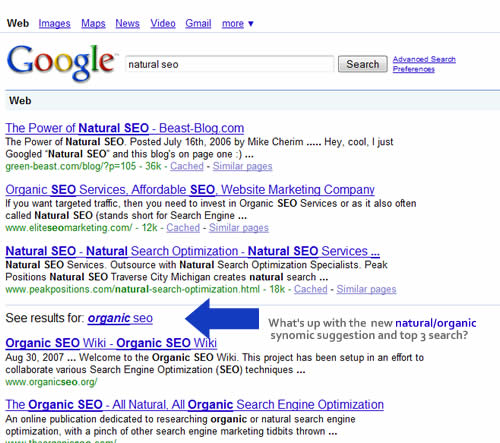 In addition to Universal Search (blended results from news, videos, blogs and RSS Feeds) a new version of miniature sitewide links (see image below) as an expanded array of results for Google suggested search as well, which has increased the amount of stemmed related searches located at the bottom of the page, now there is a new format appearing on specific searches.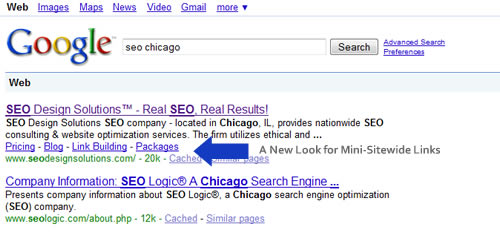 It appears to be a search within a search based on a semantic variation of the root phrase or modifier (word used as a qualifier, prefix or suffix). Subtle changes such as these could modify search behavior by supplementing key search phrases with suggested search alternatives. As an SEO, things such as these represent the ability to hone a competitive advantage by determining which secondary and tertiary keywords stem from the more competitive keywords and key phrases.
Instead of a typical listing of top 10 results (I searched for Natural SEO) and after the third result, there is a line divider with a header indicating; See results for Organic SEO and proceeds to list the top three results for Organic SEO. Ironically after those three results, another line divider is present and another 7 search results appear for "Natural SEO" for a total of 13 results on that page (split between two search terms).
Now, I know it says results 1-10, but not to find fault I have to infer that in this instance, there are 13 results on the page. Google is amazing for their diversification of universal search results in an attempt to determine which format is most suitable for the masses.
The notion that the algorithm is displaying additional synonyms for root keywords and incorporating another search within a search could translate to dramatic increases in click through traffic for secondary unintentional keyword combination's.
The takeaway is that keywords are the lifeblood of any website and the more overlapping relevant keywords your website appears for that are related to a theme, the higher your chances are for conversion from qualified traffic. If you can lock in the ranking factors that signify relevance for a competitive array of phrases, your dependency on primary keywords diminishes.
By spending time conducting searches related to your primary keywords, you can add another layer to heuristic analysis through keyword research by actually searching the search engine result pages manually to find hidden gems.

Example of Related Search Results at the Bottom of Search Engine Result Page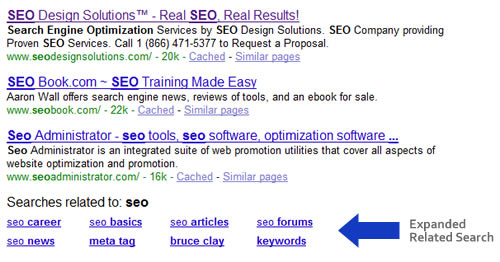 This tactic will allow you to find multiple (missed opportunities) which you can employ to hedge yourself by reverse engineering less competitive keywords (the low hanging fruit) for terms that automatically appear in the related search feature for more competitive keywords.
For example, even though we are not there yet for the root phrase search engine optimization, we are in the top 10 for a keyword that appears as a suggested search for search engine optimization pricing (which is just fine with us, since this is an actionable search term for prospects ready to purchase).
Layering SEO efforts with related keywords is one method used prominently by SEO's as a way to gain traction for a theme while chipping away at the root. It is a derivative of keyword stemming and occurs naturally in search engines when a website either receives an influx of traffic, links or gains authority on a topic.
So, by optimizing keywords like search engine optimization services, search engine optimization company, search engine optimization cost, etc., you are unintentionally closing in on the root phrase search engine optimization. For more about keyword stemming and how to create it, here is a post from the past about optimizing your site for multiple keywords.
Read More Related Posts
SEO Tips to Acquire Competitive Keywords
Consolidating On Page SEO with Content, Navigation and
SEO Videos: How to Discover Competitors SEO Strategies
SEO or Authority, Which is Better?
International SEO, Social Media and Website Promotion
Introducing The Happy Landings WordPress Theme!
Using Related Search to Find Google's Most Searched