Often you hear about the need to prevent duplicate content within your own website as it applies to SEO, but why? This is our take on why creating uniquely distinct nodes on each page is imperative for your content to produce not only context, but rankings as opposed to tripping search engine filters.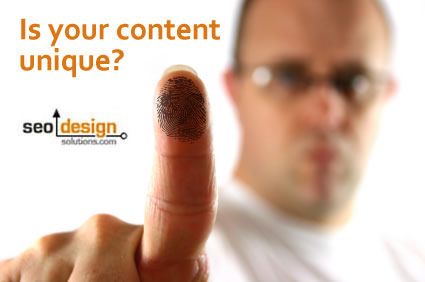 Block segment analysis dictates the value of weight / ranking  factors a web page is given for a set portion of the page. For example, text in the header and footer of a document are treated differently than say text in the body section of a page.
The header is given more weight than the footer and typically the body text is given more value than both (since that is where the page has the ability to distinguish itself from borrowed elements, i.e. navigation, etc.).
The reason for this is simple, page composition dictates that proximity and distinction (the more unique one document is from another) by distinguishing your content, the better. Search engines can easily discern duplication (through shingle analysis, singular value decomposition, etc.) in areas such as navigation, sidebars/blogrolls with the same links and footers all using the same text. This has the tendency of diffuse a pages ranking potential.
In order to leverage a page for SEO, it must (1) get indexed and (2) stay indexed in order to pass its ideal ranking factor, be used to bridge ranking factor as a hub by building internal links to and from that page. If search engines determine that your pages are redundant or ubiquitous the dampener kicks in algorithmically and the ranking factor can be suppressed via de-indexing or filters (like the supplemental index) as a basis of sequencing leaving the same repetitive hash mark (from document to document).
This aspect of the ranking algorithm is based on the c-index whereby term weight and similarity are used to assign relevance through singular value decomposition as a base vector across web pages. If enough of the singular values are identified across the global collection of documents then you have co-occurrence (which may in this instance work against your ranking objectives).
Duplication via a template or though tag pages that lack unique content can go supplemental in a secondary search index, if they are not nurtured with enough internal link flow. The gist here is, the larger your website grows, the higher the probability of diffusing or diluting your global nodes / top ranking keywords (a.k.a keyword cannibalization) like an over-optimization penalty.
Just like a base that shifts to accommodate scalability, the foundation (like a triangle) must continue to broaden its base if the vertical threshold continues to rise. Similarly, the more pages you add about (1) topic A shift the focus from topic B. The common thread in most websites is the navigation (which if left to a simplistic ontology is not sufficient to feed an entire website).
You can stem a websites topic into multiple topics, however each has a threshold to cross and moving on many fronts requires more inbound links and internal stability though secondary navigation to sculpt the on page factors that identify each segments (to pass value).
This is why virtual theming (linking from relevant keywords in one document to another document) is so important. It allows the ranking factor to transfer link weight to the champion page through term frequency which essentially raises the bar in how search engines will interpret each respective keyword when considering it for retrieval.
Deep linking (acquiring inbound links to a specific page vs. just the homepage) is equally as beneficial for eliminating the tendency for pages to go supplemental (or lose ranking factor as a unique asset). When you spread a site too thin (expand the content through automation) such as using a shopping cart that pulls similar values from a database. You must ensure that you have the ability to customize data (titles, h1, and content) to make each page distinct enough to add additional leverage to your primary, secondary and tertiary keywords that define your website.
Read More Related Posts
Authority or Rankings, Which is More Important for
Anyone Can Pay for Traffic, but Who Can
Protect Your Rankings from SEO Penalties
SEO Ultimate WordPress SEO Plugin Version 1.9 Released
Search Rankings Start with Great Keywords
Understanding The SEO Archive Effect
Why SEO Transcends Tips, Tactics or Techniques
SEO Tips to Acquire Competitive Keywords
Homepage Replaced by Internal Page in Google SERPs
SEO Tips to Transfer Latent Ranking Factors