Is it just me, or am I the only one seeing the search engine result pages (SERPs) Yo-Yo effect? The phenomenon is illustrating all kinds of uncharacteristic behavior in Google such as a flip-flop affect in rankings with a sifting effect that scrambles the current rankings with previous snapshots of the web.
What tipped me off was, I know for a fact that one page for example was clearly indexed on the 9th of September, upon checking now, the reference is for the 4th of September. Hmmmm, usually one would just assume it as an effect of sorts and write it off, but not this time. This seems like a great opportunity to give something a name which most assuredly has a definition and set series of principles developed by the highly secretive engineers at Google. Just like Pepsi, we can speculate what's in it, but it's the mystery that keeps us intrigued.
Since this is how keywords get coined, I would like to throw one out there, we all know what the Google Dance is, but this is more like "the attention deficit disorder / Yo-Yo slam dance" in the SERPs. Examples like rankings and companies appearing much like the Big Daddy Update from out of nowhere getting reordered and then shuffled again.
If there is whole new set of criteria for ranking and relevance, the only thing I can say is, try not to get used to it. The same thing happened a few weeks ago and stabilized shortly thereafter (approximately 72 hours later). This could be another ripple effect from the same source. The one thing that I can say is websites with multiple backlinks covering a wide range of pivotal keywords seem unaffected by the fluctuations. The more quality backlinks you have, the less the impact of the wave, but once again, this is merely speculation.
Upon first inspection, this behavior is typically indicative of a mass data export or synchronization of data centers for the page rank update. Funny how when any change impacts the SERPs in a particular way (obviously in a negative capacity) theories are quickly developed to fill the void of supposition. At this point, I welcome the explanation. Logically this appears as a data bridge between a 5 day window where "something" is being introduced, tested and then relinquished.
For all we know, it could be a new algorithm function beta test that excludes links that have not matured and thus affect the SERPS in sequential chronological fashion. Another speculation is since we already know that a great deal of the older more established directories have been penalized in Google as of late, is there some uber intelligent link-sniffing program that has been unleashed to put a crimp in the rank inflation of websites since the last page rank update? At this point it is too soon to draw conclusions. However, just like a weatherman make predictions based on observed patterns, probability and the process of elimination, so to are SEO practitioners exposed to making pure speculations in order to quantify ripples in the SERPS.
This one looks like rain for those who are stuck in the past and sunny skies for those who can see beyond the horizon. All I can say is grab an umbrella to weather the storm and wait until things settle a bit. In the end, it very well could be that nice little green bar making room for improvement and performing a little housecleaning on link relevance and other predetermined factors for evaluating the criteria of who's hot and who's not.
All I can say is, I like the flip before it flopped and look forward to the resynchronization of the old data with supposed 5 day now you see me, now you don't cache lapse/anomaly I observed. Not that there is anything wrong with Yo-Yo's, just not when your main keywords and rankings are on the line.
Stay tuned for more information from Seo Design Solutions on our next post.
Read More Related Posts
I'm sure the last thing on your mind when your conducting a search query is just how many functions are lurking behind the scenes to deliver your search result. What ...
READ MORE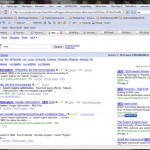 Have you ever strived to reach the pinnacle of a search term and for no reason it just disappeared? This is commonly known as the "Everflux" or "The Google Dance" ...
READ MORE