So what's with all this talk about spying on your competition through competitive research analysis? Before continuing, do you really have to ask if it is ethical to spy on your competition? Or is it just modified market research?


After all, everything that one does to bolster rankings online leaves a trail right?, So who is to say if it's simply strategic utilization of such information or if it's arbitrage for the sake of ensuring your rankings as the rules of engagement unfold in the daily keyword wars? In the fight for sitting at the pole position of the top 10 for extremely competitive terms, all is fair in love and war when toppling major keywords in the top 10 are concerned.
What once may have seemed like a solid business practice, using the competitions own weapons (their own PR or link building) against them, is now shaping up to be a fear driven, ego gratification based marketing windfall for companies like Compete who are now offering SEO Tools to spy on your competition and extract their coveted keyword gold. Just for the record, this is not a paid advertisement, just a bit of kudos to a company brilliant enough to capitalize on something so obvious and so necessary for being involved in online business, that the very thought of this new metrics tools has even the most dominant companies trying to cover their tracks.
Not to say that the tactic of intrusive competitive analysis isn't appealing (spying on the competition) and a bit of online reconnaissance should be expected. The use of cutting edge market analysis tools to provide added leverage for businesses planning their next strategic campaign is only logical when the goal is achieving a maximum ROI for every dollar spent. But is it ethical, and more importantly does anyone really care if is is or isn't as long as the bottom line increases.
In a way, this is truly a method to level the playing field, Competitor A has their secret stash of websites linking to them for one of their main terms, if this became public knowledge it's almost like having the formula for Coca Cola, Pepsi or KFC, the point is, the all in anchor links (just use the command allinanchor: "insert keyword" in Google to see who ranks at the top) are essentially one of the prominent factors in the ranking algorithm as far as Google in concerned.
So, the website with the most high powered back links, website age and authority are for the most part are ensured a position in the upper echelon of search engines top 10 search results for multiple keywords and key phrases (such as Wikipedia for example). Not that you are going to take on a behemoth such as that any time soon, but in relationship to a less competitive industry, it may as well be wide open to someone with a budget, a great SEO company and a target using competitive analysis as a tool for establishing the new target for your campaign.
It makes perfect sense that this is the way of Internet Marketing in 2008, or at least where new school SEO is heading. Not to say that competitive analysis is not already a major component in full scale existing optimization strategies is an understatement, now it's merely a matter of everyone having access to such information (for a price) what will shake up the way companies promote their business online.
In the end inevitably one has to note, that with the increasing use of seo technology available to discern competitive metrics and analytics of traffic, back links, behaviors or storehouses of strategic online alliances are all for the most part common knowledge. If you have the right tools, the right impetus and a strong resolve to sift through data, one can conclusively arrive at the dynamo behind the success of a competitor and then apply the one up rule to bump them from the race, call it a nudge or stalker style online marketing, whatever you call it, it has become common place.
In layman's terms for example, say you wanted to find out why Company A, ranks so well for Term B, then you could in essence launch your own investigation online using various methods for extracting their commonly themed phrases and keywords (and the links they used to capture the term) which are essentially their key to ranking in search engines for those specific terms.
They say nothing is sacred anymore, well this is a testament to the power of zeros and ones united for a common goal from programmers who enjoy unraveling the fabric of search engine algorithms and serving them up to the people for a price.
I suspect, this is only the beginning of companies, products and services such as this. All I can say is, "Damn, I wish I would have thought of it first". So instead of sitting here commenting about it, we could be the ones shaping history and the future of online business.
Stay tuned…

Read More Related Posts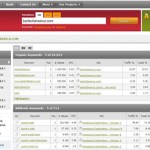 Here is a nifty little SEO Tip for mapping out keyword clusters and their corresponding landing pages (within your own site or your competitors) using a combination of the link ...
READ MORE
Have you caught a glimpse of the new Google Webmaster Tools Click Through Statistics? Finally a diagnostic tool you can appreciate. Just their way of saying, "hey, how ya doing"...and ...
READ MORE