Finding the tipping point for your keywords through SEO is imperative. The tipping point is when a keyword overcomes a specific relevance threshold which then toggles buoyancy for your individual pages in the SERPs (search engine result pages). For instance, jumping from page 3 to page 1 for your main keyword is a prime example.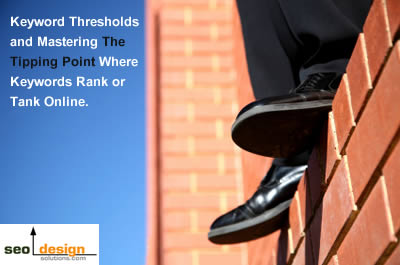 Through understanding the premise that each page in your website can be optimized to rank for a very specific synonymic range of keywords (such as make, model#, or modifier like affordable, leading, pricing, etc.). In addition, the quantity of content on a topic can be scaled to acquire multiple phrases simultaneously.
Another factor of concurrence to this ranking strategy is relevance score and link velocity.
Relevance score dictates the quantitative alignment of the query entered in the search box to your content, link velocity is the rate in which you acquire or lose inbound links. Both must augment the process of each pages evolution to establish the core components of algorithmic trust.
Trust is imperative for rankings and visibility, particularly when more competitive thresholds (single keywords) are sought. If you have relevance for the root phrase (like SEO, search engine optimization, etc.), the likelihood and threshold of optimizing your site for additional modifiers that stem from the root keyword like SEO services, SEO company, etc. are reduced as a result of granular insulation.
Also note, the less trust your site has, the less likely it is to maintain a solid foothold for that term. So building internal as well as external links with the proper link velocity to weight your pages with potency must be managed to maintain a high ranking organic position.
Once again the idea is not to rank for a few measly keywords and have to rely on PPC, but rather spread the aggregate on page and off page ranking factors around to keep your keywords that convert working 24/7 and stemming on your behalf.
Consider it hedging your options, after all marketing is all about visibility and probability and getting your offer in front of as many interested eyeballs as potentially possible for the sake of prospecting. Considering it the law of averages or the base camp for your keyword and ranking expedition. Managing the drip-rate of how consumers find your pages is done through creating a consistent ebb or traffic through using paid or organic keyword positioning.
The way to systematically increase your base, push more keywords over the tipping point is through reinforcing internal anchor text to relevant landing pages. When you think about the site that dominates thousands of niches with multiple number 1 and 2 rankings, who comes to mind? I will give you a hint, it rhymes with micipedia. Why is that? because they understand the power of internal linking.
There is no point trying to bump anyone from the SERPs until you get your own site in order. Understand that that over 60% of the most important ranking factors for competitive keywords fall under the jurisdiction of on page optimization. Sure, links matter and help to add weight to the equation, but without a solid internal site infrastructure and internal link mapping, you may as well be pouring water in a bucket laden with holes. Ranking higher for more terms with less effort is the side effect of authority.
If managed properly, your website can encompass broad cross-sections of market share across thousands of keywords to dominate a niche. When this occurs, relevance and authority become a vacuum and literally pull pages from your site at the mere hint of co-occurrence through long-tail and short tail keyword domination.
If your website has 12 optimized pages on a topic that are all virtually themed through internal links and your competition only has 1, then who do you think search engines will select?
Here is one way to find the tipping point for a given keywords threshold with a simple search.
1. Find out how many links that page has from its own site by taking the pages URL and pasting it in Yahoo Site Explorer. It will indicate the number of pages linking to it from both [from all pages] or [except from this domain].
2. The total number of inbound links to a page are from all pages, the number of inbound links from other websites is displayed when you use the drop down for except from this domain.
Granted, this is a simply preliminary method for analysis, you still have to have quality content, relevant titles, descriptions and tags for the sake of continuity and folksonomy.
However, with this simple tactic alone you can gain insight to the tipping point. Say for example, a website ranked for a keyword with 75,000 competing pages (which you can determined by using quotes in Google around the term to find the threshold of competition).
You could then determine which page ranks the highest, see if it is a domain/homepage (which means the entire site could be augmenting the ranking) or a page (which implies that the page has the right stuff). Then apply this litmus test to gain insight as to whether the page is relying on external or internal links.
It could be (a) rankings produced from a few powerhouse links (b) rankings produced from hundreds or thousand of links from ip diversity (like punches in bunches) or (c) a strong core of topically reinforced internal links augmented by an external link threshold.
Each keyword and market is different, for some keywords it may take a 70/30 split (70% internal links 30% inbound links from other sites). This must be tested, tried and measured until the tipping point is engaged. Taking the competitiveness of the keyword in mind, the more competitive it is, the more internal links it typically requires to outrank pages uses external links alone.
If you get the appropriate ratios of internal/external linking, allinurl, allintext, allinanchor dialed in, the page rises to the top of search engines as a result.
You simply must know how to dial in the phrase or group of phrases through using link osmosis, which like the buddy system connects pages and catapults them into the spotlight through a reciprocating self-referral mechanism.
So, do you know what your websites tipping point is for its ideal keywords? Can you push a competitors page aside that sits at the top of a keyword with 500,000 competing pages or is it more like 50,000? The rate a ranking climbs or stays depends on the metric of page weighting (how strong your website is, and how you leverage its authority) to offset the keywords with competitive relevance thresholds.
So, before you look beyond your own site for resources, without content, relevance or being a reputable authority online (as a hub or destination page), it will be harder for you to gain or maintain a stable threshold of keywords.