Great news!
As you know (due to the silence on the blog) we've had our heads down coding, but we haven't forgotten about SEO Ultimate and have a new release (SEO Ultimate 7.6.2) that we need your help testing before we push it live.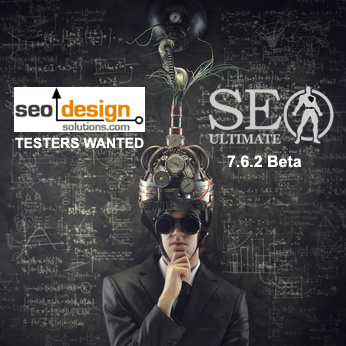 Two major things are happening this week. 1) We find a select group of beta testers (hint, hint) and 2) the launch of our SEO Design Framework. After what feels like countless hours in development, finally we're ready to share a truly phenomenal tool for WordPress users.
Every good software company knows that gaining critical feedback before is essential instead of rushing to market and having to fix something major after it's live. This is why we want a few of you to put it through the paces.
Also, to drop a hint about our new framework (screen caps below), we took the best of SEO, the best of Drag and Drop design and sprinkled in a little website silo architecture to create a truly formidable program capable of sculpting limitless themes with ease. If you like SEO Ultimate, then you're going to love the SEO Design Framework.
Tools are only useful if they can be implemented with ease. So, we paid particular attention to the user-interface and built a truly intuitive and intrinsic dashboard. Then, took it a step further with asynchronous global and local page level controls (that allow you to create completely unique designs on a page-by-page basis).
We'll make the announcement shortly when we open the gates, but we truly look forward to sharing this with you all very soon.
In the meantime… A select group will also get to test the new features of the SEO Design Framework, so, fill out the form and throw your name in the hat.

If your selected, we'll be in touch with the details.
Talk soon.
Read More Related Posts
It's that time for releasing dozens of video tutorials for the SEO Design Framework as we start building the massive how to SEO training materials area for our members. I just ...
READ MORE