Everybody loves it on top (of search engines that is). Let's face it, there is a reason why we obsess over our rankings, because we know that the more positions we occupy for our main keywords, the more your business we receive.


For the past 2 1/2 years, SEO Design Solutions has been humbly pursuing the crowning achievement in our industry, " to rank organically in the top 10 for the keyword SEO". Today, after 30 months of constant tweaks, refinements to site structure, content and links over time, the goal has been realized. The feeling of accomplishment, priceless!
There's nothing like a plan well executed (no matter how long it takes). The pure elation that accompanies ranking for a competitive keyword after months or years of effort is truly unparalleled. Once you have tasted the traffic and lead generation from a popular keyword, then the battle of this addictive yet rewarding compulsion to maintain the rankings' trajectory is paramount.
Like any good conquest (where a position of valor is attained), you have to defend your keep. With rapid churn rates in data centers that play hide and seek with your rankings, competition at ever turn (who would love it if you slipped on a banana peel and disappeared) and the sheer comfort of staying in that position, the pressure can be immense.
To say that competitive phrases have a high churn rate (at least until your SEO defense kicks in) is an understatement. The best insulation from getting bounced around like a beach ball in the search engine result pages is a steady supply of backlinks from trusted sites and a solid base of quality content.
We were fortunate enough to experience such a breakthrough today when our site appeared in the top 10 organic search results on Google for the keyword SEO. Although this is only the beginning, as competitive phrases take time to anchor across the nation due to fluctuations in search engine data centers. However, the shift and shuffle results that are present, show promise for settling in.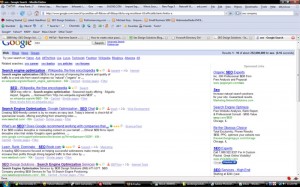 (view top 5 screen capture).
The moral of this post, never give up!