There's no question some businesses rely solely or heavily on seasonality and holidays to generate a majority of their revenues. The holiday season surrounding December proves to pay large dividends for retailers along with businesses related to travel. The first step in capturing a seasonally captive audience is to plan for it which is why SEO is the perfect solution.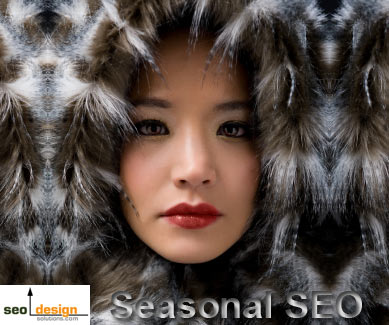 Most seasonally oriented businesses target a date that sets off the seasonal sales bonanza. Business owners look to market intelligence to inform them of historical and specific dates that mark the kick-off of their expected sales hike. From this date, they work backwards to create a timeline so that marketing collateral will be prepared and the staff necessary to create this material has been delegated.
Certain marketing mediums are more effective for specific industries. Duplicating previously successful campaigns (direct mail, e-mail, print, radio, etc) run during other promotions can be very cost effective, so long as the seasonal variation is present in the marketing material and product offering.
For example, we see retailer BeBe run promotional e-mail newsletters to inform their customers of holiday promotions surrounding December. This same form of marketing is effective for them during the spring time for swimwear and other summer related clothing.
Its important to create and strengthen your brand awareness during the non busy seasons so that your target market stays connected and doesn't forget who you are and what you stand for.
This can be accomplished by having a smaller inventory of advertisements that are less promotions driven and targeted around brand recognition. Offering off season premiums to your loyal customers will increase retention for your business during the busy seasons. For example, offering a complimentary coffee mug during the fall, will increase your brand recognition and customer loyalty heading into the winter holiday season.
Making sure that you stay on top of market intelligence that displays historical purchasing trends is crucial in determining when one promotional season ends and when the next begins. Offering Fourth of July fireworks in December will not catch the attention of consumers (positively) who have been keen on Christmas and other winter holiday shopping.
Planning around seasonal dates, focusing on brand recognition during the off season and using historically effective marketing mediums will produce seasonal revenue for your company on a consistent basis.
Read More Related Posts
Rankings Stuck? Try these 5 SEO Tips
Moving Past the Google Panda Update!
Reviving The Long Tail of SEO
Optimizing Titles, Anchor Text and Links
Warning! Search Engine Algorithm Changes Detected!
SEO Tips to Build Links, Trust and Authority
Do You Panic When SEO Rankings Drop?
SEO Ultimate WordPress SEO Plugin Version 1.2 Released