Job descriptions reveal much about the IT savvy of an organization. This particularly applies to the relatively new kid on the block of web skills: "usability specialist". There are other names too, like "information architect" or "interaction designer"–or even the current blockbuster phrase "user experience specialist".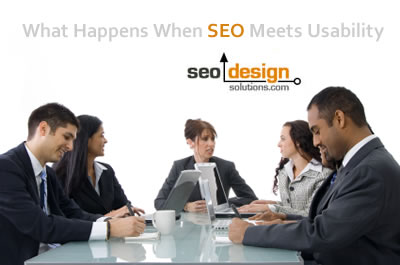 The best usability definition mandates meeting the needs of your end-user as determined by talking to your various types of users. The italics emphasize the process of talking. I point this out because all sites attempt to "meet the needs of users". But not all site designers actually talk to real end-users.
Designing Web Usability
Herein appears the illusion of "design". Everybody is a designer—and this includes you (the SEO expert) and the other guys over there in the other office: the coding experts.
But only usability designers focus on designing for your site's target audiences. When you fail to talk to real end-users, you end up talking to yourself or your buddies at work. When that happens, what you think is "user-friendly" to one or two people in your office becomes wild-ass "user-antagonistic" to thousands of real site visitors. Failure happens when the coders or other so-called "designers" just talk to themselves about hypothetical end users out in the web world.
The serious usability designer applies a usability methodology that includes identifying "user groups" or various target audiences. After conducting interviews to carefully define tasks people need to do, then you go about designing web usability into your site.
Usability Methods
Adoption of usability methods means end-users see their own vocabulary on your site (not your stakeholders' abstract jargon). They see that your site uses the metaphors or "mental model" that guided their actions in the past (not some fantasy generated by ivory tower specialists). Therefore, interacting with your site feels familiar. "Familiar" translates to "I like" your site.
Usability Standards
Furthermore, by adding usability standards your website usability work creates consistency in the use of controls, placement of controls, and choice of words like "Go" or "Submit". That consistency means "usability standards" makes life easier for site visitors. They don't have to keep relearning how to navigate your site or figuring out your terminology.
Web Usability Testing
Better yet, you have also done some usability evaluation. For example, let's assume you have two web audiences for your car sales sites: techno-geeks and average car buyers. Best practices suggest that you select about 10 test participants for each audience—a total of 20 people. Then you should create a sequence of tasks that will take about an hour per person. One hour reflects the limit of focused attention. You probably have a sequence of ten important tasks that must be easy to complete.
You tell your test participant "We are not testing you. We are testing this web site." You say this to remove anxiety and restore normalcy to your participant.
You also say "Please tell me what you are thinking" throughout your ten tasks. This is how you find usability problems. You write down the problems and decide how to prioritize efforts to re-design around the problems.
We call this process "web usability testing." Ten people from each of those two groups will help you uncover about 85% of the problems—given results of prior published research on how to do usability testing.

Putting "Usability" Into the Job
You've just read a description of usability methodology. Here's the question for people writing job descriptions. (Ah, we're back to our introductory paragraph.) Is web usability closer to SEO goals or to the goals of your friendly neighborhood coder?
You have one lifeline to answer! Want to get help from the audience? If so, you'll hear much louder applause for associating usability with SEO work than with coding work. SEO folks need to know the end-user vocabulary and mental model for a given task or search quest. What do coders need? They need to know the best Flex, the best Java-script, the best HTML and best C++ in town.
Usability as a Specialty for SEOs
If a coder spends time on interviewing users to get system requirements, they waste their client's time and cheat them out of the best coding possible. Same goes for coders designing user interfaces.
That said, see below for a job listing from a reputable company in Iowa City, IA: ACT—the American College Testing people. They want a coder who is a usability person. They want it all. Who wouldn't?
But this job description fails both disciplines. Take a look below. For contrast, I made the coder stuff bold and the usability stuff italics. Some words refer to both jobs. I made those words both bold and italics.
The word "design" becomes ambiguous in this context. So I bolded it and italicized it. "Design" can refer to either coding or usability. Because this job description clearly asks for end-user application interfaces and menus, it's also clear the HR recruiter assumes if you design code, you can also design great user experiences.
The word "test" becomes equally mysterious. Yes, you must test code for bugs. And yes, you should test the usability of an application. (Did the writer even think of that? We don't know.)
We leave it to you to decide if usability should be left to coders. But more importantly, we know you are an avid SEO advocate. You know what's at stake in designing web usability. Let's not leave it to coders for whom usability is a part-time job, if that.
Usability methods and usability standards support your SEO efforts. Usability supports conversion through ease-of-use. And, after all, your SEO work brings people to the site. Why not assure your maximum conversion by designing web usability?
Here's that job listing from ACT (bold=coder work; italics=usability work; bold+italics=both):
Title: Senior Systems Analyst, Research
Skills: RDBMS, programming, data analysis
Perform all essential aspects of large-scale reporting systems including the design, analysis, enhancement, modification and documentation of all stages of the projects. ACT is a not-for-profit, nationally recognized leader in assessment and information products whose culture values work/life balance. Typical work-related activities include:
Design, implement and manage program service databases.
Design and develop system specifications for program services.
Receive and clarify data mining, data analysis and large system project requests.
Identify, select and transfer data needed to complete a project.
Design and implement programs to perform desired analysis.
Design report output formats.
Design, implement and maintain database entry/edit screens.
Design and implement end-user application interfaces and menus to perform various operations.
Maintain documentation of files, programs and systems.
Develop large scale automated "canned" reporting systems.
Modify, enhance, and maintain new and existing systems.
Coordinate tests and observe initial use of new/modified systems.
Test and configure 3rd party UNIX software packages.
Make hardware/software requests and justifications.
Prepare training materials.
Exercise discretion and independent judgment in decision making.
Assist in developing goals and objectives for the area.
Assist in the hiring and training of personnel.
Maintain a high level of confidentiality.

This guest post was written by Dr. John Sorflaten, PhD, CUA, Certified Professional Ergonomist (CPE) who in addition to a degree in Cognitive Psychology, has over 25 years of experience as a certified usability specialist.

SEO Design Solutions has the distinct pleasure of working Dr. Sorflaten to provide a unique suite of SEO and usability consulting services provided through on page website analysis and review. This convergence of SEO and usability provides clients with in-depth solutions to funnel visitors to the appropriate conversion objective, reduce user anxiety and enhance the user experience.

John brings a wealth of experience to the table and is a thought-leader on the vanguard of usability executed in tandem with applied SEO on a granular level to build a robust, yet practical site structure to holistically enhance design, user engagement and ROI / sales conversion.
Read More Related Posts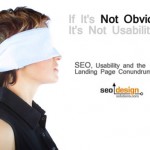 A couple days ago Jeffrey Smith of SEO Design Solutions asked me to look at a client's eCommerce site to help solve an interesting problem. The site offered an popular ...
READ MORE