We would like to introduce WordPress Expert John Lamansky, who we managed to extract from the lab just long enough for him to compose this brilliant WordPress Top 20 SEO Guide.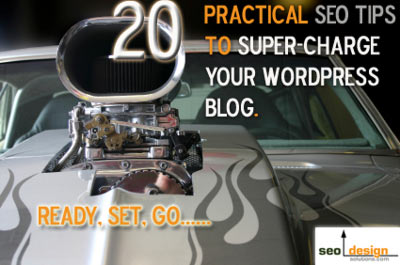 Got a WordPress blog that you're eager to supercharge for optimal search engine performance? Read on! We'll cover pinging, sitemaps, canonicalization, link juice, header tags, slugs, tags, timestamping, social media, permalinks, and a whole lot more!
WordPress SEO Tip #20 — Don't Block the Search Engines!
First and foremost: make sure you're not inadvertently telling the search engines to go away! Believe it or not, some WordPress installations block the search engine bots by default.
From your admin panel, go to Options > Privacy and make sure it's set to "I would like my blog to be visible to everyone."
Bonus Tip #1 – Are Comments Enabled?
Some WordPress users restrict comments to registered users, or disable them entirely. While this may be appropriate in some situations, in most cases comments are a very beneficial factor, and a defining mark, of a blog.
Comments engage your readers, help you get more "fresh content" SEO brownie points, and give search engines another reason to come back frequently.
Here's how to fully enable comments:
Login to the WordPress administration center
Click "Options" on the menu bar
Is "Users must be registered and logged in to comment" checked? If so, consider unchecking it.
Click "Discussion" on the submenu bar
Make sure the following are checked: "Allow people to post comments on the article" and "Allow link notifications from other Weblogs (pingbacks and trackbacks.)"
WordPress SEO Tip #19 — Does Your Blog Have a Topic?
Some of us would prefer to have a blog where we talk about anything that comes to mind: cars, movies, photosynthesis, dust mites, you name it.
In and of itself, such a blogging style isn't wrong; however, you can leave search engines clueless as to what your blog's about and thus for what search queries your blog should appear. And some of your readers might get annoyed in the process as well.
WordPress SEO Tip #18 — Ensure URL Canonicalization
If your blog posts are accessible from more than one URL, you could end up with:
Search engines confused as to which URL to display in the SERPs.
PageRank split between multiple pages.
Duplicate content penalties.
Starting with version 2.3, WordPress takes care of this and makes sure your content is accessible from only one place. So if you use an older version, either upgrade to the latest version of WordPress, or install the Permalink Redirect plugin.
WordPress SEO Tip #17 — Check for Valid XHTML
Most code errors are minor, but the more serious ones can cause content misinterpretation by search engines, lower rankings, and rendering errors.
WordPress itself produces valid code, but errors can crop up from two other common sources:
Poorly written plugins or themes
User-created coding errors (in the blog posts themselves, or through theme customizations)
First check your site for errors. If an error is found, look at the surrounding content to determine the source of the error.
If a plugin is the culprit, fix it if you're good at that sort of thing (the beauty of open source!), or send a quick email to the plugin developer and let him or her know.
WordPress SEO Tip #16 – Don't Leech Link Juice!
One characteristic of WordPress blogs is the sidebar, which is typically present on every single page. Do you really need to be passing link juice from every single one of your pages to every single one of those links? If the answer is no, consider adding rel="nofollow" to the less important ones.
WordPress SEO Tip #15 — Use Images in Your Posts
Not only do they increase visitor attention and retention, they give you an opportunity to use keyword-rich "alt" attributes, "title" attributes, and filenames. Plus it'll give your blog visibility in image search engines.
WordPress SEO Tip #14 — Does Your Theme Use Header Tags Correctly?
The blog title, or your main keyword should be in an <h1> tag.
If your subtitle is keyword-rich, you can put it in an <h2>; otherwise I recommend putting it in a non-header tag like <div>.
The post titles should go in <h2> tags.
Sidebar section titles should be <h3> tag or non-header.
Unfortunately, some themes (including the WordPress Default Theme) put the sidebar section titles in <h2> tags. Although this makes sense from a strict structural point of view, it also gives irrelevant sidebar headers ("Categories," "Archives," "Meta," etc.) equal weight with your SEO-important post titles.
To sum it up: Use a theme that utilizes header-tags properly, or try fixing the theme you have.
WordPress SEO Tip #13 — Use Pinging
A ping is a "this site has new content" notification that invites bots to visit your blog.
WordPress pings one website called Ping-o-matic by default, which in turn pings others. You can also add additional services by going to Options > Writing in the admin panel. (For example, the pinging URL for Google Blog Search is http://blogsearch.google.com/ping/RPC2)
Another Bonus Tip: Once a post is published, WordPress issues pings whenever the post is edited. Try to cut down on after-publishing edits to avoid being considered a ping spammer.
WordPress SEO Tip #12 — Install the Google XML Sitemaps Generator Plugin
XML Sitemaps are search-engine-friendly directories of your blog's posts and other pages intended to help search engines spider your site. Though pioneered by Google, they're supported by Yahoo, MSN, and Ask.com as well.
The Google XML Sitemaps Generator for WordPress makes creation of these sitemaps easy and automatic. It also lets the engines know when you post new content.
WordPress SEO Tip #11 — Avoid Sponsored Themes
There was a debate in the WordPress community not too long ago on the topic of sponsered themes. These themes include paid links (usually in the footer) than can suck PageRank and possibly result in a Google paid links penalty.
Stick with WordPress theme directories that don't include sponsored themes, like the WordPress Theme Viewer.
Bonus Tip #2 — Write Right Post Titles
SEO isn't everything: once you're high in the SERPs, you need action words to prompt clickthroughs.
Put keywords in your title if at all possible, but not if it'll compromise the click-trigger action title.
WordPress SEO Tip #10 — Use Traditional SEO Techniques
A WordPress blog is a website too, so the traditional SEO techniques still apply:
Use important keywords in the title and throughout the post, but don't overdo it.
Bold your keywords when it makes sense.
Develop links to your blog.
WordPress SEO Tip #9 — Use the Power of the Slug
Ever wondered what the "Post Slug" on the "Write" page was? It's the text that goes in the URL when you have "Pretty Permalinks" enabled (see tip #2).
By default the slug is a "sanitized" version of the post title. However, if your title is overly long or keyword-sparse, you can change the slug through the Post Slug box.
Yet Another Bonus Tip: The SEO Slugs plugin can take out common words like "you," "is," etc. out of the slug for you automatically.
WordPress SEO Tip #8 — Use Timestamping to Stagger Fresh Content
Search engines and visitors love fresh blog content on a steady, regular basis. But for a lot of us, creativity comes irregularly: 10 post ideas one week, none the next.
Enter timestamping. When writing a post, click the plus sign next to "Post Timestamp." Set a date and time, and the post will publish by itself whenever you specify.
Search engines will keep coming back, and visitors won't be inundated with a ton of new posts all at once.
Hint: If you've timestamped a post, don't click the Publish button, since that'll publish your post immediately regardless of your timestamp. Instead, select "Published" under "Post Status" and click the Save button.
WordPress SEO Tip #7 — Use Tags for Free Keyword Boosts
WordPress 2.3 and above include a tags feature that lets you assign keywords to your blog posts. Once you start using them, then since each tag gets its own webpage, you'll be generating a ton of your own themed, keyword-oriented internal backlink pages.
WordPress SEO Tip #6 — Integrate Social Media
Adding social media links/buttons like the ones above makes it easy for visitors to promote your quality content (hint, hint). Social media is a great way to build links naturally as well as drive targeted site traffic.
Share This is a very popular "social media all-in-one" plugin.
If you're a FeedBurner user, you can use FeedFlare to add action links, including social media ones, to the bottom of your posts.
Lots of social media sites provide code you can use to generate buttons like those above. Grab your own code from:
WordPress SEO Tip #5 — Implement Deep-Linking
Here are several great ways to implement deep-linking on your WordPress blog:
Within your posts, link to other posts on your blog and use important keywords in the anchor text.
Install the Similar Posts plugin, which inserts a list of related posts you've written to the bottom of each of your blog posts. This process will create aged deep links and increase visitor retention.
Display your most popular posts in your sidebar using the Popularity Contest plugin. Gives your most popular posts tons of internal links, and helps your visitors find your best content.
WordPress SEO Tip #4 — Make Scrapers Work to Your Advantage
Most of us would probably be upset if someone used scraping (automated content stealing) to publish our laboriously-written posts as his or her own.
But with a little work, you can make the scrapers work for you, not against you.
Here's how to do it, courtesy of EarnersBlog.com:
If you use WordPress it's very easy to take full advantage of these sites linking to you, all you need to do is create links back to your content within your feed.

What you'll need for this:

These plugins simply show your entire post in your feed & also add some related posts in your feed only (which will also increase the amount of people in your feed reading more than 1 post).
Now, everytime anyone scrapes your blog via your RSS feed & republishes it they'll be deep linking to 5 or more of your existing posts. Bingo.
WordPress SEO Tip #3 — Install the All-in-One SEO Plugin
Like the name implies, this plugin covers a lot of the bases.
Puts the blog name after the post title, giving your keyword-rich titles more prominence.
Allows you to override title and meta tags on your homepage as well as your individual posts.
Lets you add "noindex" to your category and/or tag pages to avoid duplicate content.
And more.
A must-have for serious WordPress SEO.
WordPress SEO Tip #2 — Use "Pretty Permalinks"
Sure, you may already use Pretty Permalinks, but are you using the best possible permalink structure?
For those of who don't use Pretty Permalinks, it's a must-do for WordPress SEO. Permalinks, in essence, are the URLs of your WordPress blog posts. "Pretty Permalinks" put slugs (which should contain keywords — see tip #9) in your URLs instead of the default numbers.
To enable or change them, first login, then go to Options > Permalinks.
The two options you do not want are "Default" and "Numeric." Here are my suggestions for picking a "pretty" permalink structure:
Date and Name Based: The problem with this is that your posts are several extra directories deep, which can decrease relevence in some search engines. However, such a permalink structure can nevertheless be desireable if your blog is news-oriented or date-sensitive.
Post Name Only: If your blog covers one topic that has no subtopics (which, though possible, is unlikely), select "Custom" and type /%postname%/
Category Based: If your blog covers multiple topics, implement category-based URLs. (You have to look into the Codex to find information on category-based URLs, so many WordPress users probably don't realize that this option exists!) To implement it, select "Custom" and type /%category%/%postname%/
WordPress SEO Tip #1 — WordPress Secret: Use Category-Based Permalinks for SEO Siloing
Here's the big finale. Problem is, this tip is so important (and lengthy) that it really merits its own post.
Here's a teaser: it entails implementing the powerful siloing technique on your WordPress blog through a combination of plugins, settings, and strategies.
Conclusion
Okay, so it was actually more like 23+ tips instead of 20. I certainly hope you gleaned a useful strategy or two in your quest for WordPress search engine optimization. If you enjoyed this post, please social it, email it, link it, or leave a comment!
Stay tuned for the "mega-tip" later this week! If your eager to try these techniques out, download our free WordPress SEO Theme, Small Business SEO.
John Lamansky is an up-and-coming web developer who has building websites for 7 years and has been working with WordPress for almost 3 of its 5 years of existence. He is experienced with XHTML, CSS, PHP, WordPress, and much more, and looks forward to providing WordPress tips, services, and resources to the blogging community.
Read More Related Posts
SEO Ultimate Version 7.6.3.1 Released
SEO Ultimate Launches Premium Version Called SEO Ultimate+
WordPress SEO Tips: Permalinks, Categories and Duplicate Content
SEO Ultimate WordPress SEO Plugin Version 4.8 Released!
SEO Ultimate: Mass Meta Title and Description Editor
SEO Ultimate All In One WordPress Plugin Version
SEO Ultimate 1.6 Adds All in One SEO
SEO Ultimate Version 6.3 Unleashed: On Page SEO
SEO Ultimate WordPress Plugin Surpasses 5,000 Downloads
SEO Ultimate WordPress SEO Plugin Version 2.0 Released!