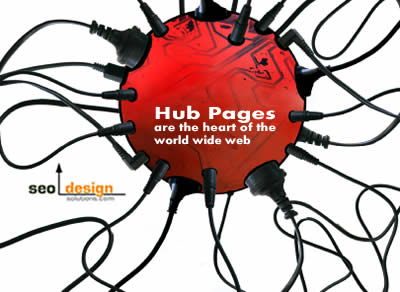 Are your pages hub pages or destinations? Search engines and SEO only provide one type of traffic (referral based), however there are other ways for traffic to find your website such as visitors frequenting an authority or hub site and following a link to your domain.
Hub pages are typically pages that send traffic away, however if they are good at it, they eventually become a resource as viable aggregators of content or news to feed an intellectually insatiable audience. Google is an ultimate example of a hub site with a transparent focus (quality content). Can you identify which pages in your own website that have this blueprint, or can be used to increase relevance or heighten brand awareness?
Think of the value of a trusted third party referral, the fact that someone else has taken the time to create an editorial backdrop for your perusal (such as a useful article, product review or press release). Then think of the satisfaction you received after ingesting that morsel of media.
Just like regulars, if you enjoy a flavor of information such as problogger or copyblogger, then that website becomes one of your go to spots for topics related to that theme. Each industry has their own media giants that represent the definitive destination site.
Sites that contain value are indigenous to the fabric of the web and transcend mere analytics (traffic in to traffic out) as far as brand worth and online equity are concerned.
We all have our favorites, this is truly what makes us unique, choice. Knowing that each person has a unique mind set, set of emotional triggers and a specific type of appeal that sets their gears of attention or conversion in motion is what makes the word wide web so unique.
Is it information foraging according to Jakob Nielson? or just plain curiosity with a mouse attached to your cerebral cortex as a result of visual stimuli?
As websites inherently get reduced to emotional appeal and aggregate components on a subconscious level, they either leave their indelible mark on us (such as I like it) or (not enough) as we move on in search of yet another burst of information from another source encapsulating a more suitable array of emotional triggers to indulge.
In either case, understanding the role that hubs play online is crucial for online positioning. Any or all of the methods briefly mentioned above such as articles, reviews, press releases, mashups or useful blog posts can yield a tremendous amount of branding power in addition to the sheer value of potential lead generation or direct traffic they create as a side-effect.
Each page should have a purpose in the grand scheme of things. Orphaned pages are pages without internal link flow, which as a result cannot flourish and thrive. Avoid pages like this like the plague. The last thing your site needs is a legacy page that is not worth it weight in pixels.
It may in fact be time to clean house and refocus the continuity of your website. Is there more use for your pages to link out to other sources to gain more authority? or will you horde all of the traffic and link juice you can muster in order to isolate yourself from your audience?
The premise of the web is to pass it on, no visitor is going to stay at your site indefinitely, no matter what you do. So, you may as well make their experience a pleasant one so you get a high conversion of return traffic your website or blog.
Our hub pages are the SEO blog and our SEO services page. They are platforms to drive traffic and link flow deep throughout the site.
Although a hub pages purpose is only to leave an impression. If they truly make their impact (and impress you) they serve their purpose. The fact that people leave to appreciate them more only goes to show, its not about being stingy, if you want to thrive in the new online environment, its not what you hold on to, its what you give away that comes back to you.

Read More Related Posts
Today, we discuss how to create stronger websites and rank higher with fewer links using your own website as a pivotal dynamo for on page
SEO
. There is a distinct ...
READ MORE