Marketing is the umbrella and regardless of the method, SEO, SEM or social media marketing, ultimately it's all about results. While sitting in on a brilliant landing page session from Tim Ash from Site Tuners at SES Chicago, after the presentation during the Q & A session I heard someone reference a question with the context of our industry as SEO People.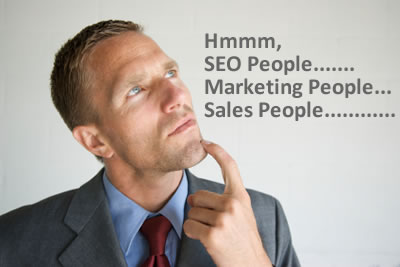 Ironically enough, my first impression was to imply, "What Do you Mean, SEO People?", not to steal the fire from Tropic Thunder or Robert Downey Jr. but it did stick with me for a few minutes.
Then after reflecting a bit, it made me realize that perception shapes reality and there was more to that statement that the first impression (even though it hit a nerve just hearing it). From this perspective there are Marketing people, Administrative people, Strategic People, Management People and Finance People and through the hodgepodge of the synergies they create, well, that is business.
Like any business, diversity is needed to avoid the pitfalls of the path less traveled. You can start from scratch or learn from the mistakes of others, however regardless of one of the other the synergy remains.
Slice it any way you like, planning, presentation and back-end support (sales, marketing or administration) or everything in between is the focus for a thriving business with vision. However, having the means to fulfill it means you need specialists in order to excel on all levels.
The takeaway was a reminder that, even though this is our beloved industry, SEO is just one piece of the puzzle. Just like it doesn't matter how many visitors you drive to an ugly site, without conversion its a flop.
Similarly, without proper SEO or an effective SEO company, no one will find the site to begin with, unless your advertising through sponsored means like PPC or display advertising.
The bottom line is always about performance, without it your just playing with fragmented concepts rather than grasping the entire landscape which leave holes in your game that others can exploit.
Just like an idiom that rings true, don't get to comfortable at the top, similarly the message to get back to basics, take a bird's eye view of your business model from time to time and don't be afraid to learn or try new things.
Speaking of which, I can't wait to meet, greet and share more from the vast array of SEO & SEM Experts attending SES (search engine strategies) which ultimately are responsible for taking search to the next level (when not attending conferences). Stay tuned for more gems from SES Chicago 2008.