Rome was not built in a day, neither was a top ranking using SEO. Each keyword has a threshold that search engines and the competition have set, finding it and surpassing that mark is the true objective of search engine optimization.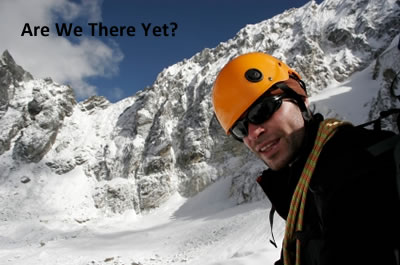 Just like climbing Mount Everest (conquering a competitive keyword), takes planning, preparation and execution. One of the common misconceptions about search engine optimization is that once you acquire the most competitive keyword in your industry the floodgates will open and your job marketing your product or service is done.
Nothing is farther from the truth, sure SEO can generate hordes of traffic, but unless the fundamental click-triggers are in place, a strong value proposition exists or if your presentation just doesn't make the grade, there is no loyalty from would be visitors perusing your content, only the back button.
The premise is simple, appear for as many relevant keywords as possible that funnel visitors to the underlying conversion objective.
>>>Click Here to Read the Full Post – Build Authority Before Links < <<.
Read More Related Posts
What Do You Mean, "SEO People?"
Target Marketing, Hit, Miss or Finding the Right
Does Your Company Have a Business Blog?
Skimming PPC Ads for Creative Calls to Action
Google Crawls Deeper to Cross Reference Content
Is Your Website Stranded?
SEO – It's All About the Cache!
SEO Myths Debunked SEO 2.0 Has Arrived