There is a saying we throw around the office, target the root and devour the low hanging fruit. Simply put, low hanging fruit (keywords with high conversion and low competition) are one of the best kept secrets of SEO.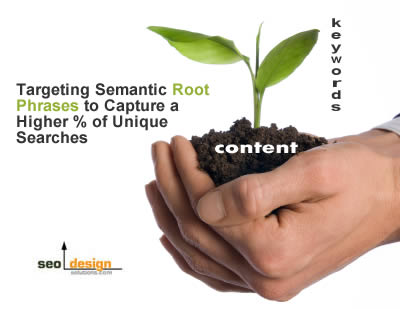 There are more keywords under the surface than their are keywords revealed. Leave it to most businesses to always want to go bigger, better and over the top in an attempt to conquer the most powerful or most searched keywords in a niche or take on the major players for vanity plate keywords.
Not to say that the competitive nature in most of us doesn't get the best of us, who doesn't want to rank higher in Google, Yahoo, MSN or Ask? The key is asking yourself about time to market, topical continuity, relevance and conversion and if you would rather keep your eggs in one basket or spread around the risk to offset the odds.
Does a visitor care how many competing page there are for the query they execute (such as 1 of 10 of 100,000 results or 1 of 10 of 100,000,000?), hardly, but does an SEO or a business targeting that keyword, you bet they do, since they have to climb that mountain to reach the top 10.
Going back to behavior, is the need to necessitate a keyword victory over a competitor really matter if the keyword performs poorly? I can assure you, not every keyword is laced in gold. The idea that as soon as you get that one magic phrase, your business is in the clear is a reality that can change.
The premise of search behavior shifting can leave a 6 month exodus of trying to achieve one specific keyword or phrase flat if people simply stop searching for that exact phrase, which leads to my conclusion.
Don't Assume, You Either Know or You Don't Know:
Hedging your SEO efforts, such as tackling 50 keywords vs. 5 is one way eliminate the dependency on any one keyword or another to save the day. Just create focused content with a clearly delineated objective, since there is no limit to how thorough your content can be [think wikipedia but on a smaller scale].
The assumption in the heading suggests:
1) You never know exactly how search engine algorithms are going to slice and dice your pages or how many or few keywords each page can rank for. We can speculate, but organic SEO can really deliver traffic.
This means that relevance for a query can align from a keyword from the title, another keyword from the URL string, another keyword gets latched on from a description tag and yet another portion of the keyword in the body copy of the document. Even though the snippets returned in the search result is what is above the surface, you never know how deep a search query can go into your site, one page or all of your pages to assess relevance.
The point being, unless you have a crystal ball or write the algorithm (which I doubt) then such things are constantly being tweaked and adjusted to return more relevant results. So, the more narrow your keyword focus, the more of the market you potentially miss.
2) If site architecture, content and linking are implemented properly (optimized) then each page can rank specifically for numerous "exact match" and "broad match" (general) keywords and phrases with the same effort of just a few keywords. The key is each page owns a focus or range or phrases it targets, then you coordinate the pages to work as a collective masterpiece.
The takeaway is, the web is a work in progress so don't obsess and just target 10 phrases, with a bit more energy and effort you can target 100 long-tail phrases that may collectively deliver 10 times the traffic daily than a vanity plate (common sense keyword) based on (partial) keyword research.
The way you find gems like that are (1) check your bounce rates and look for semantic similarities to base your next batch of posts or articles (if you have a blog). The search algorithm sees your pages differently than you do, however the idea is to work with it, not against it.
Keyword tools can only call it as they see it, but since the majority of searches are based on the subjective mindset and search behavior of millions of unique minds, the common threads are not as common as we surmise.
For every common sense keyword or root phrase based on captured data, there are 100 more long-tail equivalents you could rank for as well with a few slight tweaks to titles, links and layout. So, does tunnel vision on the top 2 or number 1 keyword in your market have you obsessed?
If so, then it may be time to step back, reassess your ranking objectives and implement a long-tail SEO campaign to get you over the hump until your major keywords take the stage in the top 10.
Read More Related Posts
Should You Build Links for Competitive Terms or
An Overview on Taxonomy, Relevance Score and Website
Optimizing Your Website for Multiple Keywords
SEO Tool SEM Rush Adds New Keyword Trend
Reviving The Long Tail of SEO
Keywords and Modifers: How Visitors Find Your Website!
Balancing Keyword Acquisition, SEO and Website Authority
SEO Tips to Theme Your Website
You Can't Buy Credibility
Website Authority: Editing Content for SEO Value