If you have to answer this question after a brief pause, chances are, you are using pay per click marketing and paying too much. If you can assess risk versus reward, time to market / exposure and the more market share you own for a root keyword, the higher potential yield it can return (if optimized organically with SEO).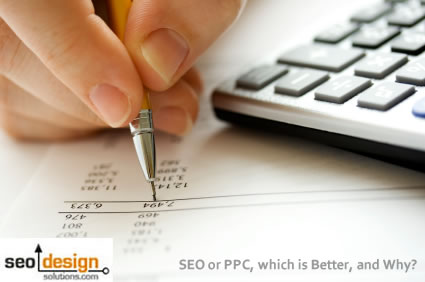 If you are an advocate of pay per click marketing (PPC) you realize that keywords are the lifeblood of any website, at least as they pertain to traffic, finding the right return on investment dollars spent is crucial for every campaign.
Since over 80% of people online start their surfing experience with a search engine, appearing organically or naturally on the editorial section of search engines in the non-sponsored advertising segment of the page (the left column) carries a tremendous amount of trust. In addition to that trust, those keywords also have the ability to stem and rank for multiple variations over time (just like broad match PPC).
Even though the sponsored ads / pay per click (PPC) located on the right portion of the page and above the left column (on some search engines) only receive a fragment of the traffic of the organic click through / searches receive per day, despite their lack of editorial appeal, those landing pages cut to the chase and get right down to business. You may ask why, but the answer is elementary, because every click counts and finding the right conversion formula is more important than just using PPC as a branding tool.
Obviously,  it depends on what you are selling, the more traffic a keyword receives, the more volume of searches and opportunity it represents for conversion (in most instances). If you have a high-ticket item like high end electronics that have a healthy margin where one sale equates to thousands of dollars in revenue, then shaving off a few dollars or paying up to $10 per click is manageable (yet exorbitant).
On the contrary, if you are selling trinkets (low ticket items) and there are pick and pack fees, shipping fees, transport taxes to stock inventory and the like, and the average selling price on the item is less than $30, then you should consider owning that position with organic SEO rather than just renting a spot with PPC.
Are the high paying keywords worth it? If your website has too many stock kept units with a high margin, sure, but could you save 50% of what you spend on PPC each month with SEO, absolutely not, if you have the time to invest in the organic optimization process.
The real measuring stick is to find keywords with high search volume, low competing pages and use keyword stemming to optimize an entire cross-segment of a market or niche through using semantic nuances (a) throughout your copy (b) internally as links and (c) by deep linking from other sites to the said pages with related search phrases.
Off the record, it is possible to get top organic rankings for pages with under 150 words that look and feel like PPC landing pages, yet every click you receive is free. It requires a uniquely different tact, but why pay per click when people are clicking anyway.
Forgo the PPC antics and evaluate your traffic stream, if it is from 10 keywords, then lock those in with organic SEO. By optimizing your website, your quality score improves and your PPC costs go down.
So, in essence, proper SEO, which is all about creating relevant content, relevant site architecture and  relevant on page and off page reputation for each page is what investing in the best user experience is all about also minimizes dependency on leveraging the most expensive keywords to achieve conversion.
Ultimately, the user experience is what drives conversion, it's not always how they got there that matters regardless of SEO or PPC, it's what visitors do once they arrive that matters.
Read More Related Posts
SEO Ratios for Content, Links and Competing Pages
SEO Keywords: Use Diversity to Avoid Dependency
Keyword Research: SEO, Traffic and Conversion
Keyword Selection and Finding the Best Keywords
Courting Keywords – Targeting the "Most Important Keywords"
Using Related Search to Find Google's Most Searched
Optimizing your site for the "Most Searched Keywords"
Optimizing the "Most Searched Keywords" to Target your