What is organic SEO? For those unfamiliar with the context, organic search results are the natural results which appear on the left side of the screen (in Google) and are gauged with a higher propensity of trust and click through rates from consumers using search engines.


Getting to the top 5 organic search results and maintaining the position for competitive keywords is a full-time task.
Ranking above the fold requires more than just links, it requires search engine relevance and acquiring a high relevance score. This score is tabulated every time a search is conducted and ultimately assesses your on-page factors, the keywords, your content, the site and pages link popularity, user engagement and the competition for related phrases to arrive at a conclusion.
The higher the on page relevance score, the higher your site is positioned across a number of semantically related queries. Search engine relevance starts with impeccable on-page factors (writing great content), which shapes the aggregate theme of your pages synonymy (the conclusion of the topic of topics presented on your pages and your site).
Search relevance is a moving target, what is hot today and ranks in the top 10 search results and what is hot next month (could shift at any time).
Each of these variables all affect the placement, the supply and demand each keyword yields and the overall positioning a website can accrue (for those keywords). Which leads into the next point, how quality and semantic composition are the new yard stick to measure relevance in search engine optimization.
Quality score (pertaining to adwords and PPC) and relevance score (his long-lost organic cousin) have evolved as the primary metric that indirectly controls the quality of traffic and authority your site receives aside from link building (off-page SEO) or site structure and content (on-page SEO) factors alone.
In the past, you could mathematically assess your own site or a competitors using a plethora of tools to analyze on page keyword density (the frequency of keyword, text and proximity of link text) to draw a clear conclusion and impact ranking through ratios.
That was before Google hired dozens of the worlds brightest PHD's to engineer the most effective method for sniffing out lackluster pages in their efforts to shake down the web (one document at a time).
The evolved algorithms pre-qualify traffic and rankings using metrics such as quality score (make sure it's on your page for PPC) and dynamic relevance scores (the sum total of concurrent organic algorithms) in the search index through evolved Phrase Based Indexing and Retrieval (paIR), block segment analysis, vector analysis and dozens of other algorithms used to assess your content, site structure and relevance model.
Even if you do not understand one iota of the technical side of SEO, the conclusion to ranking higher in search engines is simple, write great content, focus on quality and build authority with equal emphasis instead of just building links.
It is safe to say that the GoogleBot is in fact a fussy reader and the search algorithm inherently has the ability to assess, decompose and and grade semantic phrases based on their inherent value to the reader.
Hence the dynamic relevance score which is the aggregate of multiple batteries of test (all done instantaneously to the query) determine the level of authority a page garners as a result.
To say that writing world-class content is the first crucial step for ranking higher in search engines is an understatement. With the Googlebot (a user agent / search engine spider that skims, downloads and retrieves information for inclusion in the index) it is just another day crawling the web.
The sheer number of criteria and their algorithmic counterparts assuredly could be counted on one hand (in 1995) now, there are hundreds criteria search engine use to determine if your pages stay complacent or move up to the next position, the next page, fall back or fall out of the running for candidacy (from failing to hit the core notes of relevance).
Quality is the new platform for search relevance, you either have it, or you don't. Fail to hit the mark and your pages sink into obscurity, keep the topical relevance high write themed content using strong information silos with multiple supporting pages linking and running deep into your site to support the core topic and your pages will rise to the top.
So, before you think about what you are going to do with all of the notoriety and traffic as a result of elevating each of your pages to optimal performance and acquiring a highly trafficked keyword, start with your content and work your way up.
Quality is the new token of stability in search, the days of pulling the wool over the eyes of search engines with stuffed meta tags, off topic content written with poor grammar or overwhelming the gap with links has come to a close.
In order to devour related keywords and phrases for each of your pages, instead of just occupying a position on the page, understand that search and search engine algorithms evolve, and likewise your content must evolve and stay ahead of the relevance bell curve.
Read More Related Posts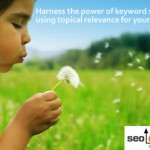 For the purpose of SEO, context is a definitive factor that can (1) elevate your website past others competing for similar or related keywords (2) build topical domain authority and ...
READ MORE
Quality Score, Relevance Score and Search Engine Optimization