It's no secret that the cost of SEO varies from company to company. In fact, the good SEO Experts can deliberately price themselves higher to eliminate the tire kickers and consumers who think of search engine optimization as an after the fact practice vs. a tactic better of initiated with an objective concurrent with starting a website.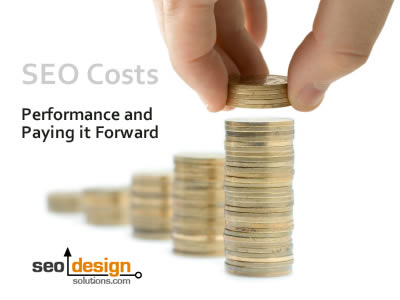 This can leave prospects reeling in an attempt to make sense of which SEO company to use, at what price and why? The reason for the multiple layers of pricing can be traced back to the original concept of what types of techniques and tactics they employ.
Someone who is only working on off page factors such as link building may be using a systematic connect the dots / SEO by the numbers cookie cutter approach where regardless of the website, it goes through a three step process which does not vary.
The problem with that is, not all websites have the same needs and what works for one industry does not always work with another (when considering off page). That same website may have a stronger need for site architecture and content so building links out of turn would only produce marginal results.
The age of the links as well as the authority of the websites topical orientation may have more to do with it than just link volume. So, identifying the tipping point for each website is crucial which leads to the next point (research and assessment).
What you are paying for with an SEO firm is simple, you are paying for their expertise in the field and their ability to produce tangible results that you can measure. Don't get me wrong when I state that one keyword optimized for the right page and the right site can be a complete game changer when it comes to the quality and volume of traffic that a website can garner.
All traffic is not created equal any more than optimizing the wrong types of keyword for your business model. This expertise translates into the simple calculation of ROI and (a) is this paying for itself and (b) is it increasing exposure and the bottom line…
The thing about SEO in many ways is, you have to pay it forward. There is a gestation period to produce the proper signals to search engines that identify your website as a contender for a series of keywords and their respective top ranking positions.
Since there is chronology to consider, those who started long before your latest keyword conquest was even an inkling of a thought may have invested hundreds or thousands of hours aligning their resources to point to their domain to win their spot.
Each must be dealt with on your way to the top and the more seasoned the website, the more difficult it may be to surpass them for their select keywords. This is the part where pricing is the true test of ones mettle. If you know that the amount of work requires a large investment of time (over time) with a series of layers in order to truly accomplish a competitive keyword, what do you think you are going to get from an SEO company who's prices are more reminiscent of the Wal-Mart mentality where paying less is a viable solution.
Budget, resource and the authority your website has is the definitive deciding factor in the ranking wars being waged daily. In order to build relevance you either need (a) fresh content (b) aged content added over time (c) strong internal links (d) strong external links from other websites and (e) someone to manage the process (prune the weeds so to speak) or fine-tune progress to reach optimal efficiency.
If one company has a team of specialists at their disposal with the ability to work concurrently on an array of keywords, build content, make tweaks and adjustments to all critical metrics considered and another company does not and just hires an SEO by the numbers firm, what do you think is going to happen? One may get results but the other will literally level any competitor on the map.
You get what you pay for and with SEO it is no different. As a rule of thumb, SEO costs are dependent on a multitude of performance benchmarks that exist due to competition. The SEO firm who has the most robust array of services available at realistic prices $2,500-$5,000 per month would be a better fit for most than spending 10-20,000 a month on pay per click.
It really does depend on your business model and what the real margin is. If you do not have a budget, then it is time to think about your vertical and how many others have already beat you to the punch. If you know you are the last one up and you have more to lose from not doing SEO, then it is merely systematic. Playing catch up means you will probably spend 3-6 months just to gain traction, from there you can look at becoming a contender for specific keywords that garner traffic.
On the flip side, when selecting clients, SEO's must consider, how many units of product will it take for someone to afford their top of the line services? Some have SEO packages that have an array or predetermined basic tactics, which can be effective if managed properly, but this may not cut it when it comes to competitive two word key phrases with millions of competing pages. For that a different tactic and price point is required (based on the barrier to entry).
Are the prospective clients selling paint supplies or private jet charters? One sale for one could mean tens of thousands of dollars while the other has a profit margin of under $10. So, matching the right services suitable for the right business model is crucial for the success of any campaign.
With so many variables for consideration its not just about the things you can do yourself, it really boils down to understanding the layers, having an array of tools you can use to identify and optimize any inconsistencies that may arise as well as the ability to measure the impact of each campaign.
Any keyword can be acquired organically, it is just a matter of time, strategy and resources. However, if you are not using analytics, do not understand your break even point or have an understanding of the types of search behavior that consumers in your market may use to find a website similar to your own, then no amount of SEO will matter (unless you pick the right target).
The takeaway here is, you are paying for performance and ranking for keywords that people rarely use does not facilitate a successful campaign. SEO is an investment and you are essentially paying it forward until the benefit of the labor kicks in. However, its core metric is dependant on the expertise of the team or specialist quarterbacking the game plan (which is not always easy to quantify).
Pricing is one way for SEO companies to distinguish their level of service. What is considered fair to a client is unique to each and what they are willing to pay for long term seo services. If it doesn't produce results (which is to put money inject money into your business from sales) its not SEO. Price is relative, but results are results (regardless of how competitive a keyword may be).
Essentially when optimizing a cluster of keywords, not all of them with align instantaneously. Some may rise to the top quickly, others may take their time for months or up to a year to reach a favorable position.
Understanding this aspect of organic optimization alone is why you need to have a definitive SEO budget so that you (a) apply pressure as needed to sculpt the relevance for your website and (b) always stay mobile and engaged to reach a series of ranking objectives.
For every keyword that you target, if your SEO knows what they are doing you will get several keywords from ambient rankings produced by the techniques utilized and exceed your objective of just chicken-pecking keywords for short-term benchmarks.
Just think, if you hired an in house SEO, what would you pay them $35,000, $50,000, $75,000 per year? If you break that down, you are in a much better position to acquire the services of a more competent SEO firm who has an array of resources and is not just a one man show.
Let's face it, not all websites need the same level of SEO, some just need slight correction, others are better off starting from scratch, but you still need a trained expert to determine the best strategy.
In conclusion, the reality is, the businesses that are ranking in the top results for industry specific dream keywords are the same people spending massive amounts of time, money or resources to gain the authority and relevance to do so. That time has a price and that is what you are spending money on when you hire an SEO company.
The level of service, commitment and enthusiasm is typically tied to a specific monetary amount. Fail to provide that and you can expect marginal service, automation or lack of a personal touch. Pay someone what they are worth and you can expect to see a viable return on investment. It is merely a matter of due diligence to find the right fit and the right firm.
Read More Related Posts
How Could Your Hosting Company Hurt Your Google
Revisiting Essential SEO Strategies
How to Avoid SEO Over Optimization
Consolidating On Page SEO with Content, Navigation and
Massive Link Audit or Quality Control for Search
Applied SEO: Pivotal SEO Metrics
Clueless SEO Companies offering SEO Services
SEO Tips to Take Usability & Design to
SEO Tips for Google Caffeine