Resources are typically sparse when referring to SEO. For that reason, today's post serves as a summary of strategies for those who like to apply SEO rather than just read about it.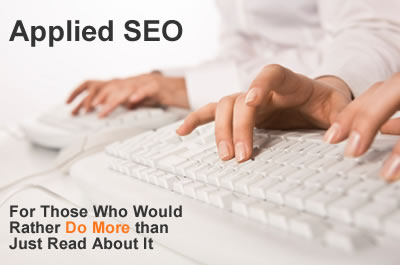 This post is for those genuinely interested in search engine optimization, but find it difficult to find real useful information that moves beyond just theory. Contained within this post are links to dozens of useful resources that each share a unique and distinct aspect of Applied SEO.
1. The following post has links to 10 SEO resources amply named Top Secret SEO Tips. Topics covered start from keyword research, what to look for in a link, competitive analysis and more.
2. In the event that your wanted to learn how to rank for multiple top 10 rankings this is your guide.
3. Building links is a crucial component to developing prominence for your pages. Links (both from your own site and other sites) are like currency. Although internal links and developing topical link weight can take you along way, you still need to acquire quality links from other sites in order to gain the appropriate off page reputation. The following link building guidelines can help you in your quest.
More importantly, you will need to understand link velocity, link volume and link diversity as well, and how to implement each without tripping a penalty from search engines. Here are 10 link building posts from the past to serve as your guide. Once you have a grasp on basic link concepts, you should wrap your mind around the power of deep links to truly create buoyancy for your pages.
4. Writing content with purpose and understanding the value of thematic search and thematic search modifiers (words that hook traffic) will aid you in honing your content from the onset for top 10 placement.
Start with quality content and search engines will take notice. Your only real competition is yourself and the relevance score needed to topple the keywords queried by visitors on a daily basis. Writing structured content with SEO in mind allows you to blanket a market whole and garner dominant market share in any niche over time with the right combination of age, authority, site architecture and links.
When it comes to content, just make sure it is original as search engines use shingles and shingle analysis to determine duplicate content.
5. Now, once you have created your content either through a static website or through a content management system, you still need to understand folksonomy and the value of tagging your content as well as how to use SEO friendly naming conventions to make sure search engines catalog your pages with the highest possible relevance.
As there are no standardized SEO Schools, the collective summary of these techniques took years to figure out, so I hope you put them to good use. Enjoy and thanks for visiting the SEO Design Solutions Blog.
Read More Related Posts
SEO is All About Performance!
SEO and Applied Keyword Research
SEO, Marketing and Other Metrics that Matter
Applied SEO: Pivotal SEO Metrics
Make SEO Landing Pages That Rank Like PPC
SEO and the Cycles of Optimization
The Value of Search Engine Optimization
Online Supply and Demand: SEO or the PPC