While the fond memories of yesteryear may have revealed a less savvy online surfer, times have changed and now consumers surf with purpose.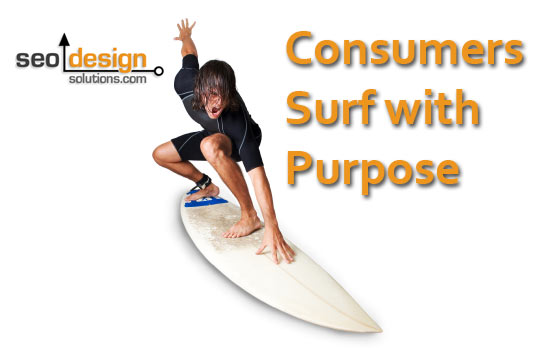 Today's online SEO ripples are tomorrows big waves and having the vision, market intelligence, raw talent and budget are a necessity for profiting in a competitive vertical or online landscape.
Metrics such as competition and time to market are a value divisible by conversion and are based on the costs of the human resource required (either through compensation or sweat equity) to fund the endeavor, add up. Other factors such as the price point of the product or service, how many sales are required to break even and profit, the length of sales cycle and other pivotal variables require a new approach.
A languishing economy has created a unique climate for the online business model. People are tired of renting; it's time to invest in online real estate, (which is a website with an audience).
Let's face it, people know what they want and they want results.  Consumers now have something they never had before, the ability to opt in and search and numerous options at their fingertips touting relevance and conscious solutions.
Whoever is under the impression that search engine rankings and keywords do not matter, or where you rank in the search engine result pages (SERPs) is missing the big-picture (a generous cross-thatching of market share).
Results are nucleus of SEO, relevant search results drive impressions and impressions can kindle emotional responses such as the impulse to purchase or the curiosity to engage your offer.
Yes, keywords do matter! Pick the wrong ones (like targeting "SEO" vs. "Web Based Marketing") and your site is spinning its wheels with no traffic in sight. Get it right and have a killer landing page to boot and your website is now one of the most profitable commodities online for that keyword.
The battle for attention share and a scale of economy is played out across risk, reward and the amount of time it takes in between to develop rankings and continuity for lucrative and targeted pivotal phrases.
Action words are great, as they put searchers in the first person. Searches like "Fix my gmail account" or how do I [insert question here?] are quite common.
In fact, many of our top keywords that consistently drive traffic are action word / queries and it is no surprise after this conclusion. In order to broaden your sales funnel, you have to think outside the conventional approach which could confine your tact to the point of mediocrity.
If you just think "red" and most people are using keywords like "vermillion", then how much of the potential market share are you really missing? And how will you know without the right type of semantic market intelligence?
In this context, market share is more appealing as an objective. The more elaborate keywords that my website appears for, the more opportunity it provides. The more opportunity that exists, the less risk the venture assumes.  Getting your offer in front of as many relevant consumers as possible is the objective, keywords are the keys to search behavior, and with some thought, you can reverse engineer the urgency of the user.
In this instance, approach is everything and people in "purchase mode" use a very unique array of urgent modifiers to accent keywords to find relevant results.
One emotional formula such as 20% off [product] + Free Shipping = landing page nirvana in this simple emotional quotient. Each recipe equates to a larger piece of the pie.
Marketers need to realize, the mental model of the web has evolved. Sure, there is happenstance, but there are also many more who SURF WITH PURPOSE.
By extending the array of semantic phrases and keywords your website is optimized for, you can systemically increase traffic as a by-product of competitive analysis, content creation, time, links and authority to give your pages a competitive advantage over contenders for space above the fold.
Read More Related Posts
Implementing Uncommon SEO Metrics
SEO is Great, But What Happens Next?
Does Your Company Have a Business Blog?
How to Transfer On Page Authority
SEO for Large Websites Part III
Introducing The Happy Landings WordPress Theme!
SEO or Conversion Optimization?
New Changes on the SEO Horizon