Instead of trying to rank with stale content, think of what type of assets you could add to your site (using SEO) to make it more appealing to readers and search engines alike.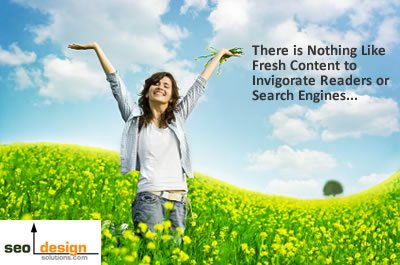 Since search engines pay attention to the fresh link and fresh content factor, make sure to (1) create or reinforce your topical themes of information with fresh content and internal linking while (2) measuring the cycles of how that content peaks or wanes and eventually gains authority.
Search engines are programmed to provide more prominence to fresh content (just in case it is time sensitive information ideal for mass consumption). This reporter-like quality has an advantage to blogs which have RSS feeds (really simple syndication) which go out to a roving audience skimming for related topics. As a result, your RSS feed is one of your websites greatest assets for acquiring traffic and links if your content has appeal.
A good blog post may stay buoyant for a few weeks to a month depending on your domain authority. Then within that time frame several sites link to it via trackbacks from citation and that page is now groomed for authority in 3-4 months when the Page Rank algorithm assesses its scope and reach.
The ultimate goal for your website is to create or acquire links that pass value and the goal for your content is to have trust and authority, both can be done at the same time. We know that co-citation (as well as who links to you) and co-occurrence (the frequency and concentration of the topic in regard to global keyword density) are both metrics that are known to build domain authority.
To simplify, if you want to rank in the top 10 for a competitive keyword, then make sure your website has enough content to be deemed a candidate and links (both internal and external) both play a role in this process.
Each keyword has a threshold both within your site and online that pushes it over the tipping point. It is the sites that understand this balance and are able to sustain and defend their most prized pages by bolstering authority yet acquire and maintain short tail and long tail traffic that excel despite algorithmic fluctuations in search engines.
A Competitive keyword may take months to mature to gain the signals of trust required to finally move up a few spots once you make it to the top 10 (despite links or content). Sometimes you can have all of the right trappings (mathematically) yet; your page is still stuck on the second page of search engines.
In our experience, this means that a page has done all it can to climb as high as it can, but the site may be holding it back from lack of content or trust.
In either case, you can go back to your analytics, look for the phrases that yielded the highest engagement time, lowest bounce rate and resulted in the most calls, increases in RSS or orders and continually fortify those keywords (with content and fresh links) to keep them from receding off the organic search horizon for your website.