Have you ever seen one page in your website that is just plain greedy when it comes to keywords and search engine rankings? It's not uncommon for most sites to have one page that punches a hole in the SERPs (search engine result pages) just because it can, but what if another page is better suited as a landing page?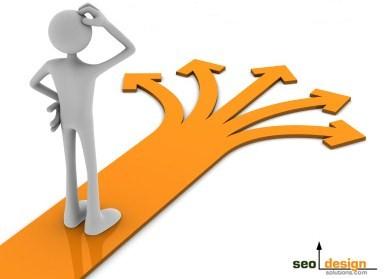 For most, it is their home page that tries to upstage the subordinate pages, but in reality, each page in your website should have a specific group of keywords it ranks for (and rightly so).
Under normal circumstances that would be fine, but say for example that page is not the most appropriate to quell consumers or interested parties? The result is usually a high bounce rate (which is a loss of user engagement). In this post, we will cover some basic SEO tactics that you can use to correct which pages have prominence for specific keywords in your website.
The solution is simple, either use a no index, follow tag in the meta data of the page header or link all of the ranking pages to the preferred landing page with the keywords you want to rank for. As a result, search engines will then re-crawl the site and re-prioritize the pages based on the internal link continuity and link weight.
To really maximize this phenomenon, make sure that you use absolute links instead of relative links.
Search engines treat pages as individual sites once you cross a threshold, so, it you are using absolute links http://www.domain.com/page.html vs. a relative link like page.html, you will earn extra credit and provide a quality backlink to another portion of your website.
Do this often enough with enough density using linking based on keyword co-occurrence and you can shift the ranking behavior of a page despite what is on the page. For example this page ranks for SEO Website Analysis, even though the text is nowhere on the page (just the title tag).
Typically deep links shift the way each page ranks (for example a page with 300 inbound links will perform much like a home page). In this instance the analogy of the home page means it can be a catch all for related keywords stemmed as a result of a variety of inbound links from other pages in the site, on page keyword density or off page reference.
Such a page can rank for a word sparsely mentioned in the title, a word that has slight co-occurrence in the title and meta description / snippet or if there are references (either for the keyword or key phrase on the page).
In fact, keyword stemming occurs as a result of this tactic (where a page ranks for multiple variations such as singular, plural and synonyms of root keywords). The basic rule of thumb is:
IP Diversity + Internal Link Relevance + Off Page Reputation = The Point of Convergence / Authority.
This translates as:
1) IP Diversity means – if you get enough links from a variety of sources and they themselves have authority or are indexed they can pass on key ranking signals to your content (which in turn produce off page reputation).
Sites hosted on the same servers only neutralize the impact of each other for links, similar to a high number of links coming from one site (like a blogroll that appears on every page with the same anchor text).
So instead of having 1000 links from 10 sites, it is better to have 10 links from 100 sites or 1 link from 1000 sites (which is ideal to sculpt a pages off/page ranking/reputation factor).
2) Internal Link Relevance – While it may seem elementary to most SEO's, many webmasters have not grasped the fundamental ranking power of creating powerful one way links within a site. Wikipedia who is known for this tactic and rank for millions of keywords as a result.
If you have a landing page that is supported by 100 or 1000 pages internally linking to it, and that landing page only has one link leaving the page, the power of that link is immense.
You can play with funneling link weight throughout a site until you produce the appropriate mixture of on page / off page and link reputation to give each landing page in a website enough velocity to cross the tipping point and reach the next level which is Convergence and Authority.
3) Off Page Reputation – Off page reputation is one primary method derived from the original Google algorithm a formula called Backrub. Essentially website authority was primarily determined by the number of backlinks to a website.
Although this metric was abused heavily in the days of directories, it still serves as a primary method (as a ranking metric / proponent used for checks and balances) for search algorithms to determine the link popularity of a website.
4) Convergence and Website Authority – If everything checks out (link popularity + traffic and engagement / domain authority) then your site makes it into the Google VIP club and hits the top 10 running.
In summary, my suggestion is, find which pages are groomed algorithmically (not because you intended them that way) but based on how search engines interpret them as a whole in consequence to the entire site.
One simple command you can use in Google is site:yourdomain.com keyword , by using it, you can easily identify the chronological order of which pages are weighted to appear for what keywords. This simple SEO tool we designed allows you to do this for multiple pages and keywords to find the best landing pages.
From there, you can always cross reference that information with analytics data to determine which pages funnel the most visitors from your keywords.
Then, you are armed with a blueprint of how to shift on page ranking factors with internal links, how to sculpt off page ranking factors through deep links and what happens as a result when domain authority is bestowed from page to page.
Read More Related Posts
SEO Has Its Ups and Downs!
With SEO, Time and Authority are on Your
Google Crawls Deeper to Cross Reference Content
SEO Tips to Start Your New Website
Website Positioning and the Ebb and Tide of
Why PageRank Still Matters for SEO!
Keyword Performance: Clickthroughs and Common Sense
Organic Search: Top Keyword Modifiers Revealed!
SEO Tools: Looking Back to Move Forward!