Just like the laws of momentum or newtons law, when it pertains to SEO, what goes up, must comes down. Its important to remember this when attempting to find the right equilibrium for your keywords amidst an algorithmic shift or the throes of competition.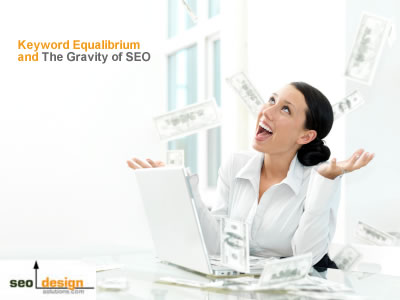 As you may have noticed, the search engine results are dancing at an alarming rate as of late. This presumably is to herald the induction of a new feature of the algorithm or a Google page rank update.
As usual, with millions of dollars at stake for business of all sizes tied to their keyword performance in Google, this has small business owners, managers and enterprise clients alike riveted to their rankings to see if they have been shaken from their lofty keyword positions, or if a new website has been championed for the top 10 to replace one of their positions.
SEO Equilibrium
Sometimes you have to wait a few weeks until the dust settles before jumping to impulsive conclusions regarding SERP (search engine result page) finality. Relevance can shift based on your off page link reputation (changes in anchor text or link volume) and the continuity between your on page factors.
When managing a series of keywords amidst and organic SEO campaign, vast fluctuations are a reminder to the nature of the index parsing itself through the regulation of relevance. Organic SEO is called organic for a reason, it takes time to mature. But once the seeds of keywords have blossomed for a website, it's pure upside from there out.
Similarly, it is not uncommon to experience shifts where your main keyword nearly slips off the page only to come back a few days later ranking higher than ever. On the contrary, if you find it has taken a hiatus deep into the next page, then it is an indicator to get back to work and not rely on complacence remaining that way.
Every six weeks there is a blending effect of the old and the new values for websites in the index. Consider it like Google taking inventory and reassigning value to specific ranking factors. Granted we may not know what those ranking factors are as consumers or SEO's, but this is what keeps search engine optimization and staying one step ahead of the curve by insulating your site against shifts in the algorithm crucial.
Personally, I suspect a Google page rank update is behind the scenes on this one. I have personally noted some of the blogs we observe have sprouted page rank jumping from zeros to a page rank of three. Now, granted this may not be a big deal when directly considering this phenomenon on a smaller scale. However, if you replicate this across millions of sites that were quarantined from impacting the algorithm (from not having enough page rank / juice) to all of a sudden having enough link flow to rank for national keywords and phrases, the the rest is just a chain reaction.
Weighting factors in search engines are heavily impacted by linking and links (both internal and external). Depending on which ranking factor is in, an SEO company will have to shift their tactics in order to maintain buoyancy during the transition.
The best way to do that is, hedge your keywords and focus on a broader cross-section of the market to funnel relevant traffic and visitors for the sake of conversion. My suggestion, dig deeper into analytics and find the low hanging fruit that has a low bounce rate and snatch up as many related phrases as possible to weather any dips in temporal keyword performance.
Read More Related Posts
Google Search Engine Optimization Tips
How to Make Money Online:Give People What They
Which SEO Metrics Carry the Most Weight?
Theme Density – The Ultimate SEO Ranking Factor
SEO and Google Search Engine Result Pages
There is No SEO Magic Bullet!
SEO Tips to Manage the Conversation of Commerce
SEO Tips to Spy On Competitors
The Value of Search Engine Optimization
Do You Panic When SEO Rankings Drop?