The value of a great title for SEO purposes is invaluable. The title is the first thing a search engine sees to determine (what is this page about) and how does it relate to the sites theme and the keywords contained within the page.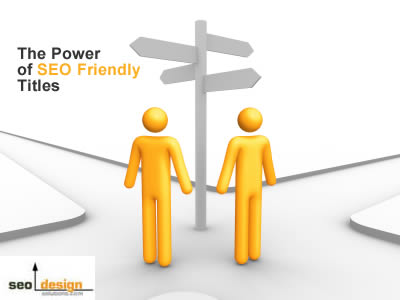 Be Specific
A diffused title does not provide clarity for the reader or a search engine spider, so as far as first impressions are concerned, this is crucial to set the stage for short-term and long-term rankings.
The title should be short, informative. focused and concise. Each time you add another key phrase or keyword you can either diffuse or reinforce the title. However, if you add too many words, search engines will only get confused about the true topic of the page.
Creating Topical Relevance:
As far as pure ranking potential, a new post has more of an exact match connotations. Exact match in this connotation implies that if you type 2 to 3 words in the exact format they appear in the title, chances are you will find the page in a search engine (as the competition for that spelling, rhyme and meter of keywords combines is significantly less than just a keyword alone).
Eventually, each word in a title can act much like a net and get latched onto from search engines in broad match form when search engines troll the web using LSI (latent semantic indexing) looking for a suitable page to pull from the lottery of pages that have been earmarked as potential matches for that query.
Time and trust are the final ingredient if supported by the appropriate factors. Like a wave, a newly indexed page shoots out of the gate hot, hits a spike in the search engine result pages then after a week or so, starts to edge its way back to give way to new entrants who may or may not have more detailed information on the topic.
If your website has enough authority on the topic, the hang-time in search engines is longer. If your competition challenges you however, you must fortify your websites relationship to your coveted keyword with additional internal links, additional content, or allow the aging process to provide authority.
SEO Friendly Titles Must have Click-Appeal:
Writing a great title not only places your page higher up on the list, but it also serves to enhance click through traffic on the SERP (search engine result page) level from incorporating curb appeal as well as information.
Going back to a previous statement, in some instances a long title may be more suitable, depending on the competition for the keywords (we do not advocate stuffing titles with spam laden keywords). When a topic is very specific and you wanted to attract visitors from overlapping keywords, particularly if the keywords has low competition, then you could opt for a longer 7=12 word title.
Not that we are going backwards to simple algorithms such as keyword density (much like a bean counter approach to SEO). Not that keyword density has completely been expunged from the algorithm, it is safe to say it has been built on and improved (granted that on page and off page factors are supporting the reputation the page).
Though dated, keyword density was founded on a good premise, such as, if you replicate a word enough times, in key segments on the page, then you will rank for that term. Instead try creating multiple pages based around a theme (with SEO Friendly titles) and the overflow of continuity will leave an imprint in the index. More pages on a topic with the right metrics makes your website an authority on a topic.
SEO friendly titles should be 5-7 words, contain the keyword closer to the beginning that further away and have a benefit based action word incorporated.
The Relationship of Components:
SEO Friendly page incorporate the following elements.
The keyword in the title
The appearance of the keyword in the header tag (H1,H2,H3)
The frequency and proximity of the keyword in each paragraph (how often used and how many times) leave an impression
If the keywords are being used as anchor text (links) or how many inbound links the page is receiving (from within and outside of the site) sculpt each pages reputation
Search Engines Assess More than Titles to Discover Relevance:
Another metric at your fingertips is collective keyword focus. Just think of collective keyword focus like the equivalent of the refined version of a page that has sufficient internal linking, the right on page factors and enough support from other sites to say it is in fact what it is).
You create this by (a) writing about topics in detail (b) using keyword-rich anchor text to connect the pages and (c) using continuity between the titles. This premise of diversification, not relying excessively on any one page to produce relevance, allows you to refine or spread your spectrum of keywords attract more traffic from search engines.
For more information on this topic, here is another post about SEO friendly naming conventions that provides more specific detail on the subject.