Though Google's recent introduction of Google Instant has been largely well-received by users, it is already causing headaches and heartburn for SEOs who are trying to figure out the ways in which the new feature will change the playing field.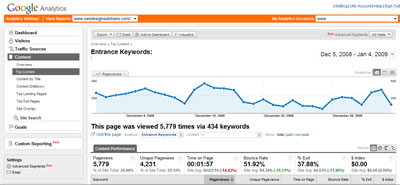 The new feature, which works by showing the results of a search as the user types it into the search box, will undoubtedly have many effects on SEO over time, but there is one change that Google has made very clear and that is webmasters will see an increase in the number of impressions they will get in Google's results and, in turn, will likely see a decline in their CTR.
The reason for this is that Google is changing how it counts what constitutes an impression in the SERPs. Previously, an impression was a fairly straightforward metric, meaning every time a link to your site appears as a result on a Google SERP. However, with Google Instant, a single query can now produce multiple pages of results and, according to Google, that can create multiple impressions.
Under Google's new system, an impression is anything that meets one of the following three criteria:
Your site being displayed as the result of a completed query (the only method possible previously).
Any time your link is on displayed on result the user interacts with, either to click an ad, related search or another link.
Any time your link is displayed on a result that the user stays on for three seconds or longer.
For example, if your site ranks well for "Streetcars" and "Streetcars in San Francisco" and a user searches for "Streetcars" and then pauses for a few seconds to read the results, it counts as an impression. If they then continue typing and  say "Streetcars in San Francisco" and then click a link, it counts as a second impression.
This means many things, first and foremost that the understood CTR for each position in Google will change and almost certainly will be much lower. Though the proportions of clicks for each position will likely remain about the same, the number of people who click no links at all on a page will rise as more impressions are counted that don't result in a click.
Fortunately, the effect of this will likely be somewhat muted by the fact that Google Instant is only for users searching on Google itself, at least for right now. Currently you have to be on google.com, logged in to your Google account, in a country where it is enabled, in a browser that can access it and not using it on a mobile device to see it.
Considering those using the address bar in their browser and those not meeting the above qualifications won't see Google Instant at this time, the number using it percentage-wise is likely very small. However, as browser plugins come on line and reach is expanded, that will change.
Still, this will give SEOs a chance to adapt and adjust to the new numbers Google Instant creates. Eventually a "new normal" will be established though it will look different from the existing one, at least in terms of CTR, and will likely have many other effects elsewhere in the industry.
All in all, SEOs should be aware of the changes and cautious of them, but not overly stressed. The major changes are still in the distance and the shifts will almost certainly be gradual, making this more of an evolution than an earthquake.
This blog post was written by Lior who works for Producteev, one the of best productivity tools on the web.
Read More Related Posts
SEO Basics: How to Bait Search Engine Spiders
SEO and Competitive Keyword/Relevance Thresholds
Do Categories Matter for SEO?
Domain Web Studio 3.0: SEO Tools for SERIOUS
Will the Real Google Search Results Please Stand
To Follow or Not to Follow: The SEO/Google
SEO and Search Engine Algorithms
SEO Marketing: Social Structure and Scalability
Aligning Keywords and Landing Pages