Is your online marketing strategy based on long-term growth or is your website merely ranking on vapors?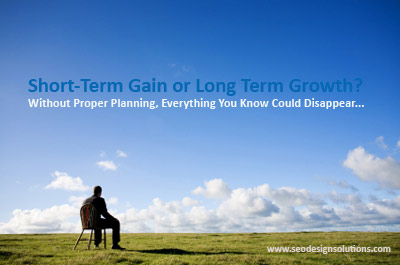 Developing true website authority supersedes short-term quick fixes and processes and since SEO is all about layering and infusing multiple steps to produce a specific outcome. Having a firm objective and not sacrificing quality for short-term gain (such as building links too fast or relying on strategies that may not work in 6 months) has an impact on your websites credibility.
Will You be a Casualty of Short Term Gain or Benefit from Long-Term Growth?
It may take days, weeks or months for each intricate layer of a campaign to fall in place to produce the desired effect. At times, it is easy to put the cart before the horse and build castles made of sand without taking change into consideration. You cannot pull the roots up to see if a plant is growing, you just have to be patient until it sprouts based on the nourishment you provide, SEO and producing quality rankings can be viewed much in the same light.
Paradigms Can Change at Any Moment
Much like the economic crisis and downturn as of late, we now know that change can occur quickly and challenge you to adapt. Recently the web experienced a topsy-turvy ripple effect from the Google index having a touch of indigestion.
As a result, it purged millions of websites and pages that failed meet the new standard (even though nobody except the engineers knew what that was). As a result, untold fortunes were lost in the weeks that search results for lack of better terms lost their bearings.
Those pages which were removed or temporarily quarantined until they (a) play by the rules or (b) attract enough authority links to vouch for their credibility are all casualties of relevance. During the interim, there is a vacuum of virtual space for worthy content to fill in the gaps.
Instead of having to compete with the noise of scrapers sites, copycats or parrots skimming RSS feeds and spinning content as if it were there own. Search algorithms stepped in to clear the slate (and rebuild the index). As a result, many good sites linked to from questionable sites also took a hit.
User agents are capable of assessing multiple variants simultaneously to determine genuine quality content from lackluster copy. Quality is the gatekeeper and without it, your support system could falter. One creates top ranking positions from combining multiple facets of on page and off page factors. Quality is the measuring stick that determines which factors truly pass value.
The Certainty of Uncertainty
Much like a scientist a seasoned SEO can sculpt the way link weight moves throughout a site, make adjustments to the peaks and cycles of inbound links, modify keywords and anchor text as well as dampen or redirect outdated pages to capture new rankings. However, some things you just cannot control are when a penalty or new algorithm is introduced and what extent it will have on your previous SEO efforts.
The Whole is Greater than the Sum of its Parts
Due to the inter dependency of the web, one shift down the line can send ripples through the SERPs (search engine result pages) and even dethrone the most stable site from its perch. The effect of mass deindexing (which is what just occurred over the last few weeks) still has webmasters reeling in disarray.
It's like having the rug pulled out from underneath you. It's so easy to get caught up under the guise of stability only to have an algorithmic shuffle shake things up to see which websites are built on feeble stilts or which sites have invested in a slow and methodical growth (which emphasize authority over an impulsive and rapid ascent).
Even our website took a dip from the first page of "SEO" in Google and we had to kick things in high gear to jump past a few sites that were shooting up the rankings to claim our previous spot.
The Search Engine Shakedown
Here is my take on what happened over the past few weeks. An example of this theory is that search engines took a snapshot of the web from 6 months ago and cross-referencing the index to present index. By analyzing the gap, they could fill in the blanks and assess based on a time line what was considered natural or unnatural.
For example, with the right pool of data and a few savvy engineers, one could create an algorithm to gauge who has been naughty and who has been nice as far as:
1. Assessing link velocity (the rate in which you gain or lose links).
2. Gauge the quality and quantity of aged / authority links attracted.
3. Measure the amount and quality of the content the site developed.
4. Asses the average links per page that content had attracted.
5. Parse toolbar data and RSS subscription rates and feed data (to see if the engagement time lived up to the hype) to assess genuine popularity.
6. Evaluate the amount of comments each post in a website attracted (if a blog was involved).
8. How many times that site appeared in organic searches and with what keywords.
9. Determine the time on the page to see if the signals matched up with data from the previous formulations. For example a site with 2000 links and the same amount of visitors is not natural.
10. Has the site attracted any new links, set perpetual momentum in place through deep linking or internal links or is it just leaving pages out to dry and starve as far as the distribution of link weight int he site.
These as well as many other aggregate factors to validate the authenticity of authority. If a site passed these preliminary checks, then it was reindexed and allowed to act as a beacon to anchor itself and the other sites linked within its neighborhood. Remember, authority sites typically only link to other authority sites, if one was promoted and got a gold star in their niche, then everyone else linked from that site got a bump as well.
On the contrary, if search engines discovered link clusters that were from low PR sites with thousands of outbound links and a low number of inbound links in to support those pages or found pages and pages of scraped content or saw anything out of the ordinary, chances are they are gray barred right now.
The good news is, its never too late to instill quality in a website. Although many are scarred from aggressively pursuing the fallacy of keyword conversion, authority is the true measure of a websites worth to the online community.
The takeaway is clear, invest in stable growth through building quality content, be selective with link partners and always look for more opportunities to fortify your own pages with previous content within your website. There is no penalty for linking to yourself and each page is treated as a site within itself. If you understand this, then it is only a matter of time before your pages cross the tipping point and website authority is developed as a by-product of your investment (exceptional content).
Read More Related Posts
Using Keyword-Rich Domains and Subdomains for SEO
SEO or Authority, Which is Better?
International SEO, Social Media and Website Promotion
What is Superior SEO Web Design?
SEO Ultimate WordPress SEO Plugin Version 4.8 Released!
SEO Tool SEM Rush Adds New Keyword Trend
Using SEO to GEO Target Local Keywords
SEO Penalties and How to Remove Them