Today we have the opportunity to get a birds-eye view on Affiliate Marketing, PPC and Quality Score Optimization from the President and CEO of one of the most successful and fastest growing full service SEO / SEM Internet Marketing Firms in the nation, Mr. Kris Jones from Pepperjam.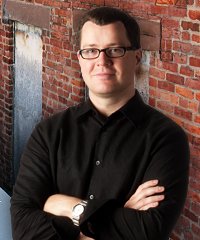 Kris will be on the panel at Search Engine Strategies SES Chicago which is right around the corner from December 8-12, 2008.
Usually, I am the one offering SEO tactics and techniques from our blog at SEO Design Solutions, however today, I gladly step aside to interview Kris and allow our existing readers and others to gain valuable insights on how to rub a few pennies together to exponentially create more using Affiliate Marketing, PPC and Quality Score Optimization.
Jeffrey Smith: Kris, Big fan of yours, you have literally redefined search marketing with Pepperjam. I appreciate you taking the time during this busy season to answer a few questions.
Kris Jones: Thank you!
[JS] 1. Regarding the topic of website monetization, what advice would you give businesses or webmasters interested in generating affiliate revenue from their websites?
[KJ] "Traffic generation" strategies and "traffic monetization" strategies are inter-related – you won't be successful with one if you can't establish the other. Truth be told, I got my start in internet marketing in the late 90's in an attempt to develop strategies for generating and monetizing Web traffic.
My school of thought on traffic generation comes down to generating (paid or organic) quality, relevant Web site traffic. Quality comes down to Web traffic that converts, which tends to be traffic that directly relates to whatever it is that you are promoting (relevance). The "conversion" game is tricky and there are a number of factors that influence whether or not traffic (regardless of how targeted or relevant it is) will convert.
For instance, if the sole purpose of generating traffic is to convert that traffic into a sale or lead then there MUST be an effective call to action on the Web page the traffic is being sent to. That "Call to Action" should be a central focus of the page and should be tested to minimize attrition and maximize conversion. In some cases, and depending on your goals, it's all about the call to action, especially if the purpose of your page is nothing more than a bridge to an affiliate offer.
However, if the purpose of the page isn't simply a bridge, the page should also focus on value. Providing value to the user / reader (aka, traffic) increases conversion and also helps you to build a relationship with the user and may result in repeat sales / conversions.
At Pepperjam Network we find that one of the fastest growing segments of affiliate marketers are bloggers. Bloggers are in a unique position since they have the ability to build a loyal readership by sharing expertise and making educated recommendations based on experience.
For bloggers, recommending a specific product (using an affiliate link), writing a review, or simply sharing an experience (and creatively integrating a call to action) can lead to affiliate revenue. Furthermore, one of the cool things about being a blogger is that you can become an evangelist for a specific product or products. If you really love something why not share it and monetize it in the process.
[JS] 2. Are there any routes you would consider less traveled, saturated or not really worth the time?
[KJ] Search marketing (PPC) is a very challenging and potentially expensive way to generate Web traffic to be monetized through affiliate marketing. However, affiliate marketers continue to successfully use search to drive millions of dollars in commissions. The key to being a successful search marketer comes down to your ability to effectively evaluate performance at a granular level – you need to be able to evaluate performance at the keyword level in as close to real-time as possible. Fortunately, all major affiliate networks provide near real-time tracking and also have API's (http://en.wikipedia.org/wiki/API), which allows you to build tools to help evaluate and automate performance.
In terms of what's hot – on the lead generation side…Acai Berry weight loss products seem to still perform really well. In fact, January (i.e. because of New Years Resolutions) tends to see a huge spike in people looking to lose weight and turn over a new leaf. With this in mind, what's hot tends to almost always relate to seasonality. For instance….Winter = UGG Boots, Ski Gear, & Holiday Gifts. Summer = Travel, Concert Tickets, & Outdoors stuff. Fall = Winter Apparel & Halloween Costumes. Spring = Summer Apparel & Fishing Gear.
[JS] 3. What are the fundamental steps involved in developing a website for affiliate marketing?
[KJ] It depends on what your goals are and what promotional methods you intend to use. Let's assume that you want to build a Web site that provides value to the user and stands a solid chance of passing Google's Quality Score algorithm, while also encouraging users to come back to your Web site.
If this is the case, you need to decide what "value" you are going to provide. For instance, some really smart and creative entrepreneurs have built some great Web 2.0ish Web sites that not only provide value, but are monetized through affiliate marketing (among other things). For instance, ThisNext.com is a social shopping site where users can review products and get personalized shopping suggestions – for ThisNext it's all about community – the value was to build a Web site that allows users to be part of a user-generated content community. In my opinion, that's a really cool value laden Web site.
Another example is Costumzee.com – Costumzee.com is a costume Web site that allows users to share and rank costume ideas (and experiences). In both of these instances the affiliate marketers focused on building a Web site that provides value to the user – monetizing the traffic through affiliate marketing, which both do, is a byproduct of a great Web site.
I mention some ideas above for how bloggers can make money with affiliate marketing. We all know that starting a blog through WordPress or Blogger is FREE and there is very low overhead for purchasing a domain name and hosting a site.
[JS] 4. How big of a role do incentives play in structuring a compelling call to action?
[KJ] I would replace the word "incentive" with "Value Proposition." Value Propositions are critical to successful affiliate marketing. Value Propositions include reasons why the user should purchase something from you instead of going back to Google and conducting a new search.
For instance, Free Shipping, Low Price Guarantee, No Sales Tax, Same-Day Shipping, Free Gift with Purchase, In Business since 1899, Over 1,000,000 Products Shipped, etc. are all Value Propositions. I've always encouraged our clients to stop thinking about the need to discount something or give something new away. Instead, I've encouraged them to explain why the customer should purchase something from them instead of a competitor – that approach is more successful and goes beyond simply discounting something – it's all about explaining VALUE.
[JS] 5. Do you suggest using Social media to funnel traffic for affiliate revenues?
[KJ] Many affiliates on Pepperjam Network use social media sites such as Stumbleupon, Digg, YouTube, Twitter, Facebook, and MySpace to drive traffic to affiliate Web sites and offers. In fact, most recently both Facebook launched Facebook Ads and MySpace called myspace myAds – these networks allow you to place ads on FB and MS, which is working really well for many affiliates.
[JS] 6. In your experience, which tactic organic optimization / SEO or PPC produces the highest return on investment for affiliate revenue?
[KJ] In terms of SEO the answer is link building. In terms of PPC the answer is Quality Score Optimization (QSO). I'm speaking on the "Ads in a Quality Score World" panel at SES – Chicago. On that panel I will argue that the most effective way to approach PPC is trhough QSO.
QSO is the optimal synergy between the following factors: → Click-Through-Rate ("CTR") → Keyword Bid → Ad Group and Campaign Structure → Ad Copy → Landing Page Quality. By optimizing these factors affiliates (and Google AdWords advertisers) can effectively lower their overall CPC, while increase conversions, CTR, and ad position.
[JS] Kris, we appreciate your insights and look forward to seeing you speak at SES Chicago 2008. For those of you who have not purchased tickets, it's not too late to register now. Look forward to learning more about this as well as many other topics your extensive expertise spans.
If our readers want to learn more about Pepperjam and the services you offer, what would you suggest?
[KJ] Thanks for the opportunity. In terms of links the corporate site of Pepperjam's Marketing Service business (PPC / SEO / Mobile / Media Buying) is (www.pepperjam.com) and our affiliate network – Pepperjam Network – is located at www.pepperjamnetwork.com
[JS] Kris, thanks again for the interview, see you at SES Chicago 2008.
Read More Related Posts
Search Engine Strategies (SES) Chicago Draws Near
SEO Modifiers for Affiliate Marketing
Should You Advertise on Your Blog?
How to Start an Online Affiliate Business
The Differences Between the SEO and Affiliate Mindset
Affiliate Summit 2011 is Amazing
SEO or Web 2.0 Internet Marketing?
Walmart Challenges Amazon with Free Shipping on 60,000
Affiliate SEO Marketing and Affiliate Landing Pages