Aside from creating new content based on competitive keyword research or optimizing existing web pages, one of the most integral facets of SEO is deep linking.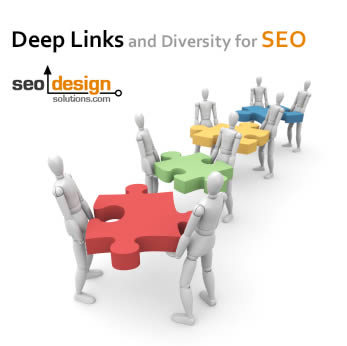 Deep linking involves building a plethora of related links to a page to specify to search engines that THIS PAGE is worthy and relevant for advancement in the index for a number of respected keywords.
As a result of link cultivation, a landing page can potentially become more authoritative and capable of spurring to stem additional ranking factors which can be passed from page to page throughout the site or to other websites (depending on your intention).
A page with 10 inbound deep links from other websites could be perceived as being MORE RELEVANT than a page without deep links (links built to that specific page). Similarly a page with 1000 deep links should carry more weight than one without. However, link quality is not to be confused with link quantity, yet,  each type of link has its place in the grand scheme of things.
One thing to consider about search engine optimization is; different pages have different degrees of authority within your website. This means by understanding or promoting a thematic hierarchy (sculpting the most important pages), not only can you emphasize context to search engines or readers alike, but you can reinforce a page to increase organic rankings by using a systematic approach.
Different Types of Links Create Different Effects….
For example there are:
Links from aged / robust authority sites
Links from topical sites that have authority
Links from directories (blog directories, video directories, software, RSS directories)
Links from resource boxes by authoring articles for article marketing
Links from social media platforms, mash ups, bookmarking sites or aggregators
Internal Links from topical pages within your website
External inbound links from topical pages
By combining various links in a specific fashion or deep link percentage, you can elevate each page through cuing distinct signals for search engines.
Why is it important to diversify? Because ranking factors change frequently and the last thing you'll want is to be too vested in one type of link and not have the diversity to weather an algorithmic adjustment.
Each position you achieve for a competitive keyword with high search volume has to be treated like a delicate chemistry experiment. If you mix too much of one ingredient the entire mixture can become unstable.
Similarly, the method and time-line used for synthesizing various elements also affects their combined ranking factors. So, if you were to implement stages "out of turn" in an attempt to inflate rankings it would indelibly leave an imprint like an obvious link cluster, signature or traceable pattern as a result.
Such a pattern such as an unnatural link velocity could later lose value or essentially invoke a penalty if automated from too many "collaborative" forces seemed to cooperate in an unnatural fashion (such as you getting 2,000 links within 2 weeks with the same anchor text).
Given the list above, suggestions for building a more robust link profile with contextual, editorial and IP Diversity would be:
Start with directory links – they take the longest to develop since there is typically an editorial review for more respected directories which means that it may take months from the time of submission before you see any results from these types of links. Don't expect them to take you to the top of search engines, but they can help establish a foothold by providing inbound links from aged sites.
RSS Directories – If you have a blog or content management system and administer frequent updates to content or add new content regularly, then you should submit your site to RSS directories to aggregate more traffic from stemming into various feeds if your CMS has RSS (really simple syndication) capabilities.
General Business or Niche Directories – can also have long lasting effects for building trust (which is more important than anchor text) over the long-term. One way to find good directories is to look at which ones Google deems worthy enough to exist in The Google Directory (a.k.a. DMOZ) or the open directory project. If a directory exists in Dmoz, you can ensure that there are still ranking factors you can benefit from in the long run.
Article Marketing – allows you to author content and upload it to a variety of websites (typically blogs) that then reprint your content. As a result, you are able to aggregate your content to a variety of sources.
If you maintain a high threshold for your content, it can act as landing pages to send traffic back to your website through the author's box. The author's box is a resource that allows you to deep link to specific pages within your website with the anchor text of your choice to elevate ranking factors for specific pages.
Even through this method is concurrent with the subject of this post; article marketing has a nasty side-effect called duplicate content which essentially suppresses sites with less authority. So, if you have content that is unique to your website, it is better to leave it there and not try to reuse it on article marketing / aggregation websites (unless you wish to risk a potential penalty). On the contrary, I have tested both methods, if your website does have the authority, you can use content from your own website (for a boost in rankings), but the choice is yours and ONLY if your site can fend off the others who re-publish your content verbatim.
Although article marketing is beneficial for short term rankings, it is only a way to produce temporal ranking factors as (1) the size of article sites is always expanding (which means your content will get archived quickly or (2) the link flow from the articles will lose ranking factor as a result of dilution from the target site not acquiring enough inbound links to feed their pages.
Blog and Video and Software Directories – are niche directories by nature, but can have beneficial rewards beyond retrieval from search engine result page keyword and key phrase query based retrieval. People visit a website for multiple reasons, depending on those reasons the method for funneling them to the best landing page for the task at hand can be accomplished through multiple mediums.
Some enjoy reading, others enjoy videos, and therefore by using blog and video directories you are increasing the likelihood of co-occurrence on the web. Which means, the broader the net, the more potential traffic you can funnel to your web pages.
Authors have a tendency to use resources like these for research or stories, so if you published a piece on a topic and they are searching for related information, they could use your pages as resources and attract some authoritative one way links from sites with authority (which leads to the next type of link).
Links from Widgets, Software or Themes – by creating widgets, software (toolbars, or useful API's) you can experience viral growth unparalleled by any other distribution medium. Links from widgets, themes (website templates), software or widgets can provide an array of backlinks which translate into your site developing authority or hub status (both are beneficial for long-term rankings).
Links from Authority Sites – There is value to getting links from authority sites (1) they already have tons of traffic which can click your link and (2) over time, something is transferred to your website (trust rank) as a result of them linking to you.
Even though most links from authority sites are no-followed (meaning they don't produce ranking factor directly to your website, at least not immediately) they can still benefit your link profile and add something more valuable than a link for search engines (direct traffic).
On the contrary, writers and editors are constantly on the lookout for a good story, so, if you build value to your brand by offering something for readers to "sink their eyeballs into", chances are you could be the recipient of authoritative editorial links.
When getting authoritative links from other sources will not suffice, you can always use other pages in your own website to build and transfer website authority to pages via deep links. This is the premise of strong internal linking and by linking to pages other than your home page, they are considered deep links. Hence, the more contextual references you have for a landing page from other pages in your website, the less dependent it becomes on gaining links from external sources.
By combining the aggregate factors of the various types of links above, virtually any keyword is within your reach with the proper acquisition method based on your cumulative SEO strategy.
Essentially, the main ingredient for SEO is proper planning and patience. Execution is a by-product of the SEO process. However, all granular refinements must be done with intention to properly set the stage for future stability by correcting any inconsistencies that impede relevance and retrieval from search engines.
Although deep linking is just one more ingredient that must be managed throughout the process (until the ranking objective is acquired) it by far is one of the more crucial metrics search engines utilize to assess relevance which is the basis of rankings.
This is why link building should be left to professionals who are proficient in sourcing and acquiring a variety of links that pass value and understand which metrics produce a favorable contribution to your link profile.
If the method used for building links is not conducive to a natural trajectory or link velocity, you will not be able to maximize each links cycle as the peak, ebb and flow of relevance hemorrhages. Links are constantly in a state of flux (which means your rankings will be as well unless built in the proper context) and use sound judgement when acuiring inbound links from a variety of sources.
The methods mentioned above can provide all of the stability you need for controlling the off page ranking factors you need to create buoyancy for your pages.
It's just a matter of knowing which types of links work best for each situation and why as well as which types of links can actually work against you under the wrong circumstances. They say, knowledge is power and with that in mind, if you like what you read, pass it along for others to enjoy…or susbscribe to our RSS Feed for additional posts on the topic.
Read More Related Posts
Which SEO Metrics Carry the Most Weight?
Link Building Strategies Using Blogs, Articles, Directories &
Using Deep Links to Summon Search Engine Spiders
Developing Topical Link Weight using Internal and External
SEO, Link Clusters, Age and IP Diversity
SEO or Web 2.0 Internet Marketing?
Link Building & Deep Links using the LPP
Reviving Old Content Can Increase Traffic & Link