Just like getting in on the ground floor of any opportunity makes perfect sense, when it comes to link building and SEO, things are no different. In fact, there is nothing like aged links from relevant sources to separate your website from the hordes of competitors who are vying for the same SERP (search engine result page) positions.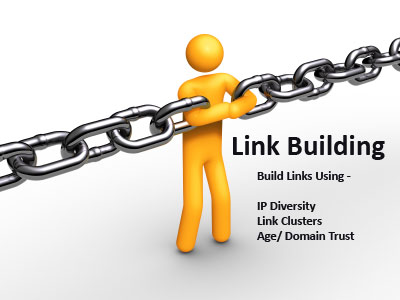 Relevance is measured from on page term frequency, topical continuity and also from off page factors such as the quality of the inbound links to each page. The key is to forgo linking to link clusters from questionable websites (such as spam laden free for all directories, clearly overtaxed rss directories or generic social media sites) as they can hinder your websites reputation.
IP clusters exist as a result of relationships that are formed based on this type of websites that (a) look for linking opportunities and (b) those who do not. People link to authority sites (because they provide a unique product, service or information), most authority sites horde their own link flow, which is what allows them to rank for so many keywords.
One thing to consider is, don't be so quick to scoff and links without page rank. Other metrics are just as important, since we know the rank Google displays is not indicative of any significant ranking factor. Aged sites offer trust, trust as we can now see as a result of older domains ranking on a fraction of the links required from other sites make them excellent candidates for hub sites. A link from an aged website (online over 5 years) can do more than a page rank 5 link as trust will elevate your entire site, whereas a PR5 link will just provide you with a boost for a keyword or key phrase.
The point being, you need IP diversity (links from a variety of sources) to provide the appropriate signals to search engines, in addition to mapping out the appropriate link velocity.
One site I recently came across had a page rank of 5 and only had 23 backlinks. Ironically the main ranking factor came from one alone, the other 22 were just average. So, don't be blinded by quantity or the obvious when looking for linking opportunities.
Getting links from authority sites is another way to rank higher with less links. Authority sites have a tendency to only link to other authority websites (and for good reason) but with the right tact, you can still manage to acquire an authority link. Authority sites have the most to lose as the trust / ranking factor can be leeched away from linking to the wrong sources.
The logic behind linking out is, you want the link flow of your website to flow uphill, so, if you have outbound links, they should link to quality sources using the appropriate anchor text, that way your site can get a lift as well from "providing quality content to the web", algorithmically from search engines.
Linking out in mass can establish your website as a hub, being stingy on the other hand and hording link flow (by not linking out to others) is one way to see your traffic and website waiver, since the web is all about sharing.
Links are inherently a two way street whereby they can support another site from linking out or produce a grappling hook affect and elevate the relevance of the site linking out by the virtue of them allowing visitors to find additional information on a topic.
Obviously the trade off between hemorrhaging link flow and gaining trust is a concern for most, getting in on the ground floor and building a solid link profile (chock full of diversity) is ideal for any website. Each link is a citation at heart, in essence they are vouching for your character by dropping a link your way.
Its not just about quantity, its about the authority of the domain, the crawl rate on the site in question, the number of outbound links on the page (the less the better), if the link is embedded in java script or no-follow tags and where the link location is attached (deep link or homepage). The premise of building a solid foundation for tomorrow is essentially the cornerstone of a great SEO campaign.
In conclusion, here are some links to other link building posts from the past to peruse for your reading pleasure.
Thank you for visiting SEO Design Solutions, your source for SEO tips, tactics and techniques.
Read More Related Posts
SEO and Long Tail Optimization
Deep Links and SEO Link Diversity
SEO Tutorial: Practical SEO Training Tips and Tactics
10 Tactics for Top 10 Rankings
SEO: Moving Past Just Rankings
The Differences Between the SEO and Affiliate Mindset
Will Google Real Time Search Eclipse The Static
SEO Tips to Monetize Your Website
SEO Tips to Give Stuck Pages a Push