Don't let your website become a statistic of the lost and found. Creating visibility through SEO and search engine positioning add up as keywords are currency for organic search.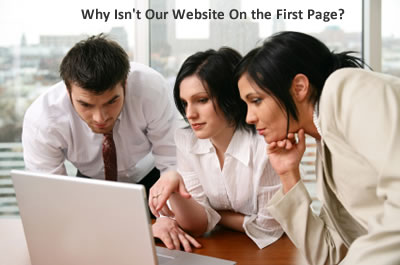 Sure, type in traffic still exists, when people add a .com after a popular keyword to find a website. Social media sites can also drive traffic if your website is branded well, but nothing converts like organic search or PPC (pay per click) traffic.
Why do you think companies spend thousands of dollars each month on PPC to find which keywords and pages get the best response?, put simply, because they know it works. Similarly, once you have found your selection of keywords that convert, it's simply a numbers game (of visitors in / to visitors out).
When asked from prospects questions such as how much will it cost to rank for this keyword? Or how long will it take to rank in the top 10 for "their industries trophy phrase"?
Sure, we can estimate a time line, based on experience and heuristic trial and error. The question is, how long it will take to condition a relative newcomer into a contender for websites that have already established rankings and website authority.
When I was overzealous, my Sensei often reminded me, "You have to be where you are at". That translated into not biting off more than you can chew and not stepping in the wrong arena or challenging the wrong opponent unprepared.
Preparation means training and conditioning in the physical sense, yet your website can be likened to this analogy from the amount of alteration needed to tip the scales in your favor.
Just as you wouldn't see a beginner competing in a black-belt level competition, similarly your website needs to test its mettle on keywords in can conquer to test its tenacity and resolve.
Three things you can do to successful groom your site for search engines is:
Develop a relationship with search engine spiders. By providing content frequently, you encourage spiders to crawl and re-crawl your website, which is a precursor to rankings.
The second thing is relevant content – Sure, anyone can write, but to capture an aggregate amount of quality base-line traffic, you need excellent content to entice readers to peruse your offer.
Leverage the law of averages using content – optimizing your website for 100 terms with an average search volume of 200 searches per day is better than putting all of your hopes on a narrow group of 5 or ten keywords to facilitate conversion.
The third thing your website needs to contend, is, relevant inbound links over time from a variety of sources. The more quality links you acquire over time the more popularity your website gains to develop website authority.
Just as success begets success, search engines algorithmically associate popularity and relevance (based on internal and external links) and the law of gradual momentum. The more relevance and authority you develop, the easier it is to rank for related keywords.
The on page and off page synergy that results (from quality content and links) creates buoyancy in search engines for the keywords your pages are optimized for.
So, the question is not how much SEO costs or how long it will take? but rather how much are you willing to adapt and target keywords you can conquer until your website develops keyword / domain authority.
So, before you jump in and try to take on the 800 pound gorilla in your niche, you may want to reconsider who you challenge online and hit the dojo for some training first.
Read More Related Posts
Google Optimization: Using Search Operators
Creating Optimal URL Structure for SEO
10 Tactics for Top 10 Rankings
Synchronizing SEO Metrics
Each Page Should Pack an SEO Punch
SEO, Rankings and The Way People Search The
How New Content and Post Frequency Impact SEO
SEO and the Cycles of Optimization
The Last Keyword Tool You'll Ever Need
Google Toolbar PageRank Update October 2009