People often wonder why search engine optimization pricing costs so much? The quantitative answer is, to manage the multiple layers of the SEO processes. If you want quality services completed in any industry, you have to pay a premium fee to find the best. The saying "you get what you pay for" has a place in performance driven industries and SEO and SEO pricing is no different.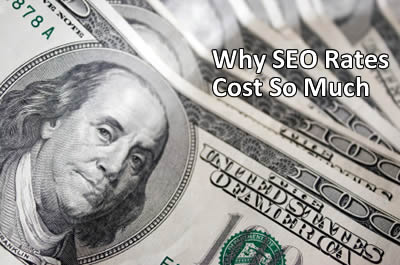 Optimization implies either fixing an existing platform or implementing a new platform to accomplish key performance indicators as benchmarks quantified by a ranking or conversion objective.
There is always room for improvement, however the amount of improvement is relative to time (and billable hours) for SEO's and depending on the state of the existing site, each stage must be worked out to transform potential into reality.
The Value of Quality
Just like you would not trust an oil change mechanic on the corner to perform an intensive repair on your Ferrari, neither should you expect a $199 per month SEO package to address a major overhaul of your website. This is where price can become a double-edged sword, performance is the bottom line, with performance ROI is measurable and as the investment matures over time as the SEO kicks in to recuperate you initial outlay of cash.
Unfortunately, bargain hunters place their hopes in the hands of companies that just provide topical changes (like changing meta tags) when the real problem is far more significant such a internal link distribution, lack of external links or flawed site architecture and no simple change to meta data will fix that.
It's like changing the spark plugs when you car has problems with the transmission. Sure, it may help the engine fire better, but what about traction when you put it in gear? Cheap SEO is a red flag, the process takes time and skill and a hands on approach (not some automated directory submission) is required to find, address and provide a suitable solution.
The Process of Discovery and Diagnosis
Each unique problem presented has a unique solution, as a solution it cannot create more problems. Websites have a profile, consider it their own unique signature which is a combination of various factors. As a result a topical diagnosis is not enough to determine where the real problems fester.
For example, dynamically generated URLs, are a side effect of template based data driven websites, however if they are not personalized to convey keyword rich category names vs. www.website.com/pid?-27974.aspx vs. website.com/descriptive-modifier/model-number-product-name/ then you are wasting a valuable component of creating a favorable SEO friendly website.
Solutions for Creating Search Friendly Websites:
Unique titles and descriptions for each page
Refined content focused on up to three root keywords or phrases. If there are more, then create another page.
Having a clearly delineated site architecture with keyword-rich categories, sitemaps and friendly naming conventions.
Having optimized anchor text (using links only when relevant) as well as capping outbound link flow from each page.
Ensuring all pages are accessible to search engine spiders (index, follow, and allowed by robots.txt).
That hosted servers are running at optimal levels and do not unintentionally block spiders (from long delays and timing out) or create spider traps (like a broken record skipping)
That the link flow distribution of the website is nurturing the whole site vs. just a few elect pages
That broken links or orphaned files are eliminated that do not reciprocate link flow with the rest of the site.
These are only a few of the metrics utilized to evaluate the potency of a website, when dialed-in and optimized the site then has the ability to garner rankings and traffic as a result of superb correlation of on page and off page SEO factors.
Aside from the components briefly mentioned above, there are other things like competition (who started months or years in advance targeting the industries and keywords you are gunning for) that can create a challenge.
The Bottom Line, Value
In summary, the cost of the optimization is covering the diagnostic capacity of the SEO company, who will undoubtedly have to use a plethora of tools to diagnose and find the key areas tucked away in your website that need revision.
Evaluating the health and vitality of a website requires research and discovery time as well and time to conditioning and fortify it into ranking shape. The decision to start fresh with a new template or re-optimized platform in tandem with content creation (to dial in relevance) as well as prescribing a stable inbound link development program are likely solutions for most websites. However expertise, management and implementation those changes in stages is required to acquire and defend a high ranking position for multiple keywords in competitive fields.
The key is to find the right specialist with a proven track record for producing results. Also, what search engines want and what humans like are two different things (so your site must have both). So, if you expect to keep things the way they are, but also topple a competitive keyword or industry, then you had better be prepared for changes to your website and embrace them as part of the process.
Content is the basis of rankings as language is the basis of content. Keywords and relevance are all just aspects of using language to describe what it is you are searching for. The days of the 10 page website reaching the top of a competitive industry have come to a close due to those who understand the value of adding regular content to push their competition aside.
In order to stay buoyant in search results, you need to have either (a) fresh (internal or external) links or (b) fresh content to give search engines what they need to assign relevance. The process for implementing this is what you are paying for, but aside from that, an overview is necessary in order to keep things on track.
With a Specialist you are Paying for Performance
SEO pricing is commensurate and relative to the expertise of the specialist or firm. Perform due diligence, ask for references and examples of their site and their clients rankings or white papers and make sure you are aware of each stage of your SEO campaign including performance benchmarks, reports, and tangible updates before you sign on the dotted line.
It is important to have realistic expectations as well, most competitive phrases can take up to a year to acquire, even with the best SEO. So, make sure you are targeting keywords within your range and consider targeting less competitive phrases in the onset, to allow your site to develop authority in the niche.
Just as marketing is crucial to reach your audience, SEO is another tool in the toolbox at your disposal. Just make sure you get the facts, perform due diligence and understand the process involved.
Information and Search Engine Optimization Pricing for SEO Services are available by following the link.