Prospects and clients alike often wonder, is there a way to reduce SEO costs? In this industry, you get what you pay for, optimization requires multiple layers of synchronized actions to facilitate the desired effect.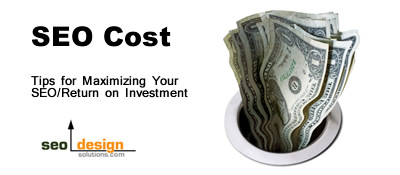 SEO is not just about mechanical steps, it requires time, strategy and execution to steer the reigns of progress (or get a website back on track if something goes awry through the use of an intensive SEO consulting session). The benefits of using a real internet marketing agency to manage your SEO campaign vs. SEO by the numbers (or pinching pennies to try and yield unreasonable returns).
As a rule of thumb, if you cannot afford to spend at least $1000 per month on an organic SEO campaign, then you better roll up your sleeves and pitch in, or your expectations are essentially unrealistic. The scalability of an internet marketing campaign is contingent on the amount of time, energy / resources (funds) available to implement the various facets for a successful campaign.
Regardless of whether you are paying for an In-house SEO $40K-60K per year to cover protocol or hiring a well established SEO firm, the fact is, the amount of time it takes to execute the various strategies is essentially what you are paying for.
If you want a competitive keyword or series of keywords, you have to set the stage, cultivate and create the content, ensure it has sufficient internal and external links and is managed over time. This is what you are paying for and frankly, some cookie cutter $250 per month SEO package is not going to cut it.
It takes time to scope a competitive landscape, conduct data mining on the top 5% of sites in a niche, identify the real money keywords instead of lackluster duds and map out a game plan to either rehabilitate a website or start a new portion of a site to perform the heavy lifting.
Essentially, there are no shortcuts when it comes to carving out a competitive ranking with SEO.
I have always touted the benefits of using long-tail optimization to set the stage for garnering attention share as website authority matures, but what else can you do while you wait for organic search engine optimization to kick in full gear?
Here are a few tips you can use to garner rankings and attention share from the masses through organic SEO.
1) Remove or no-follow all off topic links – By linking from one page to another in your website, you are essentially stating for more information on this topic, then proceed to the following page. Volumes have been written on the proper use of anchor text (the text in the link is known as anchor text), so use it wisely in order to funnel relevance to key landing pages.
Adding the no-follow attribute to a link also nullifies this effect for Google, so, humans can still click and follow the link, but essentially search engines ignore it.
This is ideal if the keywords such as "click here" link to a privacy policy or contact us page (which is not the best way to invest the link weight of a website). Your product pages and pages with offers should be reserved for the most link flow.
2) Add more relevant content – Ironically, the first thing a search engine determines when eliminating millions of others from the running for a specific keyword is content relevance, proximity and co-occurrence. In other words, if your context lacks contextual proof that those keywords are present, then the likelihood for relevance decreases in contention to where you rank and how you stack up against others fighting for those keywords.
The rule of thumb is, if the keyword is competitive you should have at least 100 pages referring to one page as a benchmark and each of those pages should have deep links (links to that page, not just links to the homepage which then link to that page).
For example (1) Perform a search for a keyword, (2) find the top domain (3) use this command in Google site:domain.com keyword (4) see how many pages are returned for that keyword in that domain (5) then do the same for the top 3 results for that keyword.
Then you can at least understand the content threshold required to topple/compete with that keyword. This is only one metric, but a strong one, number of pages indexed with a reference to the keywords proximity is a ranking factor worth noting.
If I want to rank for a keyword and I only have 3 pages on the topic and none of those pages have strong internal links or deep links from other pages, then it is clearly sending the wrong signal to search engines.
3) Manage New Content with a CMS system / Blog – If you haven't already, adding a content management system which provides you with the ability to add topical content frequently is a plus.
Before engaging or during an SEO campaign, the more content you compose on the topic (using strong internal links when keywords occur) the more on page weight your website has.
Although it may not be obvious, each page when cultivated over time represents a new landing page with the ability to rank itself as well as lend itself to others to catapult or maintain multiple keywords over time.
More content is essentially broadening the lip of the funnel which ultimately serves to funnel readers to the desired conversion objective.
So, even if you can't afford to spend $5-$20,000 per month (like most competitive businesses targeting a competitive keyword), at least you can start by chipping away with the fundamentals that can save you time and money to hit the top 10 results.