When using SEO to develop relevance for competitive keywords for your website, just remember that everybody starts at zero.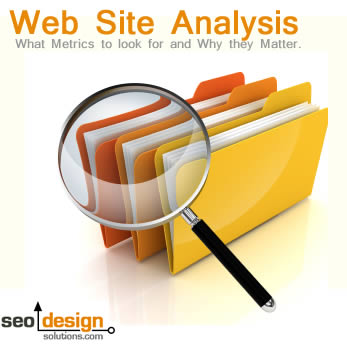 Granted, initiating your campaign with a thorough web site analysis is crucial, you must couple that data with a distinct plan of action based on competitive market intelligence to create a viable SEO solution.
If you are interested in seeing these tactics in action, our firm offers a free SEO review outlining many of the same metrics discussed below in addition to a complementary keyword research report prior to engaging formal SEO services.
Content is scalable, but direction, planning and purpose are priceless commodities for online marketing. Each keyword has a collective tipping point and acts as a piece of the puzzle in relation to the main semantic root phrase it is stemmed from. What this means is, the more overlapping keywords one uses on each page (that truly define that page) the higher relevance score your page and website develop for that and related phrases.
For example, by me using the keywords web site analysis, site analysis, or keyword research analysis on multiple pages, the overlapping keyword (analysis) gains the ability to stem and rank more prominently in search engines any time a search is conducted for a related term.
Herein lies the secret of SEO. This tipping point (for each keyword) is a moving target and websites are holistically inclined to breathe (which means their values are constantly in a state of flux). Every day a new factor from within your realm of influence and outside of it is influencing and making adjustments to your website's relevance score.
Variables such as:
1. A website that linked to you 4 months ago, just got a major boost of authority from a .edu or .gov website linking to them or a series of links from others just evolved with trust (as a result of aging over time) and your website gets a new jolt of link weight.
2. Your own content finally reached a threshold where the internal links you built 90 days ago just got indexed from a deep link (from your website or other sites) and started passing value to every page linked from that page.
3. An algorithm was changed to look for a new metric to assess relevance and authority and through some combination of factors your website was promoted, or another site linking to you demoted…
The point is, volatility is to be expected and anticipated, and the way to immunize the impact is through monitoring your pages over time using a thorough web site analysis. Awareness allows you to see what has shifted and which pages have the most strength for funneling those ranking factors to less fortunate pages to lend a hand.
The data you collect from your research and analysis acts as a blueprint which allows you to fine-tune and tweak each page in your website (until topical relevance has elected a champion page) and a clear landing page proclaims itself as the most relevant result.
For most, this is their home page, but this is typically the worst place for sales conversion. Correcting how pages rank in the SERPs (search engine result pages) is not rocket science.
If your ideal landing page is at the bottom of the list, then shifting the way a page ranks involves carefully mapping out internal links and either nofollowing irrelevant links, using the noindex, follow tag in the header area of the page and correcting the link flow to the pages. These types of on page changes can be accomplished quickly and depending on how frequently your pages are crawled the results of the fine-tuning become imminent.
In order to rank competitively:
A. You need to understand the competitive landscape of a keyword, the root phrase and the modifiers used frequently with the highest search volume.
B. You need to look for opportunities (to capture less competitive keywords, which make it easier to tackle the root phrase).
C. You need to constantly refine the less perfect areas of your website (leave no page behind) as your sites overall strength is determined by its weakest link or page. There is always room for improvement.
and
D. Once you gain relevance and / or the targeted rankings, keep digging in (with related phrases) to capture additional market share to insulate your position with SEO defense.
To recap…
1) The starting point after identifying keywords with keyword research is conducting a thorough web site analysis to determine the amount of effort required to bridge the gap (from where your website is, to where it needs to be to rank for the selected keywords).
2) Each page and keyword has a threshold, find out what that is using search operators to skim the competitive landscape.
3) Think of your website as a work in progress. Wikipedia started with just a few topics, now, it ranks for virtually every keyword imaginable (if it is one one of their indexed authority pages). So, you can have more than one topical focus to capture market share.
We all start from zero, but over time as more content is added, as you adjust the on page factors and build page strength and reputation, something miraculously occurs. Search engines take notice and prominent rankings are dialed in and each page starts to rank for specific keywords and related key phrases over time.
Depending on (a) your domain authority (b) the age of your site (c) the trust of the links linking to your site (d) your on page SEO and (e) your ability to assess trends, use keywords and content sculpt the percentage of market share you can acquire.
It all starts with research (keyword and web site analysis) and what happens in between is intentional optimization otherwise known as SEO (search engine optimization).
Read More Related Posts
Should You Advertise on Your Blog?
Balancing Keyword Acquisition, SEO and Website Authority
SEO, Marketing and Other Metrics that Matter
SEO Best Practices: Getting Started
Link Building Tips to Find Directories
Converting SEO Bounce Rates to Clients
Implementing Uncommon SEO Metrics
SEO Links: The Way They Were Meant To
How to Jump Start a Stalled SEO Campaign