Many are still uncertain as to what significance page rank has (if any) for SEO value or impacting search engine result pages. On a scale of 1-10 (ten being more significant) page rank in real word summation as a metric of relevance or measurement of validation for search engine ranking factor scores a two.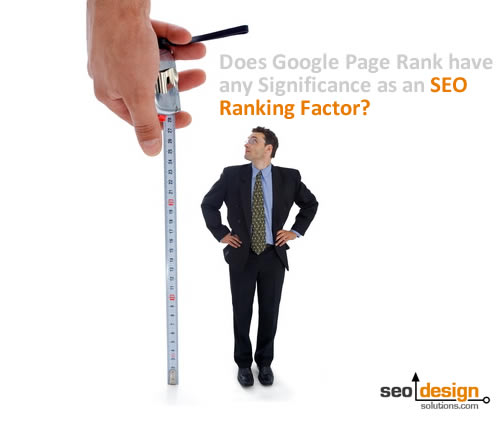 Although having a higher Google page rank (at least they display on their toolbar) does not play a significant factor in producing rankings, it does at least provide insight as a metric to specify if a page is receiving significant link flow from either internal links from other areas of your website or external links from other websites.
While Google PageRank may not bring significant SEO value to the table as a metric of ranking power or ranking potential for a page in the search engines. Its significance does allow you to determine the extent of two facets that do impact search results (1) citation and co-occurrence and (2) the degree of authority passed from other websites.
To elaborate, rankings are produced as a by-product of (1) clear intent and focus for on page metrics (2) on page augmentation from other pages within a website (3) validation through peer review (getting links from peers, authorities or reaching critical mass from link diversity and (4) the culmination of all 4 metrics (page strength) or domain authority.
Just as changing a title tag alone or building a link or two from a few pages or creating a few internal links done in random fashion produces little significance; if you consolidate each of those metrics together in a specific way, over a specific amount of time, then you can see the result of rankings being produced as a result of the overlap of on page and off page SEO.
The takeaway here is, PageRank is only a metric and as such it is transferable and can lend itself to other metrics, such as augmenting an array of keyword modifiers so that a target page takes on authority.
If your expectations exceed the value or sum of that metric, it does not make it any more useful or powerful out of context, it just means that you should understand what value it does represent and leverage it accordingly.
Having a higher page rank does not trump a page with a lower page rank for a search engine result page listing, yet page strength and on page relevance does. The benefit is by having more PageRank flowing throughout a website, you can find and identify the pages with the most authoritative links pointing at them though. As a result, you can put your new found PageRank to work over time to augment other areas of your website that suffer from link attrition (which is common as a website grows).
Read More Related Posts
How Semantic Connectivity Affects SEO
SEO Tips to Acquire Competitive Keywords
Google Toolbar PageRank Update October 2009
Create Traffic or Optimize Existing Traffic?
There is No SEO Magic Bullet!
Optimizing Meta Titles and Descriptions
The Difference Between SEO, Web 2.0 and Advertising
DWS 2.5 Update: Introducing the New Keyword Decisions
The Difference Between SEO, Competition and Authority!