Selecting the right keywords is a crucial component of SEO. When keywords are wielded properly in alignment to the focal point of each page, the URL structure and internal and external link profile for a page, latent combinations of potential keywords are evoked at the mere inkling of a query.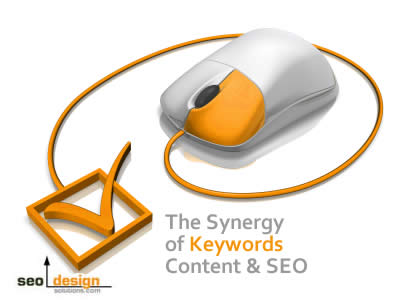 Essentially, any two words arranged in any combination on a page have the ability to create a "relevant hit" from a search query.
In some instances one word in a title or co-occurrence in the meta data (without even having the keyword present in the body of the page) are enough to rank for a given query. The threshold for ranking increases based on the competitiveness of the keyword, which means to rank for a more competitive phrase, you need a higher ratio of pages or links to the pages you have to cross the tipping point.
It is through managing the process of continuity and using a particular synergy of overlapping keywords, phrases and synonyms that a websites on page and off page factors create the appropriate signal when someone executes a related query.
Remember that over 30% of daily search volume is unique, which means that the combination of search terms have never occurred before (in that fashion). With this wildcard range of possibilities (almost like a Gorilla randomly typing away on a typewriter who will eventually type the alphabet) semantic retrieval methods are stretched to their limits to find coherence amongst search query diversity.
In a highly oversimplified analogy regarding the process of selection, noise is reduced to core frequency and any page that has a higher propensity for the said shingles prominence (the combination of words) is elected as a candidate for that query.
So, essentially, with this in mind, if you are conscious enough to (a) provide sufficient content, such as 500-750 words per page (b) have a co-occurrence of keywords or related phrases and (c) have inbound links (either from within the website or from other sites) this create the trappings for being a contender for any of the words encapsulated on that page.
Keyword selection is essentially an aggregate of words and relationships. If you wanted to rank for a specific keyword, then you need to have to have enough global keyword density to cross the tipping point for that keyword. We insist that a site finds where their plateau in regard to the type of queries it appears for, then scales the content to accommodate the ranking objective.
Although competing pages meaning (how many pages online in the index are directly targeting the keyword) matter, creating on page synergy is the precursor for acquiring any organic ranking of merit, which leads to the next point.
There are essentially two types of pages for SEO, a landing page or a supporting page which props up a landing page.
Not to imply that any page in your site is inferior, some pages however serve the transient function of being used as hubs to link to the pages you wish to promote the most. The homepage is typically one of the least likely candidates for conversion, yet since it has the most link weight and prominence is typically returned as the default, catch all page.
Unless you (a) have a link to your main offer which matches the original query or (b) have a navigation system that is self evident, chances are that visitor will not convert. So, ideally as an alternative, the need to build deep links to sub pages to create prominence is a workable solution for ensuring that a prospect in need is able to find the most appropriate page in your site for the keywords or queries they used in the search box.
Small fortunes are spent daily on PPC to avoid the need for organic optimization, however, by revamping the site architecture of a website, instilling it with a stable plethora of internally links carefully mapped out to specific pages with specific keywords, it is possible to shift the way each page is not only interpreted by what is ranks for.
This process should be administered with a blueprint which includes all of the nodes of semantic indicators that essentially represent a cross-section of market share you intend to saturate (create a keyword wish list). Sure, you can focus on exact match keywords by using a laser beam approach, or you can shift the ranking factors to encompass a more nebulous characteristic and rank for ambient keywords and partial key phrases.
The real exercise is to learn how to manage the process so that you do not cannibalize keywords or dilute the focus of the keywords with the highest conversion rate for your website. Through essentially scaling the addition of content over time, building a sufficient threshold of links, it is possible to attain virtually any keyword as a result of on page and off page synergy.
If you have access to competitive market intelligence tool such as a superior keyword discovery tool. You essentially have the ability to find the low hanging fruit or keywords with the highest conversion and least amount of competition.
By targeting keywords within your grasp, two things occur (1) you are able to use overlapping modifiers to close in on the root phrase (leading [keyword] company, best [keyword] services, affordable [keyword] solutions, etc.) or (2) you improve broad match traffic systematically by expanding your semantic net of phrases that funnel traffic to your specific pages designed with that conversion objective in mind.
Read More Related Posts
How to Transfer On Page Authority
SEO Tips to Create Stronger Trust & Domain
How Semantic Connectivity Affects SEO
Synchronizing SEO Metrics
SEO Tips to Build a New Website
Do You Panic When SEO Rankings Drop?
What Do Search Engines Know, That We Don't?
SEO Ultimate WordPress SEO Plugin Version 1.4 Released
Implementing Uncommon SEO Metrics