Why does the headline on a newspaper have the most compelling caption? Why does it reside at the helm of the page screaming boldly to make a point? Because positioning is important and what better place to equate greatness than at the top of our visual periphery?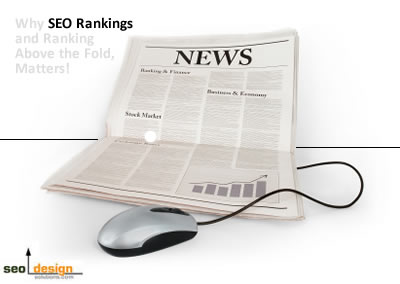 Similarly, Google Optimization and SEO rankings above the fold (ranking in the top 5 results) in Google also has this affect on our instinctive reaction based conditioning. Despite the number of competing pages for a search online, we naturally equate higher with better, which is a key signal of trust and engagement when considering which ranked result we click.
Just as presenting a person with more than 3 options typically diffuses their attention, the mind tends to simplify and prioritize when presented with information overload. It is no wonder that most people simply opt for the top 3 results when presented with 10 options, unless the data they glean from skimming doesn't trip any emotional triggers.
Using a clear call to action is paramount, but what if your page is not positioned high enough for relevant search terms enough to target someone with a little more patience vs. an impulsive click-happy consumer?
With the average individua being bombarded thousands of times daily from corporate America in an attempt to brand us with their products, it is no wonder people use online (opt-in marketing) such as search engines which are prudently less invasive to perform due diligence and engage their own "personalized" market (their browser) to find products, services and wares.
Just like in real estate location, location, location makes or breaks a business, online the reality is no different. When you consider the signal to noise ratio of content, finding the real gems is more than worth the effort. Not everyone likes to learn, be sold or peruse the web the same way, but one thing is certain, regardless if it is a PPC ad, an organic search result or an offline reference to your site, the consumer still has to take action to reach your site, which is a form of commitment.
What happens after they get there is all based on relevance, expectation and fulfillment, however hedging your odds in important when considering that each unique search is yet another opportunity to find your site in the cross-hairs if you understand the value of SEO and achieving higher SEO rankings.
Read More Related Posts
Search Behavior & Why Ranking Above the Fold
Leveraging New Landing Pages Using Related Pages
Why Should Search Engines Rank Your Pages?
SEO Tips for Getting Back to Page 1
Google Optimization – Using Webmaster Tools to Assess
Keyword Research and Search Engine Positioning
SEO Rankings and How to Create Them
SEO Tips To Reverse Engineer Ranking Algorithms
SEO Rankings and SEO Ranking Factors
Google Optimization: Using Search Operators