Is it better to focus on keywords or on market share instead? If your website has a dominant market position, the keywords visitors use to find your website are irrelevant. The fact is, with a dominant site, it would be harder not to have your pages appear anytime a relevant search was executed.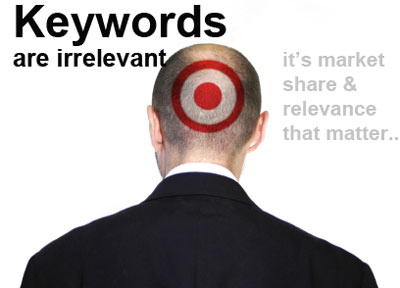 At SEO Design Solutions we have a saying, use pages to target keywords and use your website to target a niche. In like fashion target the root and snatch up the low hanging fruit is another saying that translates into a ranking juggernaut if you really understand the implications.
Are Keywords a By-Product of Optimization or the Other Way Around?
So often, individuals are myopic over which keywords to target, yet they underestimate the intelligence of search engine algorithms. Did you know that by using keywords that refer to similar meanings or reference a particular niche or modality all add another point to your relevance score if the content within your website have enough nodes of overlapping interaction (links).
Relativity and SEO are scalable and rightly so, for most sites who have gained authority, they have leveraged multiple pages in one way shape or form to implement a foothold for specific phrases. Not that there is anything wrong with that type of optimization (intentional optimization), however there is a better way.
If you really understand what altering your site implies, you have to be careful to avoid two types of unique phenomenon. The first is over-optimization, the second is diffusion of the theme (both have dire consequences). In the event of over-optimization if you have not selected a prominent page for specific landing pages in your site, search engines can be confused about what action to take or which page to rank higher than the others.
By mapping out the more concentrated keywords, you are able to distill a series of supporting or related keywords that serve as topical posts for blogging or blurbs that you could use to distinguish your pages from your competition. Each time you add a word to a site, you are essentially shifting the global keyword density for that site.
Although this is a type of unintentional optimization or the long-tail approach, it is still a very effective method for scaling up the ranks for competitive terms that happen to be integrated into various overlapping keyword and key phrases. By semantically identifying core areas of relevance you can essentially devour entire cross-sections of niche markets or larger semantic keywords.
I often use Wikipedia as an example due to the fact that despite the number of times a link appears for a specific keyword, it always links to the same landing page (which is all about that keyword). This is not to say that this method alone will allow your site to outrank others, there are other variables at play, such as domain age, trust, loading time, the programming platform and how easily parsed the code is by search engine spiders. What is certain is that competitive rankings require more internal link relevance than less competitive phrases to maintain a buoyant position.
So, a page with 100 internal links and 25 external links from other pages is in a better position than a page with 100 links without content of any type or internal link relevance. Why you may ask? put simply, volatility. When you rely strictly on off page factors to secure a ranking, any time those metrics are curbed or fall out of favor with search engines, that ranking is at stake which means your SEO and position are at the mercy of the algorithm.
One thing to consider, search engines are based on a model of transparency, as long as they use language as a model for relevance, then if your pages integrate well written topical content then you are already 50% further along than others relying on off page factors alone. So, the moral of the story is, leverage the content you have and create more to educate prospects or entertain them to encourage engagement on your website or blog.
If a site is useful, engaging or popular, search engines will detect this and assign a higher organic value for any content found within the pages on that site. The takeaway here is, a site is going to rank for things if you intend them to or not, the idea however is to be able to steer the site in a given direction if it goes astray or dial in a specific result, keyword or key phrase. The real benefit of SEO is understanding the implications of cause and effect and how to raise or shift relevance as needed.
Read More Related Posts
Do Categories Matter for SEO?
Google Updates PageRank on the Heels of Panda
SEO Tips for Using the SEO Ultimate Competitive
5 Things Seo Companies Won't Tell You
SEO Rankings and How to Create Them
Simple SEO Tips for Keyword Research
SEO Tips to Build Links, Trust and Authority
SEO Modifiers for Affiliate Marketing